Despite popular belief, Berlin's bars actually stay open beyond October, and consist of not just beer gardens, but also cocktail bars, jazz dens, dives, and even saloons. Sorting though all of the liver-trouncing chaos, we've narrowed the list down to the city's eight finest…
Recommended Video
Thrillist's Best (and the Rest): What You Actually Need to Know About Natural Wine
Bei Schlawinchen Schönleinstrasse 34; +49.30.693.2015
Every inch of this tiny Kreuzberg dive is covered in kitsch; the ceiling is decked in hanging grandfather clocks, rocking horses, and a motorcycle (!), and you'll fight for space with a giant elephant statue and random knickknacks, with the emphasis on grunge. With cheap prices on a decent selection of beers and a 24hr open door, this junkyard look-alike draws some of Berlin's best, from smoking scenesters to locals guarding the foosball table to daytime drinkers who refuse the light of day.
Neue Odessa Torstraße 89; +49.030.92125732
With its vintage, living room-like furniture, artsy wallpaper, and regular rotation of '80s classics playing loud and proud, this place looks like a page right out of the Williamsburg bar landscape. The regulars -- a healthy mix of Torstraße gallery-goers, neighborhood partiers, and Mitte's startup techies -- tend to order the Moscow Mule, but the menu includes a few funky cocktails and the obligatory cheap beer and wine options.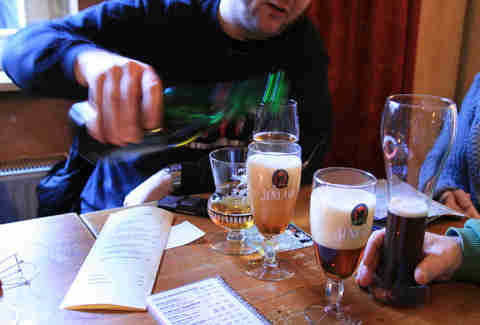 Aufsturz Oranienburger Strasse 67; +49.030.28047407 
Beer-lovers flock to this Mitte bar thanks to a menu of over 100 brews, including specialty German, Belgian, and international suds. The hostel next door means there's always a worldly crowd, but plenty of locals come here to take on the massive list. During the winter, the low-key space (which doubles as a gallery) is packed; come summertime, the crowds sprawl onto the few sidewalk beer tables.
Prater Biergarten Kastanienallee Kastanienallee 7-9; +49.030.4485688
Prater is the city's oldest beer garden, which basically means it must be the best (stick around 137 years and we'll give you that nod too). The sprawling space, tucked off Prenzlauer Berg's busy Kastanienallee, is nearly always crowded, but with room for 600 people, there's generally a space to crowd your way into. The home brewed Prater Pils is a great beer with which to drink the day away, and there's hefty German fare to help soak up the booze.
Reingold Novalisstrasse 11; +49.030.28387676
The drinks come with a side of class at this Jazz Age bar, where the suspender-clad bartenders are always willing to steer you towards a properly satisfying pour. It's tucked down a suburban street in Mitte, but don't let that faze you; the classic cocktails, plush leather couches, and red-lit room are worth the venture.
Green Door Winterfeldtstrasse 50; +49.030.2152515
Just follow the neon sign into this secret West Berlin cocktail den (it's, er, the place with the green door). The prepster interior  -- plaid wallpaper, retro phones, and a glowing dog lamp -- signals stuffy, but it's a chill place to drink well in Schöneberg. The comprehensive cocktail list comes in a tome-like book and can be pricy, but thankfully that's why God invented their daily happy hour.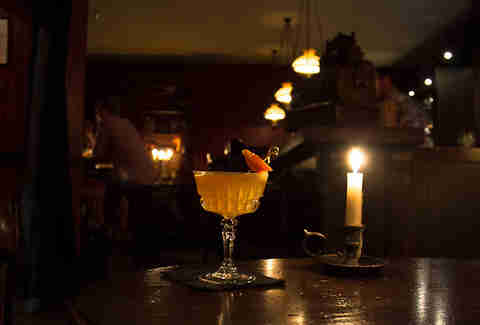 Stagger Lee Nollendorfstrasse 27; +49.030.29036158
This Wild West saloon was voted Mixology Award's 2012 Bar of the Year, and still sees shots nightly.  Vintage wallpaper, heavy leather furniture, and saloon doors help set the scene, while the potent drinks (heavy on tequila and whiskey) follow suit with their Western names such as "Annie Get Your Gun" or "Bucket of Blood". 
Bebel Bar & Velvet Room Behrenstrasse 37; +49.030.4606090
Dripping in luxury and set inside the equally swanky Hotel de Rome, BB is the site of a former 19th century bank, and the money clip-carrying elite still mingle around its big wooden bar. It's now serving up overdrafts of local pils, as well as an extensive cocktail list of 60-plus mixeds, which come alongside tasty free snacks for the not-so-financially-endowed. If your head spins at the thought of so many options, spring for Bar Manager Daniel Klingseis' current favorite, the Gin Mare Basil Smash.