Let's face facts: If you're in Berlin for the month of October (and, in fact, a healthy chunk of September), it's because you intend to heavily violate your own purity laws at the world's greatest beer festival. Helping you on that noble quest, we've put together a rundown of the best events taking place every day over the course of the German capital's Oktoberfest.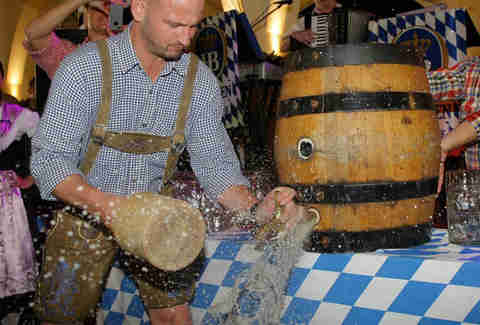 Friday, September 27th
The 63rd Berlin Oktoberfest kicks off today. It's Berlin's biggest to date, with a giant Paulaner Brewery tent, carnival rides, and live bands, and thus seems like a pretty appropriate place to start.
Saturday, September 28th
Steadily continue by getting your fill of German tunes w/ a show by the Bavarian Beat Boys, the self-proclaimed "hottest brass band in the world" (way to aim high there, fellas). They'll be playing Café am Neuen See's Oktoberfest tonight.

Sunday, September 29th
Head to the last day of the weekend-long celebrations in Neukölln's Britz Garden, complete w/ a three-piece brass band (who are clearly inferior to the BBB's) and plenty of Bavarian belly-fillers.
Monday, September 30th
The Pub Berlin at Alexanderplatz kicks off their Oktoberfest celebrations today, and the best part? Taps are built into the tables, so you can be your own buxom beer wench for the night.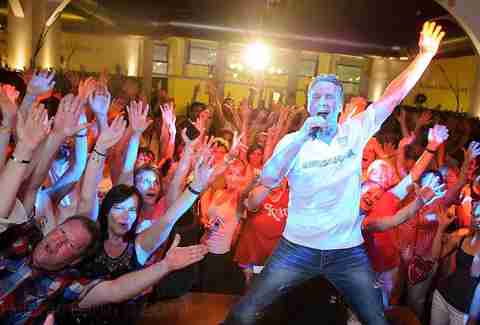 Tuesday, October 1st
We're officially in October now, so drink like you're in the Oktoberfest captial itself at the Berlin location of Hofbräu München, which is putting on a variety of daily performances to dance your drunkenness away to, including yodelers, folk dancers, and -- thank God -- lots of cowbells.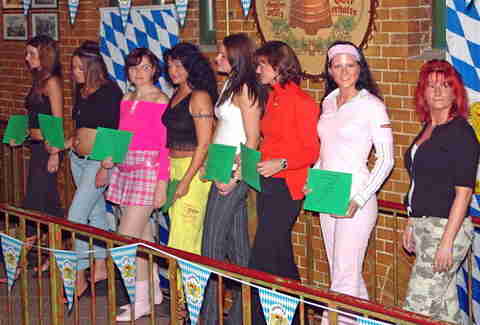 Wednesday, October 2nd
Head to Brauhaus Spandau, who're putting out a special beer brewed for the 'fest and a beauty pageant tonight; the preliminaries of the Miss Germany competition.

Thursday, October 3rd
Early birds get the worm free sausages at the After work Oktoberfest Special, along with a live show from band Die Banausen.
Friday, October 4th
It's day eight, so we're half way through, and still going strong by heading lakeside to the Biergarten am Orankesee Oktoberfest celebrations. They're busting out a DJ and baking fresh pretzels.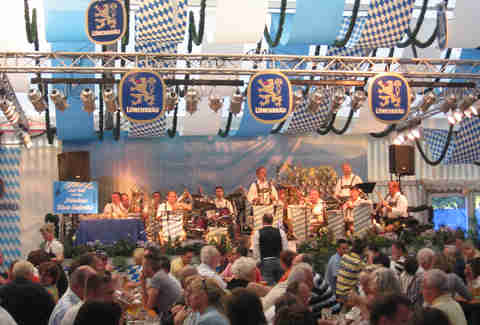 Saturday, October 5th
Continue the weekend at Alexanderplatz's 'fest party, with live music, a beer garden, and a maypole to dance around for some reason.

Sunday, October 6th
Finish the weekend with Berlin Republic's 18 different varieties of beer on tap, to be soaked up with their special Oktoberfest brunch, incl. traditional German white sausage w/ pretzels.
Monday, October 7th
It's Monday. Grab the week by the horns w/ a full flight of beers at old-school brewery Marcus Bräu.
Tuesday, October 8th
Clearly by now it's time for some exercise, so jump onto Berlin's keg-equipped Bier Bike.

Wednesday, October 9th
Berlin's Festival of Lights starts today, which means come nightfall, the city's main landmarks will be drenched in a Technicolor glow. Pick up a sixer & continue your beer fest drinking celebrations at the Potsdamer Platz's grand opening party, which will look something like a psychedelic high.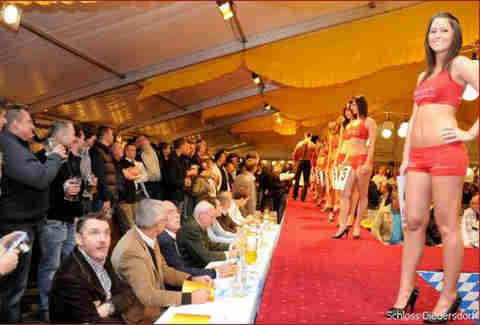 Thursday, October 10th
Take a break from city drinking & start drinking beer in Diedersdorf Castle instead, alongside the attractive competitors of the Miss Diedersdorf pageant.

Friday, October 11th
Check out the Dufte Wiesn party today, held across from the Hamburger Banhof, which tragically is a train station, and has no actual hamburgers. Drown your sorrows with Munich's Löwenbräu beer, a five-piece band, and a full Bavarian menu.
Saturday, October 12th
You've made it this far! Pat yourself on the back, and celebrate by hitting the microbreweries in our guide to Berlin's craft beer scene -- they'll be brewing special fall beers by this point. They're all open on Saturday, but you'll need to start early to catch all eight before closing time.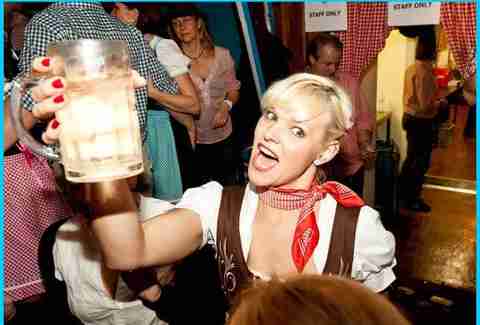 Sunday, October 13th
Last, but far from least, head to Wild Oktoberfest's party tonight to end your two-plus weeks of Bavarian-style imbibing. There'll be a heated outdoor bar, a band, jugs of beer (duh), and "the most beautiful original Oktoberfest tent outside of Munich"!