Fact 1: in Germany, they call New Year's Eve "Silvester". Adorable! Fact 2: The day after, you're going to feel like Silvester beat your liver, and left it for dead. Here are the best places to get a little hair of the dog that gave you that hangover in the first place.
Ellington Hotel
Charlottenburg
Go baller for brunch at the 1920s-style Ellington Hotel (former hangout of Duke Ellington himself). The NYE January 1st hangover brunch here's a bit pricey at 38€, but it includes live jazz, regional dishes, and sparkling wine.
Harry's New York Bar
Charlottenburg
The sister spot to Harry's in Paris (Europe's oldest bar and the birthplace of the Bloody Mary), this outpost is set inside the Grande Hotel Esplanade, where they use the classic recipe from Harry's ABC of Mixing Cocktails to serve the nausea-inducing/curing Prairie Oyster cocktail, a classic hangover cure which oddly includes an egg yolk, Worcester sauce & Tabasco w/ no booze (wtf!).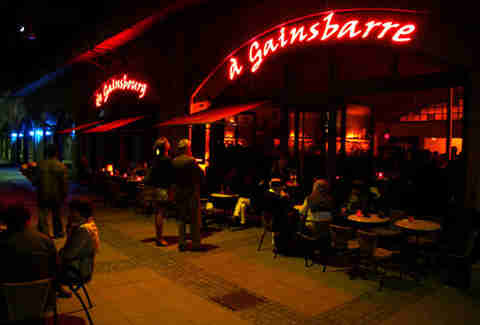 Gainsbourg
Charlottenburg
This West Berlin divey spot has a whole section on its drinks menu reserved for Hangover Cocktails, including the Bloody Mary, a Punt e Mes forward "Apotheke" & their own "Prairie Oyster" w/ olive oil, ketchup, yolk, lemon & spices.
Jules Verne
Charlottenburg
This iconic Charlottenburg resto serves up a pretty mean weekend breakfast buffet, incl. lots of egg dishes and smoked salmon & also does brunch cocktails incl. Marys w/ lots of spicy pepper & Tabasco and a beyond-decent Tequila Sunrise.

Schwarzes Café
Charlottenburg
This popular Charlottenburg breakfast spot does your tired eyes a favor w/ black décor, black coffee & a spin on the hangover drink, the Sunny Mary, which combines vodka, eggnog, OJ, and lemon juice. If that doesn't float your boat, there're 50-something other 'tails to choose from.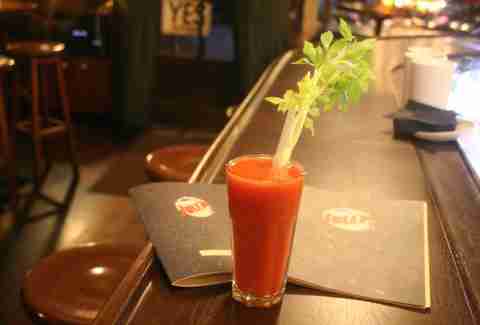 Julep's New York Bar and Restaurant
Charlottenburg
With dozens of drinks in their cocktail book, this West Berlin American pub (could they get more cosmopolitan?) serves up plenty of booze to help kick your hangover, including a Hot Bloody Mary (fancified w/ celery bitters & Spanish vodka), Screwdrivers & Margarita pitchers.

MokkaBar
Kreuzberg
Perfect for the late sleepers, breakfast at this retro-style Kreuzberg spot goes till 6p, w/ wallet-friendly prices under 8€. Once breakfast is over, happy hour kicks in, w/ deals on the entire drinks menu incl. Bloodies.
California Breakfast Slam
Neukölln
Berliner's expats love this American-style diner in Neukölln for its crazy hangover brunch options like rocky road pancakes and chicken-fried steak, but the place also does a mean Mary & just added new hangover cocktails incl. an espresso cocktail w/ vodka, espresso & Kahlua.
Melbourne Canteen
Neukölln
This Aussie-run spot offers a delicious breakfast menu (mmm eggs Benedict) and boasts the city's best ever Bloody Mary. We're not kidding about that.
Nalu Diner
Prenzlauer Berg
Another popular old-school American diner (complete w/ the cafeteria cups & free refills), Nalu is popular for its burger and Boozie Brunch Saturday, which includes discount drinks including a killer BM, Screwdriver, Mimosa & Tequila Sunrise.
White Trash Fast Food
Prenzlauer Berg
It's known for the campy décor, ridiculous burgers, basement tattoo parlor & live shows, but this little-bit-of-everything place also does a mean hangover drink in the shape of Marys and pitchers of vodka-spiked lemonade.
BR101
Prenzlauer Berg
The 3€ happy hour is an obvious draw to this Torstrasse outpost, and the Bloodies, White Russians, and Brazillian-style sandos will help soothe that January 1st pain.
Route 66 Diner
Wilmersdorf
Apart from waitresses in poodle skirts, jukeboxes, and neon lights, 66 also offers a Sunday all-you-can eat brunch w/ platters upon platters of eggs, a chocolate fountain & plenty of milkshakes. And of course, Bloodies, Tequila Sunrises & Lynchburg Lemonades.