The Best Bars Offering Cocktail Classes Across the Country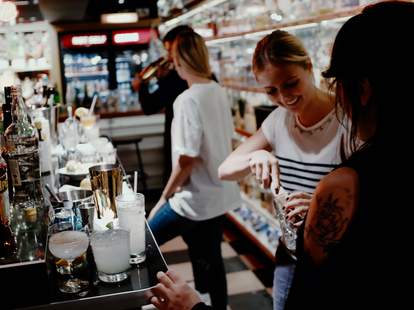 Give a man a drink and a he'll drink well for a night. But teach a man to make a drink and he'll drink well forever. That's how the old saying goes, right? These pedigreed bars from across the country offer not only incredible craft cocktails, but also fun and instructional classes in mixology so you can keep the party going when you get home. Of course, they all include alcohol as well, because how else are you going to learn?
Minneapolis, Minnesota
This restaurant and bar from James Beard Award-winning chef Gavin Kaysen offers regular Saturday cocktail classes. The hour-and-a-half long sessions cover either classic cocktails like Martinis, Gimlets and Daisys, or focus in on the Old Fashioned with a deep-dive history and recipes for variations on the O.G. cocktail. Appetizers and drinks are served during both classes, each of which costs $125 per person.
Chicago, Illinois
Learn bartending 101 or, if you're ready for it, bartending 201 at one of the country's most celebrated cocktail bars. The 90-minute classes, which cost $100 per person, instruct thirsty students on the stories behind everyone's favorite cocktails and offer hands-on instruction in making these drinks at home. Of course, cocktails are available to sip. If you'd prefer a private class, those are also available and customizable.
Boston, Massachusetts
Spend a Sunday afternoon stirring and shaking up cocktails at this Barbara Lynch fine dining institution. Classes cost $95, last for two full hours and include cocktails and bar snacks, all pegged to a theme. Upcoming classes include a virtual tour of New York's famed bars and drinks, "Drinking Through Imperialism" and an in-depth lesson on stocking and working with your own home bar.
New York, New York
Get an education from a world-class bartender hailing from either The Bennett, Dear Irving or Raines Law Room (you can't go wrong with any of those spots). The 90-minute, $85 classes are offered on Sundays and include snacks, two drinks and a take-home cocktail swag bag. You can opt for either the intro class or get to know your spirit of choice better with one of their spirit-focused classes.  
San Francisco, California
Every summer, Beretta offers a series of cocktail classes based on a theme. Last year, the trio of classes centered around the evolution of the American cocktail, starting with pre-Prohibition drinks, before moving onto cocktails created during Prohibition, and finally ending with the aftermath. The bar recommends taking each one of the classes to get the most out of the experience. Classes cost $85-220 and involve drinking, of course.
New York, New York
If you really want to test your mettle and learn how to bartend like a pro, take the master class at this subterranean NYC spot. You'll learn everything you need to shake, stir and strain like a real-world bartender. After completing the class, you'll don the burgundy master class blazer and get your picture taken. With that Polaroid on the wall, you'll be qualified to take over and mix up drinks for yourself or your friends whenever you dang well please (you'll still have to pay for those drinks, though). Classes cost $100 per person and last for two hours.
Los Angeles, California
Every other Friday head bartender Scott Cushman leads students in a one hour class in cocktailing. The $20 fee includes tastings of two or three cocktails along with one full drink off the bar's signature cocktail menu. Topics have included scotch-tails, bartenders' favorite drinks and ignited cocktails—yes, that means fire.
Portland, Maine
This bar/cocktail supply store offers classes in "liquid alchemy." While they do offer basic intro classes, the ones you really want to attend tap into the bar's obsession with bitters, shrubs and infusions. Prices range from $30 to $70 and classes last for two and a half hours. Depending on which class you choose, either two or three cocktails will be included in the price.