The Best Canned Moscow Mules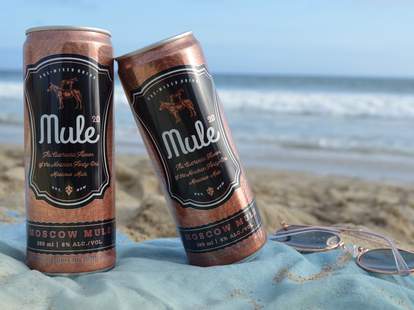 Forget beers—even canned wine can take a back seat—because canned cocktails are here, with more and more arriving on the scene every day. Canned Gin & Tonics led the charge and now canned Moscow Mules are making waves. The cocktail is a perfect canning candidate thanks to its spritzy bubbles and simple list of ingredients, and these brands are killing it. Here are the best canned Moscow Mules you can buy right now. They might not come in copper mugs, but they're just as frosty.
If you like your Mules on the sweeter end, try this patriotic product. Coming in at seven percent ABV, it's extremely easy drinking with lots of lime zest on the nose and hints of limeade upon first sip. There's just a hint of spice on the finish and an underlying earthiness, belying the vodka within.
Cutwater cans pretty much every cocktail you could ever want—including a one of our favorite G&Ts—but their Vodka Mule is definitely one you should seek out. Made with the distillery's own Fugu vodka and a splash of bitters, along with the usual lime and ginger, this is a heady, drier take on the cocktail.
West Coast Mule lovers, grab a few of these cans the next time you need to get a gingery fix. East Coasters, keep your fingers crossed that it makes its way across the country. It packs a lot of ginger flavor but is fairly gentle when it comes to spice, finishing with a hint of lime and just the right amount of full-bodied sweetness.
Mule 2.0 ($11 for a 4-pack)
Packaged in a tall, skinny copper-colored can, this Mule falls on the citrusy end of the spectrum. Zest lime comes at you along with fresh ginger on the nose. Take a sip and you'll get a limey kick with a spicy ginger finish. At eight percent ABV, it comes in slightly higher than some of the other canned Mules—and the website even suggests adding another spirit of your choice to the mix for a high-proof ultra Mule.
Another eight-percenter, this Midwestern offering is the spiciest of the bunch. The ginger tickles your nostrils and tingles down your throat—it even made one of us sneeze, but that didn't stop us from taking sip after sip. It's extremely crisp and definitely on the drier side; for ginger super fans only.