The Best Cocktails From Your Favorite Chain Restaurants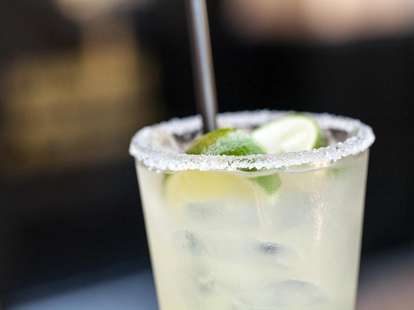 Cheesecake Factory/Twitter

As someone who spent his teens genuinely excited to see mozzarella sticks on a menu, I'm quite comfortable saying that chain restaurants have a lot to offer. There are times when all you want in the world is a pile of boneless buffalo wings or a gigantic bowl of fettuccine alfredo. But one thing that is rarely high on the list of things to order from a restaurant that ends in "Bar & Grill" or "Factory" is a cocktail. Often cloyingly sweet or crushingly heavy, and frequently made with subpar mixes that totally wash out whatever flavor you'd expect from a Daiquiri or Margarita, chain restaurant drinks can feel like they belong in the cocktail dark ages of the '80s and '90s—perhaps because that's when many of them were created. But after consuming many a chain restaurant cocktail, I can say that there are some worth drinking. This is not to say they'd make the menu at the country's best cocktail bars, but if you end up at an after work happy hour, you'll feel good after drinking one of these.
Long Island Limoncello – Olive Garden
Essentially, this is a Long Island Iced Tea that uses Limoncello in place of gin. The result is a Sweet Tart of a drink that is a bit less dangerous than a typical Long Island. It's still on the sweeter side, but the Limoncello gives just enough citrus bite to make it enjoyable in a way that many chain cocktails are not.
El Niño Margarita – Chili's
Even with a Margarita menu as long as Chili's is, it can be tough to find a drink that isn't too sweet going down (the brandy in the Presidente Margarita, for example, makes it a little more sticky sweet than I'd like). The El Niño has a heavy dose of citrus from pours of both orange liqueur and orange juice, but it manages to be much more than a onenote cocktail.
Bloody Mary – Bubba Gump Shrimp Co.
I will confess two things: I have been to a Bubba Gump Shrimp Co. only once, and I am not a huge fan of Bloody Marys. Imagine my surprise when the Bloody at my table was an enjoyable mix of freshly vegetal and pleasantly savory. I'd credit it to the reported use of Demitri's as Bubba's Bloody Mary mix of choice, which also provided the seasonings in one of our favorite new vodka's of the year. The garnish of a whole cocktail shrimp could also be considered tasteful in this day and age of entire cheeseburgers sticking out of drinks.
Cucumber Martini – TGI Fridays
This can't properly be called a Martini (mint and elderflower in my Martini? Probably not.), but it is delightfully refreshing. They made mine with Bombay Sapphire gin, which has a nice brightness that goes well with the mint and cucumber.
Blackberry Mojito – Outback Steakhouse
I'm not sure how many times I've been to Outback. I had a roommate whose tradition was to go every year on his birthday. I've also ended up there on multiple occasions because it was in the same parking lot as the Hampton Inn I was staying in. So I've eaten my fair share of Bloomin' Onions. Of everything I've had off the drinks menu, though, the Mojito stands out for its freshness. Tart and minty, I never mind ordering seconds. Outback has a bit of a heavy hand when it comes to ice in the glass, so you may actually have to order a few.
Ultimate Margarita – The Cheesecake Factory
Sometimes, a simple, straightforward Margarita is all you can ask for. The Ultimate Margarita is just that, hiding in the binder of food and drink that is a Cheesecake Factory menu. The Marg I had hit the balance of sweet and sour well, although I should add the caveat that some of this could be bartender dependent. Lee Breslouer had a less successful Cheesecake Factory Margarita experience over at Thrillist. But for me, one drink and one piece of banana cream cheesecake is a dinner I do not regret.