Best Cheap Mixers You Should Actually Buy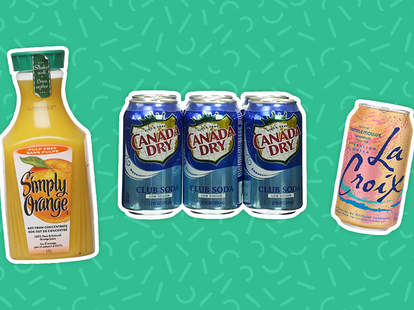 We do our best to help you make better drinks every day, and that means using good ingredients. And, whether any of us like it or not, that often means using more expensive ingredients. Whatever is inside those plastic lemon and lime shaped containers is simply no substitute for the real (and increasingly expensive) thing. Pricier cola made with real sugar is irreplaceable in a Cuba Libre. And you should shell out the extra money for a good tonic like Fever Tree or Fentiman's—it can make or break a G&T or Vodka Tonic.
But not every mixer on your bar needs to be artisanal, small batch or account for a notable percentage of your weekly grocery budget. There are some cheap ingredients that can sit proudly alongside everything else on your bar. Here's are five mixers you can save on.
Club Soda
It's not that soda water isn't an important cocktail ingredient—you couldn't make any number of Highballs without it—it's just very rudimentary. Unlike cheap tonics that are often filled out with high fructose corn syrup, club soda is essentially just bubbly water with a few mineral additions that may sound complicated (disodium phosphate) but are just salts of different chemical makeups. Canada Dry ($3.99/12 pack), cans of Whole Foods in-house 365 brand ($2.99/six pack) or Vintage brand ($.88/liter) hold their own.
Orange Juice
We have been hammering the need for fresh squeezed juice forever, and for good reason. Lemons and limes are irreplaceable cocktail ingredients. But a bottle or carton of orange juice can work just fine—especially in simple drinks like Screwdrivers or Mimosas. And in our own orange juice taste test the cheapest OJ of the bunch—Whole Foods 365 ($2.99)—turned out to be the best one.
Ginger Ale
Let's be clear: We are not talking about ginger beer. That spicy stuff is worth splurging on. Ginger ale however, is a different story. It is used specifically because it is sweeter than ginger beer, so we don't turn to it for maximum ginger flavor. It may just be that we've been drinking it on airplanes for decades, but there is something comforting about cans of Canada Dry ($1.99/two-liter bottle) or Seagram's ($1.99/two-liter bottle). They're both quite mild and highly mixable. And, importantly, very cheap.
Lemonade
We aren't suggesting you go with a powdered mix, but you also don't need to get too fancy with your lemonade or juice an entire bag full of lemons to make your own. As with ginger ale you actually want something that's on the sweeter side (if you didn't you'd just use lemon juice) and brands like Simply ($2.99) and Newman's Own ($2.99) make easy additions to very simple cocktails.
La Croix
Sure it's trendy, but it's also dirt cheap ($3.69/12 pack). And most importantly it makes killer cocktails. You can simply top your tequila with some Pamplemousse or get a little more creative with one of these La Croix cocktails.