Crown Royal Vanilla
Sponsored by
5 Smooth Upgrades to Your Home Hosting Game
Sponsored by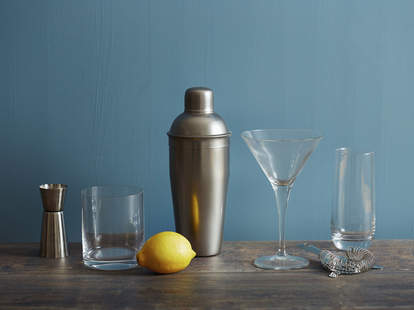 The best hosts, like the best athletes, chefs, and chainsaw jugglers, make it look easy. They glide around, just handling things, while you watch and think, Man, that person has a gift. I could never do that. But don't get blinded by the light of their hosting brilliance! Because while you're right that they do have a gift, that gift is composed of multiple smaller skills—skills that you can learn. Which means, hey, you could do that, you could host like a champ. To get you started, here are a few easy upgrades to iron out some of the wrinkles in your game. Incorporate them into your repertoire, as baby steps on the path to making hosting look easy.
Create a laminated one-sheet of handy info for your guests
Post it in a logical, easy-to-read location and include information such as:
Your home WiFi network and password.
Your home/cell phone number.
Your address, city, state, zip.
Local car services/ cab companies.
Local eateries that deliver.
Local parking quirks/ inside info.
Any irregularities re your facilities/pets/setup that guests should know (eg "gotta jiggle that handle"; "watch dangling digits, the cat will pounce" etc etc).
Brett Donar / Stocksy
Studio Six / Stocksy
Always use fresh juice in your cocktails
Get a manual juicer (citrus press); it's a small investment that'll make a big impact on your home bartending game. Your drinks will taste better, have better balance, more nutrients, and no added sugar or preservatives. Here's another pro-tip: Any drink with juice in it should be shaken to fully incorporate the fresh juice, while all others are best stirred. That's right: James Bond was wrong about his Martinis.
Jill Chen / Stocksy
Advertisement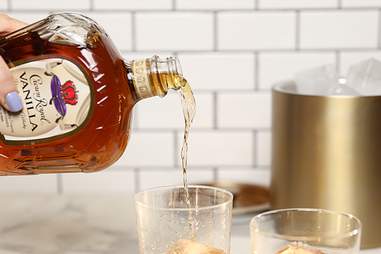 Courtesy of Crown Royal
With just the right piece of clever bar gear, or a handful of insightful tips, you can smoothly level up your home hosting skills. It also helps to have a selection of spirits to satisfy all tastes. For the newbie whiskey explorer in your crew, try stocking Crown Royal Vanilla, a smoother-than-smooth spirit that's delicious straight, on the rocks, or in a cocktail.
Stock up, stock up and … stock up
You don't want to get caught short at your own party, so make sure you have plenty of the following on hand:
Food for your guests: Drinking on an empty stomach is the opposite of smooth.
A wide selection of beverages, including non-alcoholic options. Smoothly anticipate the needs of ALL your guests.
Napkins. Pretty sure you can't have too many.
A supply of disposable hand towels for the bathroom.
Plenty of soft soap and TP for the bathroom
Extra liners for your wastebaskets. They'll catch overflow, and will spare you having to hunt and install a new bag when you empty the trash. Another pro-tip: you can convert a laundry hamper into an extra wastebasket as needed. Just line it with a trash bag.
Bonus Upgrade: The Smooth Wrap
One of the hardest hosting moves to pull off with style is the shut down. How do you let your friends know the party's over? Some tried-and-true ideas:
Turn the music down, and the lights up.
Shift from serving cocktails to water, seltzer etc.
Make a simple announcement like, "Hey, this was a great time and I hate to cut it short, but I'm beat. Let's do it again soon."