7 Extra Añejo Tequilas That Are Worth the Price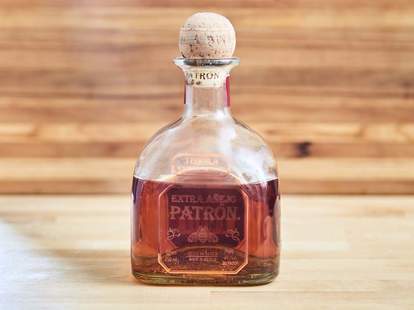 Extra añejo tequilas are some of the priciest spirits on the market, with prices often surpassing bourbons, scotches and even Cognacs. But are they actually worth the cost? After tasting our way through the category, we think so. Here, we lay out the seven extra añejos tequilas that definitely worth their price tags. Even if you have to save your extra pennies and start an extra añejo fund, these are bottles not to be missed.
One of Patron's first new bottlings in over 25 years, this premium tequila is a blend of agave spirits aged for a minimum of three years in a number of different barrels, including new and used American, French and Hungarian oak. Super rich and caramel-y, the tequila has notes of vanilla pudding, flan, overripe banana and dark chocolate. While this is definitely a sipping tequila that is best enjoyed straight, it also makes a truly decadent Old Fashioned.
This limited extra añejo tequila was one of our favorites and a steal at the price. Produced from 100-percent blue Weber agave—like all of the brand's premium tequilas—the Arette Gran Clase is rested for three years in American white oak barrels after distillation. Creamy and intoxicatingly rich, the spirit opens up gradually to reveal its complexities. At the forefront there are bourbon-esque flavors, including vanilla, honey, baking spices and oak. Then as the spirit finishes, it has notes of banana pudding, agave, limestone and black pepper. Darn good liquor from a brand that never ceases to amaze.
We've waxed poetic about every release under the Tapatio label, and this bottling is no exception. A blend of tequilas matured for up to four years in different casks, including French and American oak, Tapatio's Excelencia hits you in waves. There's a brightness at first, with notes of cream soda, wildflowers and oranges. Then the spirit shifts to reveal darker, richer notes of brown sugar, vanilla, baked apples and white pepper. As it lingers for a ridiculous amount of time on your palate, the spirit leaves a dry, spicy tannic heat on your tongue. Our one suggestion is that the brand should release their overproof tequila—which is not diluted with any water—as an extra añejo.
This extra añejo tequila was so good that it was impossible to not finish it (yes, we did feel guilty about how quickly it was gone). Produced by Ken Austin, a longtime tequila aficionado and entrepreneur, along with the Lopez family, who are fifth-generation agave growers from Jesus Maria, Mexico, Avion's delectable flavors start with agave roasted for 72 hours. After being distilled twice, the tequila is then filtered and racked into American oak barrels for 43 months. Then the spirit is rested for an additional month in 5-gallon barrels—which impart more flavor in less time because of their surface area. The result is an extra añejo that is on par with some of the best bourbons. It has these dank tobacco notes, a rich earthiness and notes of espresso, vanilla, apricot and honeycomb. Skip the dessert and drink this instead.
Highly allocated with only 2,500 bottles produced, this extra añejo tequila was originally created by master distiller David Ravandi for his own personal consumption (in 2014 Ravandi released 1,000 bottles to the public and the demand for more convinced him to make it a yearly release). After the organically farmed agave is fermented with natural yeast and distilled in small batches—like all of Ravandi's 123 line—the Tequila Diablito is aged for 40 months in new American oak casks. On the palate it has notes of honeysuckle, honeycomb, butterscotch, vegetal agave and white pepper. The finish is long, creamy and mildly fruity, with hints of papaya, roasted pineapple and yellow guava that linger after its gone. It would be a crime to drink this any other way than neat.
This stellar extra añejo is one of the oldest and most exquisite bottlings available on the market. After distillation, the tequila is aged for an unprecedented six years in ex-Cabernet Sauvignon French oak casks used in the Napa Valley. With flavors more commonly found in finer Cognacs and the lushest bourbons, this tequila is incredibly complex. There are supple berry notes from the wine that was once in the casks, including its tannic dryness. The spirit also has flavors of fresh fig, cassis, roasted agave, vanilla and cinnamon.
Unlike any tequila you've ever had, the extra añejo from Tears of Llorona (which translates to the angel's tears) is on par with most every high-end scotch and Cognac that we've had the privilege of trying. After a long, slow fermentation with master tequilero Germán Gonzalez's proprietary strain of yeast, the mash is then distilled on a copper alembic still. After distillation, the agave spirit is aged in three different types of barrels—ex-sherry casks, ex-Scotch whisky casks and ex-brandy casks. On the palate the spirit retains characteristics of all three spirits, including flavors of burnt caramel, sea salt, stone fruits, honeycomb, toasted almonds and marzipan. This is a tequila that should be served to commemorate a birth, a marriage or whatever you think is the most important life event you're going to have. It should only be shared with the closest friends—or no one at all.