Best Canned Gin and Tonics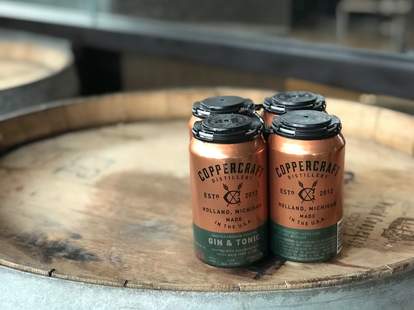 There are few drinks that make you go "ahhhh" quite like a Gin and Tonic—especially in the summer. And the best way to drink anything at all in the summertime is out of a can. Fortunately, there are companies out there that know both of these things, and are putting G&Ts in packable, portable cans that are perfect for sipping by the pool, the beach, a campsite or anywhere else a refreshing beverage might be appropriate.
Canned cocktails continue to get better and better—there are plenty to choose from, both classics and totally original creations. But the Brits continue to be ahead of us when it comes to Gin and Tonic in a can—they have enough of them to fill an entire grocery store aisle. For those of us on the left side of the pond though, here are the best canned G&Ts to crack into this summer:
Holland, Michigan's Coppercraft distillery puts out a wide range of spirits—everything from vodka to applejack—but they're only canning one thing and that's a Gin and Tonic. If you pour it out and catch a whiff, Coppercraft's G&T smells like a forest in the fall. Taste it and an herbaceous, slightly bitter gin shines through. It's an ideal accompaniment to any upcoming camping trips you might have planned.
The Brooklyn brewery has stamped out a place for itself in the flush New York City craft beer market with huge, hoppy IPAs. But it also cans this super dry hibiscus Gin and Tonic. It's not big on either the bitter bite of tonic or junipery gin. Instead it's funkier and more tart thanks to the hibiscus. And if you're into pink drinks, this can definitely has you covered.  
America's most prolific producer of canned cocktails did it again. The Cutwater G&T smells like someone muddled half a cucumber into a can of Sprite (which is a big plus if you want a refreshing summer drink). As you sip, you get a robust cucumber flavor along with a blast of citrus. If you aren't careful, you'll end up drinking the whole four-pack on your own.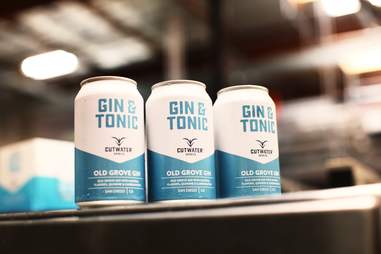 Courtesy of Cutwater Spirits