These Hotel Employees Are Here to Help You Catch a Buzz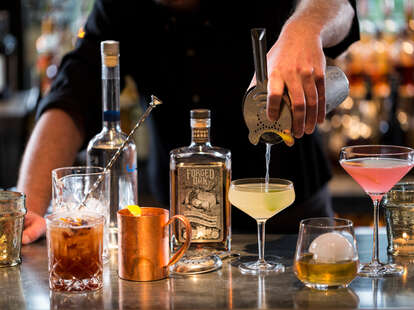 Four Seasons Resort and Residences
Hotels around the country have been getting creative with their staff, employing dedicated professions to ensure no guest goes thirsty. But we aren't just talking about your run-of-the-mill bartenders. From roll-up bar cart mixology sessions to custom brewery tours by bicycle, these hotels offer something for everyone. So try to score some face time with these hotel employees during your next domestic escape.
Zachary Blair, Cocktail Quizmaster
The Whiteface Lodge
Lake Placid, NY
Nestled in upstate New York's Adirondack Park, Whiteface Lodge has been offering a rustic respite for travelers since it first opened its doors in June 2005. Overlooking Lake Placid, the award-winning resort is known for its lavish amenities, such as a 56-seat movie theater and a state-of-the-art spa—but KANU, their fine dining destination, is a fan favorite. Zachary Blair is the lead mixologist at KANU Lounge, overseeing all bar programming. Blair made the decision to scrap the traditional cocktail menu and replace it with a bespoke experience he dubbed "The Game," a series of playful "this or that" style questions (Los Angeles or Tokyo?) that feels more like you're taking a Buzzfeed quiz than ordering a drink. Based on an individual's responses, he'll concoct a completely customized tipple, which is way more entertaining than simply pointing to an entry on a cocktail list. While the approach may seem unorthodox, it's oftentimes a successful strategy that helps break the ice amongst a bar full of traveling strangers and jumpstart the night.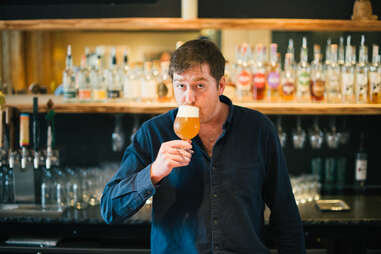 Matt Canning, Beer Concierge
Hotel Vermont
Burlington, VT
It's no secret that behind every great hotel is a great concierge. These fiercely loyal experts are trusted to wear many hats and serve as a hotel's face. Luckily for Matt Canning of Hotel Vermont, one of those hats happens to be in-house brew connoisseur. As the nation's first "beer concierge," he is tasked with helping visitors navigate the ins and outs of the bustling world of Vermont's local beers. Every day is different for Canning. One day he may be leading an informational tasting at the hotel's Juniper restaurant, and the next he might be leading a bike and brew tour of Burlington's favorite breweries. The full array of beer concierge programs can be found on their website, but Canning and the Hotel Vermont team is also always happy to receive requests and create tailored experiences for their guests.
Steven Teaver, Doctor of Drinks
Four Seasons Resort and Residences
Vail, CO
Vail has long been revered as one of the premier mountain resort destinations in North America. But at The Remedy Bar inside the Four Seasons Resort and Residences, the worlds of après ski and old-fashioned apothecary collide. With uninterrupted mountain views, the hotel bar has become a beloved favorite amongst Vail locals and tourists alike, replete with a zinc bar and pebble leather menus. Steven Teaver, the property's director of beverage (also known as the "Doctor of Drinks"), plays off the theme with a provocative bar program teeming with inventive elixirs, spirited potions and refreshing remedies. In-the-know patrons can also request a visit from Teaver, who will wheel up with his après whiskey cart to mix tableside cocktails. For a more intimate experience, Teaver also organizes private mixology classes upon request…just what the doctor ordered.
Ryan Lettier, Wine Concierge
Kimpton Hotel Vintage Portland
Portland, OR
For those who prefer a bold, full-bodied red or sparkling white wine over handcrafted cocktails or ice-cold brews, look no further than the Kimpton Hotel Vintage Portland in Oregon. The wine-themed boutique property in the heart of downtown is dedicated to keeping things weird, with a touch of luxury. Expect details like graffiti-inspired cork art adorning the walls and a lobby that doubles as an urban tasting room. Ryan Lettier (who holds a Les Clefs d'Or membership) is the hotel's concierge extraordinaire, and has worked tirelessly to create one-of-a-kind, memorable experiences for his guests. Boasting 117 local winery partners (one for each guestroom), there are constant events and tastings available exclusively for hotel guests. From arranging cycling tours through nearby urban wineries to bringing visitors on helicopter tours of neighboring Willamette Valley vineyards, there's no ask too over the top for Lettier.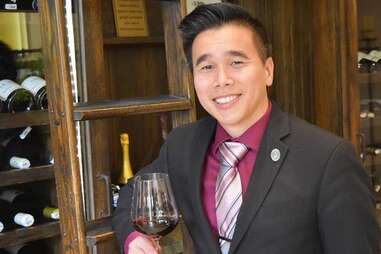 Hai Tran, Professor Sommelier
The Rittenhouse
Philadelphia, PA
Oenophiles in search of a hands-on, vino-themed adventure that goes beyond a typical vineyard visit or winery tasting should plan a summer escape to The Rittenhouse. Known as one of Philadelphia's most prestigious properties, the hotel recently announced their upcoming SOMMer School series. Designed by the hotel's head sommelier and beverage director Hai Tran, this innovative program is comprised of six different hour-long sessions, perfect for anybody looking to elevate their wine knowledge. Each event will be led by Tran and will feature a specific theme. For example, the June 27 course is titled "Red, White, and You" with an emphasis on the regions defining American viticulture, while the "It's All Greek to Me" session will take place on August 8 and explore the resurgence of Greek varietals. Tickets cost $45 each and are currently available for purchase through Eventbrite.