7 Adult Lazy Rivers That Are Even Better Than Swim-Up Bars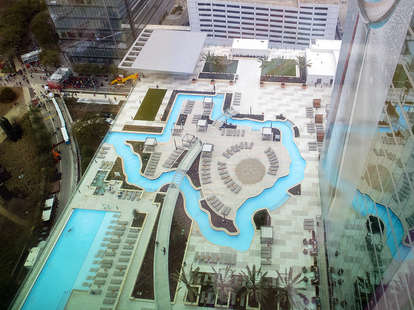 Drifting down a crystal clear waterway, cradled gently by an innertube, idly circling a manmade island—the lazy river is one of humanity's greatest accomplishments. It is vacation embodied in one slow, relaxing activity. And it is improved by just one thing: alcohol. Here are seven incredible lazy rivers that you can ride around while sipping a vacay-appropriate cocktail.
Las Vegas, Nevada
You might be on the Vegas Strip but you'll feel more like your on a tropical island at the MGM's 6.5 acre pool complex, which features four pools, three whirlpools and a lazy river. Though it's closed for repairs until May, the lazy river will be back in action just in time for that hot, hot desert summer. Split a bucket of beers or grab a sippy cup full of a tropical drink (or bring a drink you made in your hotel room—it's totally allowed as long as it's in a plastic cup) and drift around desert rocks, waterfalls and palm trees. Still stressed after a few laps? Book yourself a poolside massage to really get your relaxation on.
Cabo San Lucas, Mexico
From the free sorbet to the poolside wake-up calls (should you need to be awoken from your nap to enjoy more free sorbet) to the preloaded iPads, the pool experience at Las Ventanas is unbelievably luxurious—and we didn't even mention the pool butlers. Should you be able to tear yourself away from the lounge chairs, the lazy river (Baja California Sur's first) is waiting to whisk you away. Float by the thatched roof swim-up bar for a beverage and continue on your way, weaving around islands of succulents, enjoying views of the Sea of Cortez.
Williamsburg, Virginia
Take a break from learning how to churn butter in Historic Williamsburg and float down this lazy river set a stone's throw from an actual river (the James River). Complete with a waterslide that leads into the loop, this lazy river travels at a brisk five miles-per-hour. You can ride in single tubes, double tubes or even triple tubes, and sip on Sangria, Mojitos or an array of flavored Daiquiris and Margaritas. If you get chilly, you can warm up next to the fire pit.
Lake Charles, Louisiana
Grab a specialty frozen cocktail like a Miami Vice from the swim-up bar and then hop into the current of this ultra-relaxed lazy river, which features bridges, palm trees, tropical foliage—and no alligators (you can't say that for the region's natural bodies of water). If you want to really go for the luxe experience, reserve a poolside cabana, which includes an attendant, who will happily deliver those Miami Vices to you.
Montego Bay, Jamaica
You'll be surrounded by greenery and waterfalls at this aquatic complex—the second largest water park in the Caribbean. Grab a cocktail from the swim-up bar (no cash required, as the resort is all-inclusive) and protect your cocktail as you ride through the tunnel of spouting fountains. The park also includes suspension bridges, water slides and views of the nearby beach.
Houston, Texas
This rooftop lazy river allows you to travel around the entire perimeter of Texas in just 15-20 minutes. Built in the shape of the Lonestar State, the lazy river takes you underneath bridges and right up to an underwater window through which you can see the city, over 100 feet below. Drinks like Strawberry Daiquiris and Floriditas (made with rum and honeysuckle liqueur) will refresh you and calm your nerves as you come to terms with the elevation.
Maui, Hawaii
It takes a lot to get people away from the beaches in Hawaii, but this resort's water complex has a lot to offer: There's a romantic pool just for adults, a lava tube slide, a rope swing and even a water elevator (an inner tube propelled by water that takes passenger up to another level of aquatic fun). And, of course, there's the lazy river, which connects all of the pools and takes riders through the occasional white water rapid (be sure to hold tight to your drink). The river also takes you right up to the Grotto Bar, hidden under a waterfall, where you can get classic drinks like Mai Tais or signatures like the Smoky Guava with mezcal, tequila, guava, lime and habanero bitters.