Europe's Best Rooftop Bars for Summer
Though American cities like New York and Chicago may be filled with notable rooftop drinking establishments, Europe has its fair share of elevated drinking experiences perfect for travelers looking to sip cocktails high above the cityscape. From local dive spots like London's Frank's Café to chic hideaways like Florence's La Terrazza, here are nine rooftop bars around Europe worth a visit this summer.
360istanbul / Facebook
Istanbul, Turkey
A historic 19th-century penthouse is home to 360istanbul, a bar and restaurant that also doubles as a nightclub called Club360 on the weekends, with DJs and live music. It's a lively spot, serving up Turkish cuisine and dozens of local wines. Reserve a table outside, or simply pop by for a drink, and take in the spectacular sights of the Hagia Sophia mosque and Sea of Marmara in the distance. The bar stays open until 4 a.m. during the weekends, so you can watch the sun set and rise in the same night.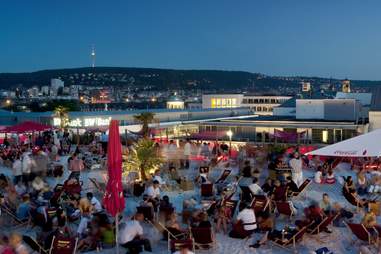 Courtesy of Sky Beach
Stuttgart, Germany
Stuttgart may not be close to an ocean, but revelers can seek out a taste of the shore at Sky Beach, a rooftop bar with actual sand. It's open between April and September, and offers guests a chilled out atmosphere complete with deck chairs and daybeds, which can be reserved for bigger groups. It's best for weekend day drinking, although Sky Beach stays open late into the evenings for those who can't quit the sand. Bring cash, as cards are not accepted.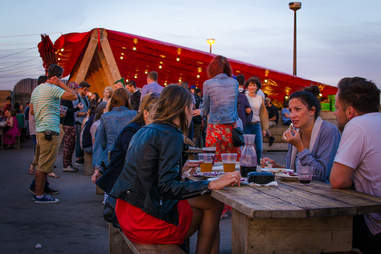 Courtesy of Frank's Café
London, U.K.
Climb up 10 flights of stairs to the rooftop of a London parking garage to discover Frank's Café, an al fresco bar that invites a hip local crowd to imbibe throughout the summer months. Ascend to the roof for a quick drink or weekend brunch—paired with one of the bar's Breakfast G&Ts. It's usually full of cool kids from the surrounding Peckham neighborhood knocking back a few Aperol Spritzes, but children and dogs are welcome, so no one will feel out of place. Be prepared for questionable bathrooms and an amazing view.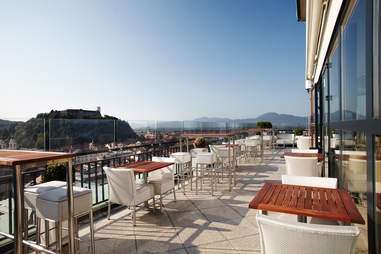 Courtesy of Nebotičnik
Ljubljana, Slovenia
Nebotičnik is Slovenian for "skyscraper," which should tell you everything you need to know about this lofty bar, set atop a 1933 building in Ljubljana. There are 360-degree views of the city and it's great for a daytime visit. Enjoy a beer, cocktail or a coffee while gazing out over the buildings and distant mountains, or book a table at the restaurant for dinner. It requires two elevator rides to ascend to the terrace, but the resulting photos will be worth it.
Courtesy of La Terrazza
Florence, Italy
Relax atop La Terrazza, a cocktail spot located on the top floor of the medieval Consorti tower in Florence. Part of Hotel Continentale, the luxurious bar is a splurge, particularly since non-hotel guests need to pay a fee to reserve a table. The indulgence is worthwhile for its views of the Arno and Florence's iconic dome. The cocktails are inventive and fresh, with options like the Tommy's Manzanilla, a Margarita variation made with mezcal and chamomile. Of course, if you're truly splurging, opt for a bottle of Italian rosé to enjoy in the summer sun.
ME Madrid Hotel / Facebook
Madrid, Spain
Beat the heat on the roof terrace of Madrid's ME Madrid Hotel, a relaxing spot known as RADIO that offers panoramic views. The scene is stylish, with a see-and-be-seen vibe, so this is not the place for visitors in flip-flops or grungy travel clothes. It's pricey, but the experience is great for those looking for a special night out while in Spain. Live music and afternoon parties are common, so check the bar's Facebook page for upcoming special events.
Courtesy of Mandarin Oriental
Barcelona, Spain
Barcelona's Mandarin Oriental features 360-degree views from its poolside rooftop bar Terrat. Enjoy a glass of wine or one of the Peruvian-inspired dishes from chef Gastón Acurio, or select from the cocktail menu, which includes a yuzu-tinged Mediterranean Negroni. While the pool is reserved for hotel guests, the terrace is open to all visitors (reservations are recommended), and a visit during sunset is particularly memorable.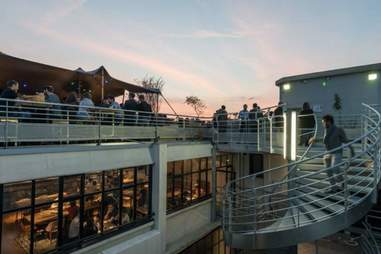 Le Perchoir / Facebook
Paris, France
There are plenty of spots to sip a glass of rosé outdoors in Paris, whether it's along the banks of the Seine or at one of the sprawling street-side cafes. But Le Perchoir, a chic rooftop bar on the 6th and 7th floors of an industrial building in Ménilmontant, is an unlikely experience in the French capital. Snap photos of the Sacré-Cœur in the distance as the sun sets or enjoy some snacks as you imbibe. It's open until 2 a.m., later than some of the city's other bars, making it ideal for late-night drinkers. The bar now also features several offshoots, including Le Perchoir Marais and Le Perchoir de L'est.
Courtesy of Aloha Bar
Rotterdam, Netherlands
Rotterdam is Amsterdam's artsy, funky cousin, so it's no wonder the Dutch city is home to a bar and restaurant that was created in an old waterpark. The indoor area is lush with plants (and a defunct lazy river) while the outdoor terrace offers views of the water and city skyline. The former pop-up bar, which took over the iconic Tropicana water park, serves up a creative list of cocktails, as well as local draft beers and an artfully curated list of European wines. Arrive early to grab a seat with a perfect panoramic view.