Sneak Your Way into America's Best Hotel Speakeasies
It's no secret that speakeasies have been a staple of American cocktail culture for generations, tracing their roots all the way back to the 1920s. During the Prohibition era, these forbidden institutions offered a welcome reprieve for parched patrons, shrouded in secrecy and mystique. While the ban on the production, transportation and sale of alcohol was officially repealed in 1933, the legacy of these hidden watering holes is still alive and well to this day—especially in the hotel industry. Countless hotels from coast to coast have developed modernized concepts that pay homage to these time-honored establishments, complete with password-protected entrances, old world décor and plenty of creative concoctions. Here, the country's best hotel speakeasies to grab a tipple next time you're in town.
New York, NY
Staying true to Prohibition's storied past, the name of this dimly lit lounge draws inspiration from a law that first attempted to curtail New York's liquor consumption in 1896. Hidden within The William, a modern boutique hotel in New York's Chelsea neighborhood, this windowless speakeasy features an array of thoughtful touches that transport visitors back to the 1920s. Expect turn-of-the-century wall art, leather Chesterfield sofas and patterned wallpaper to complete the antique aesthetic. The entrance is unmarked, but keep your eyes peeled for a stoic doorman guarding the door buzzer. Bespoke cocktails, created by head bartender Meaghan Dorman, are the real highlight of the space. The bar is open Monday through Saturday. Parties of six or less can sometimes manage to weasel their way in, but reservations can also be made in advance to cut down on wait time.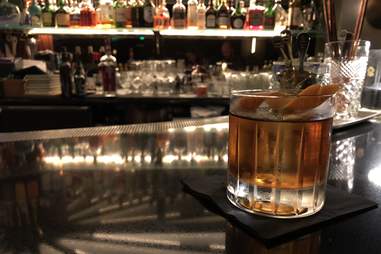 Rebecca Bingham / @rebeccaoftheworld
Denver, CO
Give a warm welcome to Denver's most exciting and private speakeasy, B&GC. The name stands for the Boys & Girls Club, but don't be misled—this is absolutely an adults-only bar (and a damn good one at that). Hidden in the basement of the Halcyon Hotel, it's known for being notoriously hard to get into, but not impossible if you're savvy to its alleyway entrance between Cherry Creek's 2nd and 3rd Avenues. Ring the inconspicuous golden doorbell and a host behind a door labeled "Stair 3" will add your name to the list. Alternately, thirsty travelers can text (don't call) the number on the B&GC landing page to request a reservation. Formerly a post office, the warm and welcoming establishment features an expansive center bar with geometric marble flooring, deep red leather banquettes and low lighting to create a seductive ambiance. Order one of the menu's signature drinks, or share your preferences with the bartenders who will be happy to whip up a custom cocktail.
Montage Beverly Hills
Los Angeles, CA
Those in search of a highbrow night on the town will definitely want to pay a visit to £10. Discreetly tucked away on the second floor of the Montage Beverly Hills, this enigmatic bar is revered as one of L.A.'s classiest establishments, and its best kept secret. It also serves as The Macallan's official North American outpost, offering an unprecedented selection of rare single malts, some aged as long as 64 years. But there's more to savor beyond the world of whiskey, with a diverse selection of the finest spirits and crafted concoctions served in a stunning collection of Lalique crystal vessels. Designed by Nina Petronzio, the lavish interior is reminiscent of a gentleman's study, featuring dark mahogany wall paneling, marble tables and a spacious outdoor patio. Even the ice is impressive, crafted into spheres using water exclusively imported from the Scottish Highlands.  
The Old Chicago Inn
Chicago, IL
While it may be known as America's Second City, Chicago ranks second to none when it comes to its bustling cocktail scene. Room 13 is no exception, pulling out all the bells and whistles. The entrance is concealed in an alleyway adjacent to the hotel (on Sheffield and Belmont), marked by a gate emblazoned with the "RM-13" logo. Knock on the wooden door to summon a concierge who will ask you for the ever-changing password. Although a members-only establishment, guests staying at the hotel can request a "Cocktail Flight" which will gain them entry for the experience. The resident bartender mixes classic cocktails highlighting the most common Prohibition era spirits, such as whiskey, gin and Champagne (sorry, no flavored vodka or beers by the pint here) while also dishing out cultural anecdotes that bring each drink to life. You'll need a reservation to make the most of the evening, and don't forget that a strict cocktail attire/business casual dress code is enforced.
Bourbon & Banter
Dallas, TX
What once served as an underground beauty salon at the historic Statler Hotel is now home to one of the top speakeasy-inspired bars in all of Dallas. To find it, guests must enter the recently redesigned lobby and descend a flight of stairs that leads to a tight, wood-paneled room with nothing inside save a shoeshine bench and phone booth (the latter doubles as a handless portal into the swanky subterranean lounge). In addition to one of the more remarkable bourbon collections in Texas, Bourbon & Banter also serves small plates and snacks for whenever hunger may strike. A nod to the space's former life, all of the whimsical tipples are named after iconic hairdos from yesteryear. Be sure to try the Beehive (Monkey Shoulder, Grand Poppy Liqueur and honey) or the Pixie (saffron-raspberry St-Germain, Angostura bitters and a splash of bubbly).