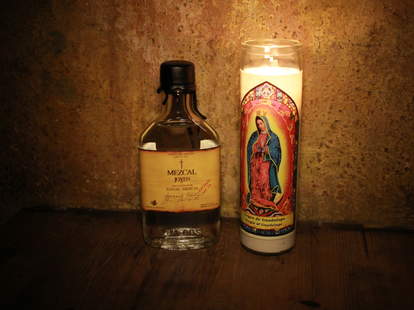 Courtesy of Ilegal Mezcal
While some mezcals are on the fruitier end of the spectrum with barely a hint of campfire, others can stand up to the smokiest of scotches—albeit smoke on the finish rather than smoke upon first sip, as it is with  scotches like Laphroaig and Lagavulin. After tasting our way through a variety of mezcals, we determined that these five bottles are the best picks for people who crave that fire-licked flavor.
The smokiest of the lot, this mezcal has a dusty, charcoal briquet quality and a charred meatiness to it. Produced in Santiago Matatlán, Oaxaca, near the Sierra Madre mountain range (its name translates to mountain of wolves), this unaged bottling is made from 100 percent organically farmed espadín agave. While it is great sipped straight, it can also be used as a replacement for scotch in a variety of classic scotch cocktails like the Rob Roy.
This delectable dram is dry and robust, with wafts of smoke on the finish that coat your throat. Another unaged offering, this bottling is best enjoyed neat. While it works in cocktails—and was technically designed to be used in them—we find that its peppery, wet stone complexities are best represented when there's nothing else to distract from them.
Another smoky beast, this 100 percent espadín agave mezcal from Oaxaca is bright and citrusy up front with a lingering undercurrent of smoke on the finish. With notes of grilled pineapple, grapefruit and vanilla it makes for easy sipping. We find that it also is incredibly versatile in citrus-forward cocktails like the Last Word or a Hemingway Daiquiri.
This mezcal is produced by fourth generation master mezcalero Don Oscar Obregón in the Mexican state of Guerrero. Using 100 percent cupreata agave—which takes up to 10 years to reach maturity—the spirit has a rich minerality, subtle fruitiness and ash-like smokiness. Softer and more delicate than the other spirits on the list, this bottling's intense layers of smoke only reveal themselves on the finish. This is a mezcal that should never be used in cocktails—only sipped neat—and will appeal to fans of lighter Speyside scotches.
Designed to be shaken and stirred into cocktails, this affordably priced bottle has a bracing backbone of spice and smoke. Produced in San Luis del Rio, Oaxaca, Vida is made from 100 percent espadín agave. In the glass, the spirit has a bright citrusy note, with flavors of tangerine, wildflower honey, sandalwood and sage. This mezcal is extremely versatile and a must-buy for any agave drinker—regardless of whether you're new to mezcal or an experienced smoke lover.