Earth Day isn't the biggest party day of the year, but it's still a good excuse to raise a glass (preferably one made out of recycled materials) to the planet on which we live and all those who are making an effort to keep it green and spinning. This year, make sure your celebratory cocktail is made with sustainability in mind. Here, delicious and eco-friendly spirits and mixers that you can feel good about drinking.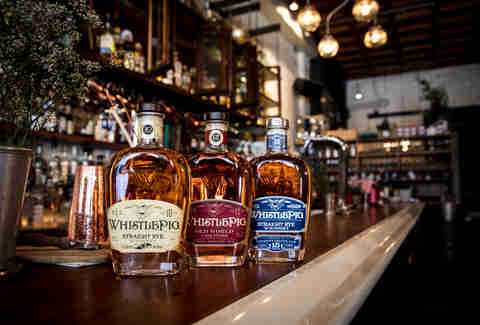 Sustainability is more important than ever when it comes to mezcal. Because if we're not careful, we could drink Mexico out of agave. Oaxacan-based Sombra is leading the way by growing their organic agave naturally, using rainwater collected from the roof, sourcing sustainably grown firewood from certified forests and composting the used agave for local farmers to use. The distillery is also installing solar panels on the distillery's roof and making bricks from agave byproducts to build houses in the community. The first house made with those bricks is set to be finished on Earth Day.
Ron Barceló ($20 for the Gran Anejo)
This Caribbean rum recently went carbon neutral by using solar and biomass energy, recycling and reusing waste, and using eco-friendly packaging. According to the brand, it is the first ever rum to reach carbon neutral status. Try it in an Earth Day Mojito made with mint from your herb garden, and be sure to save the spent lime hulls for a big batch of Trash Tiki's citrus stock.
Made from locally-sourced Idaho russet potatoes and water from a local aquifer, Simple Vodka is distilled just once through an ultra-efficient distillation system, which gets 25 percent of its energy from wind power. The company also converts potato byproducts into feed for animals and recycles wastewater. Simple even donates 20 meals to hungry Americans for each bottle of vodka produced, so you can feel even better about drinking it.  
This ultra-creative line of vermouths based out of New York is made with a white wine base sourced from Red Hook Winery in Brooklyn, and flavored primarily with foraged ingredients or those purchased from non-GMO farms. No sugar or additives go into the vermouth, which comes in flavors like Pear Ginger, Butternut Squash, Beet Eucalyptus and Rhubarb.
Even giant brands like Bombay are going the sustainable route. The Bombay Sapphire distillery at Laverstoke Mill in England is powered in part by the nearby River Test. Its heat and hot water come from a biomass boiler, which is fueled by spent botanicals. And the ash from that biomass boiler is used as fertilizer on nearby farms. The company has also worked to support the local wildlife. They've installed bat boxes to encourage breeding, introduced aquatic plants to the river and built a fish guard to protect wildlife from the hydroelectric turbine.
Based in a converted 100-year-old barn on a Vermont farm, Whistle Pig is a true grain-to-glass operation—and yes, there are actual pigs involved. The company grows its own rye (which is a naturally sustainable crop), feeds the spent grain to the property's Mangalitsa and Kune Kune pigs, and uses estate-grown oak trees to produce its barrels.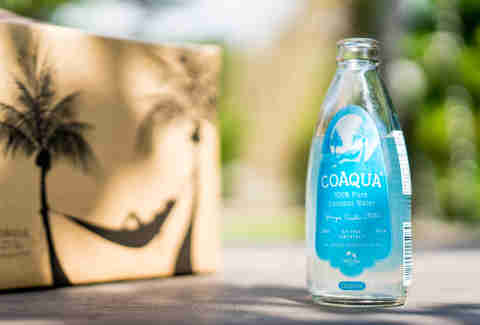 Founded by Grier Govorko (the former creative director for the Red Hot Chili Peppers), this coconut water tastes like a Piña Colada on its own. It's sourced from young green coconuts grown in Vietnam, just outside of Ho Chi Minh City, where it is also processed, pasteurized and bottled (in recyclable glass). It's naturally sweeter than most coconut waters, which makes it extremely good in cocktails.
Maine Root's line of sodas are made with ethically-sourced, totally organic, fair trade sugar from Brazil. Not only does using fair trade organic sugar mean farmers get paid a fair wage and crops are grown without herbicides or pesticides, but it also means the sodas just taste better. Try the Mexicane Cola in a Rum & Cola or the Ginger Brew in a Dark 'N' Stormy or Moscow Mule.
Hudson Standard's shrubs are all made using a base of organic apple cider from New York's Finger Lakes region, while all of the other ingredients are (whenever possible) sourced from local, sustainable farms in the Hudson Valley, where the company is based. Try the Cassis Berry Shrub with sparkling wine or beer, or mix the Peach Lavender Shrub with whiskey.
This New Orleans-based company, which was founded by a bartender, sources all of its ingredients from local farms. The company has won two Good Food Awards (which recognize food companies for their quality and sustainability) and it creates some of the coolest bitters around. Try the Chicory Pecan bitters in an Old Fashioned or the Crawfish Boil bitters in a Dirty Martini.
Sustainable tonic water is hard to come by, so the next best thing is eco-friendly tonic syrup from Golden Bear. Another Good Food Award winner, Golden Bear creates bitters and tonics in Carmel Valley, California. Their tonic syrups are made with non-GMO raw cane sugar from the United States, spring water, locally grown California citrus, and other wild, local ingredients. The syrups come in four different flavors—Spring, Summer, Autumn, Winter—so your Gin & Tonic can change with the seasons.