The Best Thing About Drinking in Every State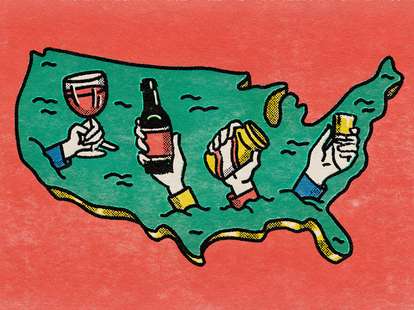 America is a great big country with a great big list of drinks to try, and every state has something unique to offer. From cocktails you won't find anywhere else to iconic drinking festivals to the individuals you might throw one back with, here is the best part about drinking in every single state.
Located on (you guessed it) the Alabama-Florida border, this Orange Beach mainstay has been a point of Alabama pride for decades. The legendary lounge has been open since 1964 and is known for its unique events, from fishing rodeos to the Annual Mullet Toss. But live music is their pride and joy, and they host daily bands on multiple stages so there's something for everyone. But the real draw of the Flora-Bama bar is its weekly Sunday services, which take place at 9 and 11 a.m. Hymnals are sung by a honky tonk band and the bar is open, so you can order a Bloody Mary to sip while you praise the lord. There's even an omelet station if you need to kick a hangover before or after the service.
Alaska: Alternative Wines
Alaska is not exactly what you think of when you think of wine country. But while grapes are not really a thing that far north, Alaskans have, like they do in so many ways, struck out on their own path. They make wine with everything from blueberries to rhubarb, and on a day with 20 hours of sunlight during the brief Alaska summer, there's nothing better.
Arizona: Visiting a Local Arizona Winery
Forget the Napa Valley. Arizona has a blossoming wine scene that is less crowded and less draining on your wallet. On the drive between Sedona and Flagstaff you'll find a bevy of local wineries producing bottlings that you can sip your afternoon away with (just make sure to have a designated driver on hand). In one day you can hit over a dozen different wineries, including places like Javelina Leap Winery, Oak Creek Vineyards, and Page Springs Cellars. Best of all, the wineries are no more than 10 minutes drive from one another.
Arkansas: Sipping a Drink on the River
Because it has the highest percentage of dry counties of any state in the U.S. (46%), drinking in The Natural State, isn't as broadly celebrated as it is in other parts of the country. One thing that is celebrated though, is a good river float—hopping in a canoe, kayak or other means of aquatic conveyance and letting the current send you downstream. And there's nothing wrong enjoying a beer or cocktail as you float and take in the natural beauty. Try hitting up the Buffalo River, the first national river in America.
California: California Wine Country
Napa and Sonoma comprise America's most iconic drinking region. World class wines in all sorts of styles dot the wine trails in both counties. There are close to 900 wineries between Napa and Sonoma so you can get lost among the vines with a glass of Pinot for a weekend or even a year. Tour them by train or by bike to maximize the scenery as well as the wine.
Colorado: Drinking at Red Rocks
Yes, everyone has already told you to visit Red Rocks already. But there's a reason why it's so recommended. The natural amphitheatre attracts tourists and locals alike with world class musical acts (the first rock 'n roll concert at Red Rocks was The Beatles) set in the gorgeous Red Rocks Park. Red Rocks has a long, boozy history, but drinking at the spot has gotten a lot more controlled in recent years. As of 2017, getting a drink while you kick back to some live tunes has never been easier thanks to draft beer and cocktail carts.
Connecticut: Connecticut Spirits Trail
You'll find no shortage of Connecticut residents who prefer to eat and drink local, and that includes the state's fine distillers. This consortium of 10 distilleries launched back in 2016 to remind people that, while visiting one distillery is fun, it pales in comparison to visiting 10. Grab a trail passport and get stamped at distilleries all across the state, and you'll get a shot at a free shipment of booze from every participating distillery, including one of our favorites, Litchfield Distillery.
Delaware: Dogfish Head Brewery, Distillery and Hotel
The creative and charismatic Sam Calagione is the best front man a brewery could ask for. He's been putting forward unique beers for more than two decades that range from the super hoppy 120 Minute IPA, named for the amount of time the beer is continuously hopped to the beer/wine/mead hybrid Midas Touch. The brews have remained a touchstone for beer geeks, and they've put Delaware on the map when it comes to drinking. They've also allowed Dogfish to spinoff into a distillery making whiskey, vodka and gin, and to launch a hotel that is, as you'd hope, loaded with Dogfish beer.
Florida: Staying Out All Night in South Beach
Miami's craft cocktail scene has been heating up these last few years, and the classy establishments upgrading the drinking culture are being welcomed by locals and tourists alike. But South Beach will always be South Beach—with it's crazy spring break beach bars and mega techno clubs—and we love it in every single way. Most bars, old and new, are open until at least 5 a.m., and some clubs like E11EVEN are open 24 hours for your partying pleasure. Don't be surprised if the gorgeous weather, frozen drinks and diverse party scene trick you into staying out all night.
Georgia: Celebrating Oktoberfest in Helen
Perched in the North Georgia mountains, you'll find an adorable Alpine town called Helen, which is home to the longest-running Oktoberfest celebration in the United States. As the festival enters its 48th year, locals and visitors alike travel to Helen between September 27 and October 28 for a little slice of Bavaria. German music, food, dancing and, of course, beer are plentiful, and festive Oktoberfest dress is always encouraged. Don't miss the kick-off parade on September 8 as you toast to the harvest season with a brew and a brat.
Hawaii: Okolehao
Mai Tais on the beach might be where your mind immediately goes when you think about drinking in Hawaii, but those sweet drinks are just what tourists ply themselves with. Okolehao or oke is a sweet, funky Hawaiian moonshine that island bartenders have taken to as of late. It does have a fraught history as New Mexico State professor and spirits writer Clint Lanier pointed out in a long piece in 2016, but as Hawaii's native spirit it's worth exploring.
Idaho: Sun Valley
Sun Valley was actually the country's first destination ski resort, and has brought in historical notables like Ernest Hemingway, Clark Gable and Gary Cooper. What sets it apart as a must-see Idaho drinking spot is its year-round activities. Because while hitting the slopes, staying in a yurt and hiking pristine wilderness is fun, drinking like the locals is something you don't want to miss. Drink from the source at Warfield Distillery & Brewery and hit up The Casino, a spot that Hemingway allegedly downed too many drinks at.
Illinois: Malört
The ultra divisive Malört is a Chicago rite of passage. Made by Jeppson's, this brand of bäsk (a Swedish, wormwood-spiced spirit) is a little bitter, a little sweet and a lot delicious—if you have a taste for it. If you don't happen to have a taste for it, it tastes a little bit like vomit. Anyway, bottoms up!
Indiana: Tailgating at the Indy 500
It's a bit ironic, but one of the country's greatest tailgates takes place before the country's greatest driving competition. Starting extremely early in the morning (we're talking 4 a.m.), the massive party is like a less artsy Burning Man with a lot more American flags. Everyone shares their booze and food, and people bring games and entertainment to keep occupied. It's 'Murica to the max.
Iowa is corn country, and there's no better use for corn, in our opinion, than making whiskey. That's precisely what Cedar Ridge does at an award-winning caliber. Made with corn grown on the owners' family farm, all of the whiskeys have won multiple awards, including gold at the New York World Wine & Spirits Competition and gold at the San Francisco World Spirits Competition. You can visit the distillery (Iowa's first licensed distillery since Prohibition) and taste whiskeys like the single malt or malted rye at their on-premise bar.
Kansas: Drink In Downtown Lawrence, Kansas
If college towns and college bars are your thing, this Kansas town has some of the best in the country. Home to University of Kansas, the Lawrence downtown area has a bevy of bars and restaurants—many of which regularly make it on lists for best college bars. We recommend getting tickets to a Jayhawks basketball game at the Allen Fieldhouse (if it's the season), and then head on over to Replay Lounge, a Lawrence institution that has a patio, nightly karaoke and pinball.

Kentucky: The Bourbon Trail
A mecca for whiskey obsessives, the Kentucky Bourbon Trail takes you from Louisville to Lexington, with a series of stops in between—this is far from just a one-day trip. You'll tour and taste from a series of distilleries along the way, including Angel's Envy, Bulleit, Maker's Mark, Wild Turkey, Four Roses and Woodford Reserve.
You might have thought we would have said Sazeracs or absinthe or French 75s—and those are all great, delicious, wonderful works of boozy art—but Louisiana's frozen Daiquiri is the state's true masterpiece. You can make a great Sazerac at home and you can get a grade A absinthe at any absinthe house around the country, but nowhere else makes a sweet, creamy cocktail with Everclear quite like Louisiana. And if you're drinking one in New Orleans, it means you can take that banana split-flavored creation to the streets.
Maine: Allen's Coffee Flavored Brandy
It's impossible to overstate the passion Mainers exhibit for this coffee liqueur. According to the Allen's website, it's the No. 1 selling spirit in the state. Originally associated with fishermen in "Downeast" Maine, the liqueur has overtaken every corner of Maine society from fishing towns to hipster Portland. Try the traditional equal parts concoction of milk and Allen's, mysteriously called a Sombrero.
Maryland: Orange Crush
The best part about drinking in your state doesn't have to be cool or on trend. Case in point: Maryland and its Orange Crush cocktail. A mix of vodka, triple sec, lemon-lime soda (Sierra Mist has become common) and the juice of an orange freshly squeezed through one of those tall, manual juicers, it's the kind of thing that might come out of a frat party if the bros wanted to look like they were trying hard. But something magical happens when that orange gets smooshed in the juicer, and the drink transcends the boundaries that separate high falootin craft cocktail drinkers and those who like to pound shots and cheap beer. Sipping one of these on a summer day in the Baltimore harbor is practically a rite of passage for Marylanders.
Massachusetts: The Periodista
This variation on a Daiquiri somehow found a home in Boston, where it became popular during the cocktail revival of the '90s. While the drink has become a standby at Boston cocktail bars, it has failed to spread to cocktail bars in any other major drinking town, making it a bit of a local curiosity. Made with dark rum, triple sec, apricot brandy and lime juice, the drink has the same sweet-tart flavor of a classic Daiquiri but with a fruitier twist.
Michigan: Drinking Some of the Country's Best Craft Brews
Vermont may have Heady Topper and California may have Pliny the Elder, but Michigan is still home to some of the country's best beers. Ranked No. 4 by Thrillist as one of the top beer states, Michigan is home to Founders, Bell's and a slew of other obsession-worthy small brewers like Jolly Pumpkin and Arcadia Ales.
Minnesota: Drinking While Ice Fishing
Minnesota is home to some fantastic breweries, dive bars with flip tab lotto tickets, and a now legendary tiki bar (what's up, Psycho Suzi's?), but to truly drink in the North Star State you have to embrace the cold and drink on a frozen lake. It might be called ice fishing, but really, it's ice drinking. There is nothing more truly Minnesotan than hunkering down in an ice house and drinking beers while you wait for a bell to ring. Pro tip: You're going to need lots of beers.
Mississippi: Getting Wild on Lake of the Ozarks
The web address for Lake of the Ozarks says it all—with a url that reads funlake.com, it's a no-brainer than you're going to have a good time. The area to check out for the wildest parties is aptly named Party Cove, and it's not uncommon to see hundreds of boats—from yachts to jet skis—gathered together for afternoons of fun, sun and high-level debauchery. You might get pelted with a Super Soaker or water balloon, you'll definitely consume plenty of adult beverages, and you'll certainly get familiar with Party Cove's lax laws on noise and toplessness.
Missouri: Legally Drinking Anywhere
Just a few years ago, Time named Missouri as the No. 1 state for drinking, and for good reason: You can legally drink (almost) anywhere in Missouri. The only places where you are not allowed to have an open container are schools, churches and courthouses. And what should you be drinking in your choice of public place? St. Louis's own Budweiser, of course.
Montana: Sip 'n Dip Tiki Lounge
If we've said it once, we've said it a million times: You should drink at the Sip 'n Dip Tiki Lounge. Because while going to Montana for the mountains and fly fishing and the great outdoors sounds nice and all, going to Montana and pretending that you're under the sea with live mermaids is better. Every night of the week at the O'Hare Motor Lounge bar, mermaids put on a show in the indoor pool across from the barstools. On Tuesdays, the establishment's mermen come out for ladies' night Tiki Tuesdays. After you drink with the best of Montana's oceanic life, then you can go see the mountains and drink at any of Montana's great breweries.
Nebraska: Visiting the Alpine Inn
Known for their fried chicken and "wild animal" show, this Omaha, Nebraska, dive is a must visit. Choose from gizzards, livers or tenders, order a drink and grab a seat—preferably near a window. The live entertainment for the evening while you dine is a group of local raccoons that are fed previous guest's table scraps. According to the owner, Glen Robey, nothing in the restaurant goes to waste. They even have kiddie pools for the raccoons to bathe in after they dine.
New Hampshire: Interstate Liquor Stores
A warehouse liquor store may not seem like a big deal to residents of the other 49 states, but the temples to affordable booze along New Hampshire interstates, labelled simply by number, are unlike any other liquor shop. New Hampshire's lack of sales tax means holidayers heading to lake houses or mountainous campgrounds can pick up cases of bottles for cheap. According to a write-up in The New York Times, the stores have become crossroads for travellers all over the Northeast and Canada, all loading up on dozens of bottles for rural getaways.
New Jersey: Casino Drinks in Atlantic City
Atlantic City is a mashup of Vegas and the Jersey Shore: excellent boardwalk, gambling galore, and plenty of drinks on hand. While you can drink the day away at any number of beach-side bars, everyone knows the best drinks in life are free. The well drinks that come gratis as you risk your next rent check may not be the most astounding cocktails in the world, but there's no more quintessential AC experience than pounding back free Jack and Cokes as you bet it all on black.
La Posta de Mesilla is about as far south as you can go in the U.S. It's been around for more than 150 years, and claims that people like Billy the Kid, Kit Carson and Pancho Villa all stopped by. Today, it's a shrine to good Mexican food and lots of tequila. The bar has more than 100 tequilas and a long list of Margaritas. Notables include a special bottling of Patron Anejo Barrel Select that can only be purchased at La Posta, and a 5-year-old Clase Azul Ultra-premium Anejo. La Posta has put a big focus on its tequila program over the past 20-plus years, and it shows.
New York: Drinking a Nutcracker at the Rockaways
Even if you've been to New York a hundred times (or you live here) and you've been to every world class bar in all the different boroughs, you haven't experienced anything like drinking in the Rockaways come summer. And, the official drink of the Rockaways is the Nutcracker: a drink sold at the beaches that is essentially a bottled, pre-made Jungle Juice. Only after you've basked in the sun on a hot towel, swimming periodically to cool down, with a belly full of Nutcrackers and that loose, hazy feeling in your head, can you understand the perfection of this experience.
You can hit the 24-hour bars and have your Hangover experience in Las Vegas, or you can make your mark at Pioneer Saloon. It was founded in 1913 on the far side of the 300-person town of Goldsprings. The roof is an old piece of tin purchased from a Sears catalogue and there are bullet holes in the wall, but there are also updated sections with a kitchen and outdoor fireplace. The real draw is for the regulars, though. People can purchase 15-gallon Kentucky barrels and fill them with neutral spirit from The Las Vegas Distillery, as well as with whatever herbs, spices or other flavors they want in their custom spirit. Whatever place you call yourself a regular at, I bet you can't tap into your own barrel with friends like you can at Pioneer Saloon.
North Carolina: Drinking on the Beach
North Carolina may have some of the strictest liquor laws in the country, but there's one area where they are laxer than most—alcohol on the beach. In locations like the Outer Banks, Ocracoke Island and Emerald Isle, beachgoers are allowed to bring their own libations to the sand. Be mindful of the local laws, though, because they differ from beach to beach (some don't allow glass, and a few only let you bring wine and beer). The best part is that these aren't some crazy party beaches, either. The locals keep their white sand beaches pristine, so you can expect to get some major relaxation time in when you go.
North Dakota: Catch a Buzz in Fargo
One of the booziest cities in America for its size, Fargo, North Dakota, boasts over 63 different drinking establishments for a population of only 120,000. After you've made your way to a few of them, visit the Fargo exhibit (about the movie named for the town) at the Fargo-Moorhead Convention & Visitors Bureau. Guests can view the actual wood chipper used to chop up bodies in the Coen Brothers film and you can even request a Fargo-esque hat for a picture with yourself holding the mannequin legs dangling from the wood chipper.
Who the heck knows where cornhole, also called baggo, also called bean bag toss, also called several other variations of that, actually came from, but the American Cornhole Association launched in Cincinnati, Ohio, and organized leagues dot the state. If you've never played, you're doing yourself a disservice. It's the most fun you can have hurling bean bags with a drink in your hand.
Oklahoma: Visit Eischen's Bar
Oklahoma's oldest bar is still going strong and if you ever find yourself in the Sooner State it's a required visit. Located in the town of Okarche, Eischen's Bar is known for it's down-home atmosphere, no-frills attitude and delicious food. It is absolutely essential that you eat their fried chicken, a Frito pie and their fried okra. And whatever you do, make sure to pair all of it with an ice cold beer—preferably Bud Heavy.
Oregon: Portland's Brewery-Filled Neighborhoods
Portlandbeer.org has counted 99 spots brewing beer in the City of Roses. And while it tends to flip flop with San Diego when it comes to most breweries in America (depending on where exactly you set the city limits), what is not up for debate is that the neighborhoods of Hosford-Abernathy and Buckman make for some of the best brewery crawls anywhere on the planet. You can get to more than a dozen breweries including well-established national spots like Rogue's Pilot brewery and important members of the last decade's craft beer boom like Baerlic.
Pennsylvania: Eagles Tailgates
Philadelphia Eagles fans aren't known for their modest composure. The Green Legion have a reputation for raucous drinking and ungentlemanly / unladylike theatrics (whether the Eagles win or lose). Hanging with Eagles fans for a few hours (at least several hours of tailgating are necessary before every game), it's impossible not to be taken up in the madness. As you wait for the game, drink until you run out of Yuengling, or as one fan put it last season, "See how many times we can do shots and the Eagles chant. By the time we spell it wrong, it's time to go in."
Rhode Island: Booze Cruises
Every major city with a waterway should have a booze cruise, but Rhode Island's cities are perfectly positioned around Narragansett Bay for easy access to water and water-based boozing. Our favorite of the booze cruises to take advantage of this water access is the Smuggler's Cocktail Cruise aboard the Rum Runner II, which gives drinkers a dose of history about the illicit rum trade in the area from pirates to Prohibition-era smugglers, all while serving up libations.
Every state in the country hosts at least one pretty top-notch drinking festival, and this is South Carolina's pride and joy. The Great American Whiskey Fair is the largest celebration of the spirit in the southeast, boasting more than 500 American whiskeys, bourbons and ryes from more than 100 distilleries. Four South Carolinian bartenders go head-to-head in a cocktail challenge, and restaurant Bourbon provides plenty of barbecue and cajun fare to soak up the booze. When you've finished at the fest, take yourself on a tour of Columbia's excellent bar scene.
South Dakota: Sturgis Motorcycle Rally
Even if you're not an avid motorcycle rider (though the whole experience is better if you show up on a hog), there is not a rowdier good-time in South Dakota than at this yearly festival. Hosted in the town of Sturgis since 1938, the motorcycle gathering takes place in early August and lasts for about 10 rolicking days. Expect lots of leather, majestic beards, an excess of bikes (especially of the Harley variety), live music, food trucks and 700,000 people partying to excess. What's the worst that could happen?
Tennessee: Drinking While Listening to Free Live Music
Talk a stroll down Nashville's Music Row, and you'll have trouble finding somewhere to drink in peace and quiet. But this isn't the time, place or neighborhood for that. When you're partying on Music City's main drag, quality live music is part of the deal. And we're not talking about just any random band that's allowed to get on stage. These musicians are really good, and even if they aren't national touring superstars, the crowds are into it for the music alone. If seeing small shows in casual venues is your idea of a good time, this Tennessee city should be your next drinking destination.
Texas: Getting a Drive-Thru Daiquiri
Not only are there drive-thru liquor stores in Texas, but there are also about a dozen statewide to-go Daiquiri stores. Sealing drinks tightly to avoid the risk of citations for open container laws, these stores will sell pre-made, ready to drink Daiquiris. Obviously you can't drink them while driving, but you can drink them at one of Texas' many rivers, canyons or parks. To-go Daiquiris and river tubing are a match made in Texas heaven.
The High West Distillery is not your average distillery. It takes a page out of the brew pub playbook, serving as a full-on restaurant and bar while offering distillery tours in the back when you've had your fill. You can catch High West at their original Park City location or the newer, more expansive Wanship distillery. The Park City spot opened in 2006, and started a small distilling trend in a state not exactly known for its alcohol enthusiasm. The new Wanship location is more expansive and situated in the Wasatch-Uinta mountains about 30 minutes away from Park City. After your tour around the stills, sit yourself down and taste flights of rare whiskey that you'll be hard pressed to find anywhere else.
Vermont: Heady Topper
Highly allocated beverages can quickly become the stuff of myth, as stories and fan loyalty outgrow the very drinks they're about. In the case of Heady Topper, the cult double IPA from Vermont, the taste backs up the reputation. Hop heads from around the world used to chase this unicorn brew to its home state, and there was even a website, Heady Spotter, dedicated to finding the elusive beer. The brewery has since increased production, so the cans aren't quite so hard to come by these days, but the brand remains one of the best things Vermont has ever produced.
Virginia: Sipping Crab-Topped Bloody Marys at Bay Local
When it comes to crab, it's always Maryland this and Maryland that—which makes a lot of sense because some of the best crustaceans come from the Chesapeake Bay. But lest you forget, Virginia also borders the broad inlet, so the state's shellfish game is just as fresh. Virginia Beach eatery Bay Local knows what's up, as you can order a Bloody Mary that's made with their own Spicy Hell Mary Mix and topped with a whole fried soft shell crab. Consider it a hefty appetizer before digging into dishes like Champagne-battered shrimp and oyster omelets.
Washington: Hop Harvest and Fresh Hop Beers
There were a number of factors that went into making the Pacific Northwest the epicenter of craft beer in America, among them, the fact that it's the region that grows most of the country's hops. Washington State alone grows 75 percent of the hops in America. That makes it the best place to sample a piney, grassy fresh hop ale come fall. Fresh hop beers are made immediately after the hops are picked. They still have their oils intact, which the beers soak up readily, making for one of the most concentrated, intense styles you can get. Sample as many as you can at Yakima's one-day-only fresh hop festival every September.
West Virginia: Moonshine Trail
The Appalachian Mountains are the ancestral home of American moonshine, so where better to sample some shine than in the Mountain State? West Virginia's moonshine trail snakes around the perimeter of the state and includes a taste of whiskey made with paw paw, a fruit you'll really only find in West Virginia (at least in the U.S.) and some made with Devil Anse Hatfield's original recipe dating back 150 years.
Wisconsin: Brandy Old Fashioneds at Supper Clubs
Wisconsin's supper clubs are like portals that take you back in time. The retro restaurants serve up simple menus of classic Americana, with dishes like prime rib, surf-and-turf and chicken cordon bleu—all kicked off with a relish tray, of course. Order an Old Fashioned and you'll receive Wisconsin's famous Brandy Old Fashioned, topped with a spritz of 7UP and garnished with a cherry and an orange wheel. For dessert, don't hesitate to get a Grasshopper, which in the Badger State means a minty, boozy milkshake.
Wyoming: Jackson Hole
You can float down rivers, hike Snow King Mountain and jump off of tall rocks into a lake, but what makes Jackson Hole exceptional is the drinking scene. First stop is Million Dollar Cowboy, where you can get your boot scoot boogie on all night. The Silver Dollar is where to swing dance on Tuesdays with a drink or two in hand, and, if bespoke cocktails are more your vibe, The Rose doesn't disappoint. Finally, if you need a specific event, the Jackson Hole Food and Wine fests in the winter and summer feature the best winemakers, cocktail makers and beer experts right alongside a picturesque mountainside.