7 U.S. Cities Best for Distillery Tours and Craft Booze
Food and booze: That's what every respectable vacation revolves around. Sometimes that may mean enjoying a slug of whiskey from a flask during a camping trip. Other times it might mean endless Daiquiris and Painkillers on a Caribbean island. But if you're particularly devoted to good eats and well-made spirits, why not take the opportunity to immerse yourself in a place with similar priorities? Cities from Denver, Colorado, to Charleston, South Carolina, are not only home to respected distilleries, but also boast thriving local food and culture. So don't sleep on those extra vacation days—here are the best cities to visit for distilleries galore.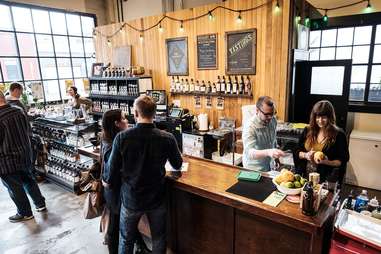 Portland, OR
If the City of Roses isn't already on your travel bucket list, here is one good reason to give it a top three spot: Distillery Row. That's right, not only does PDX boast plenty of unbelievably good cocktail bars, restaurants and scenic tourist destinations, but it's also home to enough distilleries to warrant an official mapped-out tour—with more to spare. Portland's Distillery Row is located in the southeastern corner of the city known as the Lower East Side Industrial District. There are eight distilleries in the neighborhood, including innovative House Spirits Distillery, which makes everything from aquavit to rum to coffee liqueur, and New Deal Distillery, which produces an array of spirits, including two gins, a bitter liqueur and pear brandy. Both distilleries feature tasting rooms and welcome visitors to sample their wares over the weekend. Be sure, however, to also wander off the beaten path, west of the Willamette River to visit Clear Creek Distillery, which has been in operation for more than 30 years, making some of the best fruit brandies in the business.
Denver, CO
Whether you're spending a weekend in Denver or just passing through, this laid back city has lots to offer enthusiastic drinkers. It includes more than a dozen stops along the Colorado Spirits Trail, including family-owned Leopold Bros. and Rising Sun Distillery, which makes a beloved small-batch vodka. Whiskey lovers should also take note: Anyone who says that the only good American whiskey comes from the South has clearly never been to Colorado (or done much drinking, to be honest). Case in point: Stranahan's Colorado Whiskey, which makes four impressive bottlings including a sherry cask whiskey. Laws Whiskey House, which Stranahan's former master distiller helped found, also makes a mean Four Grain Straight Bourbon. Once you're done sipping and are in the market for a bite to eat, hit up the Highlands or Five Points neighborhoods before ending your day at one of the myriad cocktail dens around town. Pro tip: you won't want to miss brunch at The Way Back.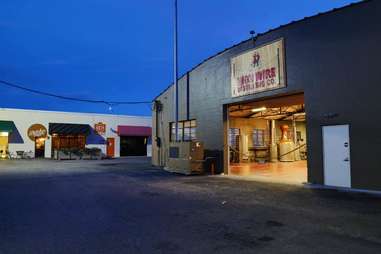 Charleston, SC
Known for its antebellum architecture and vibrant food scene, Charleston is also now home to a thriving liquor industry. Aside from a bevy of can't-miss cocktail bars, including Vintage Lounge and Félix Cocktails Et Cuisine, a long weekend spent in the historic city isn't complete without a visit to a couple of the local distilleries. Take a tour at High Wire Distilling Co., which makes everything from vodka to sorghum whiskey to its own Southern Amaro at a facility located in the heart of the historic downtown. Then continue down King Street until you find Charleston Distilling Co., where you'll want to be sure to sample not only the bourbon and rye, but also the tongue-tingling hot Carolina Reaper Pepper Flavored Vodka (save it for last). If you're still feeling fresh, grab an Uber up to Striped Pig Distillery and Nippitaty Distillery in North Charleston for a taste of some of the region's best moonshine and gin, respectively.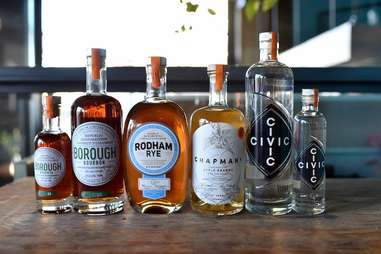 Washington, D.C.
Over the past decade, Washington, D.C. has experienced a multitude of changes. Some of these were, of course, political, but many were cultural (though the two are likely related)—including the opening of a handful of exciting and innovative new distilleries. Republic Restoratives Distillery is the largest crowd-funded distillery in the world that is also completely owned and operated by women—one owner worked in politics before quitting to open the distillery—and it features a fantastic cocktail bar showcasing its vodka, bourbon, rye and apple brandy. Within the same D.C. neighborhood known as Ivy City you'll also find One Eight Distilling, known for a variety of whiskeys, and New Columbia Distillers, the makers of the beloved Green Hat Gin. Travel closer to the National Mall to check out Founding Spirits, where you can book a tour and taste the must-try Arroyo's "Never Bitter" Amaro, then grab a bite at its restaurant Farmers & Distillers before getting your fill of sightseeing along Constitution Avenue.
Brooklyn, NY
Brooklyn neighborhoods run the gamut from unbelievably hip to steadfastly industrial, but the one thing the bustling New York City borough can agree on from one neighborhood to the next is that spirits are pretty darn great. There are more than a handful of top-notch craft distilleries currently in operation throughout Brooklyn, pretty much all of which are just a hop, skip and a jump from dozens of great cocktail bars, restaurants, museums, parks and all the essential tourist destinations. Whiskey lovers should book tours at Kings County Distillery and Widow Jane Distillery (also a chocolate factory!) in advance so as to not miss out on an insider's look at their impressive facilities. A stop at NY Distilling Co.'s cocktail bar, The Shanty, should also take top billing so you can sample Ragtime Rye and a trio of fantastic gins. Also worth a trip for clear spirit lovers are Greenhook Ginsmiths, Owney's Rum (aka The Noble Experiment) and Industry City Distillery, all of which only make just one variety of spirit, but do it expertly.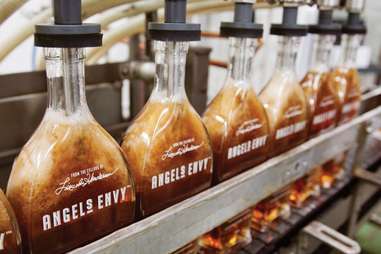 Louisville, KY
If you're at all familiar with whiskey, it should come as no surprise that Louisville is a top destination for distillery geeks. The town breathes whiskey through and through, and produces some of the best firewater in the country. More than a dozen distilleries fall along the Kentucky Bourbon Trail, a few of them in Louisville. Whiskey giants like Bulleit, Evan Williams and Old Forester even have "experiences" geared around historical factoids and tastings. But within city limits smaller whiskey distilleries also flourish, notably Angel's Envy and Kentucky Peerless Distilling Co. The team at Copper & Kings has also made a name for itself with a variety of brandies—including the lauded Butchertown Brandy—and a lineup of gins. Once you've gotten your fill of distillery-hopping for the day, you can check out one of Louisville's many bourbon bars (from The Silver Dollar to Sidebar at Whiskey Row) to round out your tasting experience, or visit the impressive Churchill Downs. If you're not convinced you need to pick up and move to the Bluegrass State by the end of you trip, you're doing it wrong.
San Diego, CA
As the most populous state in the union—and one of the most progressive—it should come as no surprise that California boasts dozens of craft distilleries. San Diego tops the list of cities in the Golden State with unique distilleries that you've probably never even heard of before. After hitting up the beach or settling in for a copa of mezcal at El Agave Tequileria, spend a couple of hours touring vodka and gin makers You & Yours Distilling Co., as well as Old Harbour Distilling Co., which makes noteworthy gin, rum and coffee liqueur. Both are located just a few blocks apart in the East Village, and offer tours and tasting rooms where you can relax and sip the wares. North of downtown, along Miramar Road, you'll come across a handful of distilleries, including the rum and whiskey focused Malahat Spirits Co. and Seven Caves Distillery. You may find that there are so many good spirits to sample in America's Finest City that you need to extend your stay an extra day.