Nothing fun ever happens on a school night. School nights are about homework and getting a good night's sleep. But one San Francisco bar is changing all of that. The recently opened School Night serves drinks only on school nights—Sunday, Monday, Tuesday and Wednesday.
A partnership between legendary SF chef Traci Des Jardins and The Pearl, a local event space, School Night's bar program is helmed by Enrique Sanchez (also of Arguello). The bar is open Sunday through Wednesday, from 5 p.m. to 12 a.m. and used as a private event space Thursday through Saturday. The cocktail menu is divided into three sections: Pisco, Agave and Whiskey—it's a liquid representation of Sanchez's journey from his home country of Peru to America, with his love of Mexico and all things agave thrown in for good measure. All of the drinks are approachable, but they're also extremely eye-catching. Sanchez adds dashes of bright color to cocktails with things like vibrant hibiscus ice (frozen hibiscus tea) and even garnishes one drink with a school crossing sign set onto the top of the cocktail in bitters. Because, at the end of a work day, you need a little extra something to keep you going.
While anything on Sanchez's menu would be a good pick for any day of the week, we caught up with him to get the lowdown on the drinks he, as an expert "school night" bartender, thinks are best for each day—Sunday through Wednesday (Thursday is an honorary weekend night, it seems). Here's your weekly drinking schedule: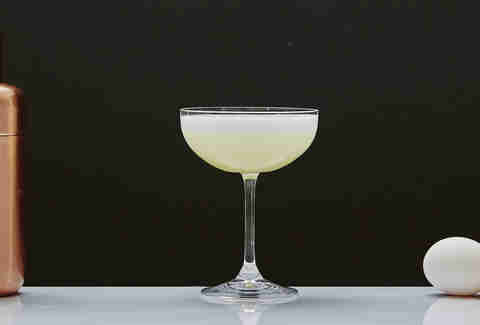 "Start with pisco," Sanchez says. "It's the underdog right now." End the weekend and transition into work mode by trying a spirit you might not usually sip on. Sanchez's Maracuyá Sour mixes pisco with passionfruit (aka maracuyá), cacao, lemon juice and egg white. This is the cocktail that gets the school crossing sign treatment—Sanchez had a stencil made specifically for it. While you don't need to use a stencil for your at-home Pisco Sour, try your hand at making swirls with the bitters by dragging a toothpick through them in the foam.
"Let's get serious," Sanchez says. "Let's get the Bertha & Smoke. It's a whiskey cocktail, a play on an Old Fashioned." He mixes high proof rye with smoked bitters and gomme syrup. If you're mixing one up at home, opt for one of these Old Fashioned-friendly ryes and be sure to serve it over a big, giant ice cube so the cocktail doesn't dilute too quickly. "Everybody hates Mondays," Sanchez says. "It's a rough day; you need something strong to finish it."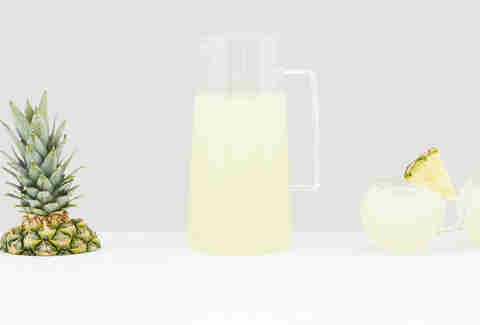 "Tuesday's a little more chill but you need a little more fun because you still have three more days to go," Sanchez says. While he considered a mezcal cocktail at first, he ended up landing on a Pisco Punch, a San Francisco classic that is bright and zesty. At School Night, Sanchez makes The Principal's Punch with pisco, pineapple, falernum, lemon and genepy. "I thought falernum had to be in there because it's a classic, clubby, fun ingredient," he says. "And I love genepy and falernum together."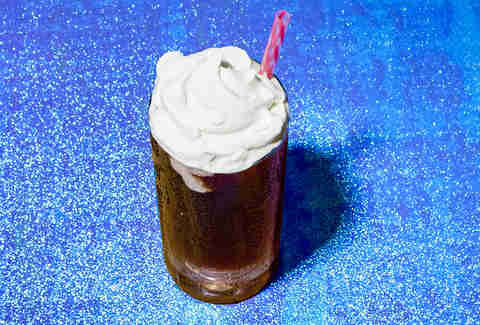 Wednesday: Mezcal and Cold Brew
"You're almost at the end," Sanchez says. "So let's have a Recess Reboot, a kick to finish your last two days." For his caffeinated cocktail, he mixes mezcal with Cynar and a cold brew take on café de la olla, a traditional Mexican coffee made with things like cinnamon and orange peels. He tops the cocktail with whipped cream—just the thing to really get you over that hump and into the weekend that unofficially starts on Thursday.