Everything You Need to Know About Buying and Making Black Vodka
Marisa Chafetz / Supercall
Black vodka. Technically it can't exist because according to U.S. law, vodka must be neutral and free of any distinct color. And yet, there it is. We can't help but be intrigued.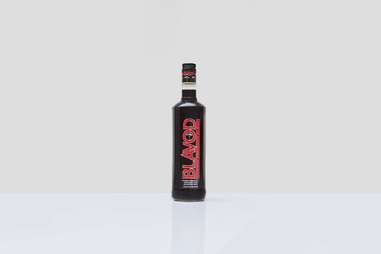 Right now, there is just one black vodka on the market in America: Blavod. Made in Germany (not Transylvania, as the name might lead to you believe), Blavod gets its signature violet-black color from catechu, an extract from acacia tree bark, which is often used in South Asian cooking for medicinal purposes and in breath fresheners. In the vodka, though, the extract pretty much only adds color. The flavor is crisp and smooth, with just a hint of herbaceousness and anise on the finish, making it perfect for a range of vodka cocktails. Try it in a deep, dark Vodka Martini or simply a Vodka Soda, or layer it on top of orange juice for a dual-toned Screwdriver. At around $30 a bottle, it's affordable and fairly easy to find (especially around Halloween), but it's certainly not the only way to stock your bar with black vodka. You can also make it at home.
How to Make Black Vodka with Food Coloring
Grab a bottle of vodka—whatever you typically like to mix into cocktails—and a full rainbow of food colorings: red, yellow, blue and green. Twist off the cap of the bottle and start adding colors, a few drops at a time. Blue and green are particularly potent, so you won't need too much of those colors to make a difference. After adding a few drops of each color, screw the cap back on and give the vodka a shake. Continue adding colors until you reach your desired hue.
How to Make Black Vodka with Charcoal
Here's the "natural" way of making black vodka. Open a bottle of vodka and crack three to five activated charcoal capsules into the bottle. Close the bottle and give the vodka a long, hard shake. The more you shake, the more the charcoal will incorporate into the vodka. This method is certainly far from perfect—the charcoal particles will eventually separate from the vodka and settle at the bottom of the bottle, leaving a dark grey-colored spirit rather than pitch black. But, hey, it still looks pretty cool and, if you believe some health gurus, it will help ward away hangovers.
How to Make Black Vodka with Food Gel
This is the most certain way to create your own black vodka. Open up a bottle of vodka and squeeze three to five drops of black gel food coloring. Traditionally used to color cake icing, this thick, seriously black food coloring will really turn your vodka as black as night. Make sure not to add too much, as the extra gel will settle in the bottom of the bottle.