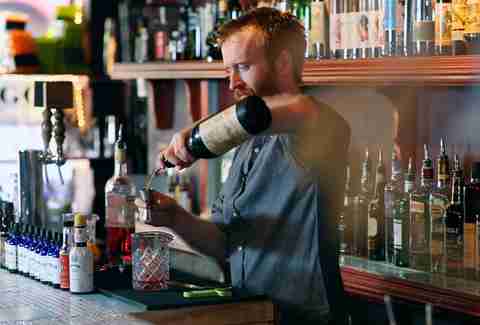 Bartending isn't just a job: it's a lifestyle. One better than even Semi-Professional Lucha Libre Man, at least according to Nick Bennett, Bar Captain (best job title ever!) at Booker & Dax, Momofuku's boundary-demolishing cocktail sanctum. To get a little color on his life behind the bar, we sat down with Nick to yap about bartender fashion, why daiquiris are actually an amazing cocktail, and of course, mustaches. On how he got into serious bartending "I started at my uncle's sports bar mostly just slinging beer and whiskey, but every once in a while Cosmopolitans, Chocolate Cake shots, and other classy drinks would come up. I started watching Three Sheets with Zane Lamprey and took an interest in the ingredients, then started researching classic cocktails and began meeting some of the best craft bartenders in Manhattan while developing my own style. I think that was around the same time my uncle fired me." On why being a bartender is the best job ever "Could you excuse me for a moment? I'm stepping into a meeting with my closest friends, during which we will taste new cocktails, discuss how we can make them so good that fans will seek them out from across the country, and learn about something we're all genuinely interested in. What do you do in your meetings?"
Recommended Video
Stay Classy This Winter With a Spiced Pear Tom Collins
Snazzy bars deserve an equally snazzy bartender: 1. Jachs Poplin Shirt 2. Ben Sherman Plaid Tie 3. EDGE by WD.NY Skinny Vest 4. Imperial Watch Print Pocket Square 5. EDGE by WD.NY Skinny Pant

Oh his favorite drink to make
"A Classic Daiquiri, without a doubt. The balance between dry rum, lime, and sugar is so perfect that borders on poetic. With all the blended, sweet, fruity, syrupy, under-shaken, over-diluted varieties out there it's no surprise people are hesitant to order one. But watching a first-timer try a properly made daiquiri is one of the most rewarding sights in the world. It's like I get to high five their face with flavor."

On his least favorite
"What I do behind the bar is hospitality, so the best drink to make is the one the customer asks for. That said, the Long Island Iced Tea. The person who orders it is clearly just trying to get wasted. Be a man and order a shot of whiskey if that is all you're going for."
Serving thirsty patrons all night can take a toll, loosen up and take a breather: 1. Ben Sherman Penny Collar Shirt 2. Ben Sherman Chino Trouser 3. Rogue Henry 22 Shoes 4. Kikkerland Fish Corkscrew 5. Liquid Courage Flask

On why bartenders always end up being these super-fashionable awesome dudes
"It's because we're around many interesting people. We meet globe-trotting brand reps and master distillers from Scotland and Mexico and people whose profession is to impress others, so we can't help picking up a few style points. Our customers also act as a constant source of inspiration. If someone walks into the bar wearing something interesting, it might have an impact on my next purchase."

Oh how much he considers what he wears behind the bar
I put a lot of thought into it -- I have to. If I look unkempt it'll affect how the customer perceives my cocktails. I also want to be able to fit tools in easy-to-reach pockets so when I have three beer bottles in one hand and am stirring a cocktail with the other I can pause mixing to grab a bottle opener without missing a beat. Dark colors and denim hide inevitable Angostura and Campari splashes -- I can't buy new white shirts and Keds every day. Finally, comfort is very important. Ten hours is a long time to deal with a wedgie."


After hours at the bar means fixing yourself something strong: 1. American Needle NY Yankees Hat 2. Canvas Ringspun Crew Tee

On changing bartender styles
"I really enjoyed it when seemingly every bartender was wearing a tie with a button down and pleated pants. It was a way of presenting ourselves as a class of professionals beyond the whiskey-pushing image. Now we don't need to prove anything. There are TV shows about bartending, James Beard Award categories, etc. We've been able to unbutton our collars a little, but only if we want to."

On mustaches
"Where do I begin? A mustache focuses attention on your your lips, making any listener hang on every word that passes through your hair-capped mouth, while mathematically increasing your odds of winning an old-timey bare-knuckle boxing match. Think of legacy that you're part of: Mark Twain, Wyatt Earp, Albert Einstein, Burt Reynolds, Yosemite Sam, and Carl Weathers. These are all mustaches of pure merit."