Valentine's Day drinks so sexy it hurts. Kind of.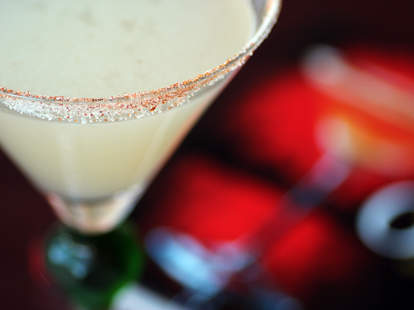 There is no reason to dance around it. Revere Hotel's Emerald Lounge is celebrating February with a two-week-long drink menu featuring cocktails your mom would blush just hearing, unless she's local drink aficionada Kitty Amann, author of "The Screaming Orgasm: 69 X-Rated Cocktails", in which case, well, things are already probably awkward enough. For now, settle yourself on definitely totally manly libations like the
Sloe Comfortable Screw Against The Wall: Though there is no such thing as an actually comfortable screw against a wall, unless the wall is actually just a giant Murphy bed, this pup will comfort your booze needs with sloe gin, SoCo, vodka, Galliano, and orange.
OTPHJ: Just kind of the best name ever for both a drink and an event that takes place in Alyssa Carroll's parents' basement while watching The Pelican Brief. Be sure not to spill this concoction of gin, grapefruit, lime & spicy syrup with a cayenne sugar rim all over your pants.
Sex Panther: It's tequila, peach schnapps, Chambord and lemon. Also, the ocelot is CLEARLY the sexiest of the big cats. It's not even close.
Screaming Orgasm: You're going to need the vodka, amaretto, Irish cream & coffee liqueur in this drink, once you realize that ordering one is probably awkward enough.