"I don't really know why we need to differentiate between men and women in this industry," says Sam Treadway, of Backbar and Ames Street Deli, "it seems kind of silly to me." Of course, he's absolutely right. It's 2015. These days, female bartenders are no longer a rarity, and women run some of the best bar programs in the world. In Boston, these are some of the top ladies leading the charge:
 
Kara Pilotte
Where to find her: The Painted Burro (address and info), Rosebud American Kitchen and Bar (address and info)
Specialty: "A kick-ass margarita. I've got it down to a science at this point, and I always get requests to whip some up at parties or family gatherings." 
What she's doing when she's not working: "In my free time, I enjoy reading. Whether it's to educate myself on something work-related, or to unwind in a fictional world for a bit, it's always easy for me to get sucked into a good book. I also enjoying cooking and playing with cocktail ideas at home. My boyfriend is in the restaurant industry as well, so we also go out to try new restaurants and enjoy good food and drink while networking."
Favorite thing about Boston: "There are always new places opening, new areas that become hot spots, little neighborhoods that you've somehow never discovered, and people you've never met. And even though Bostonians get a bad rap sometimes, we're quick to band together in times of need."
Ezra Star
Where to find her: Drink (address and info)
Specialty: "I don't have a specialty; I make anything and everything. Drink doesn't have a menu, so I talk to guests and find out what they like." We recommend a Sazerac -- it'll be the best you've ever had."
What she's doing when she's not working: "I don't go out and drink cocktails. I mean, I'd just spend the whole time watching the bartender make it, thinking about what's going in it, feeling like I had to be the boss. It's not enjoyable -- I'd rather be making it myself. So if I go out, I drink cognac, cider, sometimes wine. I like to cook. I travel a lot and am obsessed with airplanes. Almost the whole time I'm on a plane I'm thinking about what the engine or the wings are doing."
Favorite thing about Boston: "My bar!"
Melinda Johnson-Maddox
Where to find her: Backbar (address and info)
Specialty: "It really depends on the season, what's new on the market or my shelf, and what the person in front of me is looking to drink. This summer I have been focusing on taking 'heavy' flavored spirits like Scotch and mezcal and mixing them with citrus and bitters to make a smokier-style sour -- like my "Smoke and Mirrors" cocktail, which is Gran Classico, allspice dram, Scotch, and lime. I'll probably continue that theme into the cooler months and start playing with rum as the base for heavy, down, and stirred cocktails."
What she's doing when she's not working: "Trying to eat and drink as much as I possibly can in one day, at as many places as possible. Boston has a lot of great bars and restaurants, so I have a lot of go-to places. I also go up to Portland, Maine, every couple of weeks."
Favorite thing about Boston: "The people in and out of the bartender community here have really welcomed me with open arms and made me feel like I belong. Boston is extremely supportive of its bartenders and restaurant people, and I feel fortunate to have landed here."
Reka Kralik
Where to find her: Committee (address and info)
Specialty: "I'm best at making what I like to drink, especially sours. On the [Committee] menu, the Cuban Affair and the Blood Orange Old-Fashioned are my favorite. Here, customers are much more comfortable talking about the kinds of things they like and having you make them something off-menu, so I do a lot of that."
What she's doing when she's not working: "I don't go out much, but I do like to travel. I try to go to at least one museum everywhere that I go."
Favorite thing about Boston: "I just moved here from Hungary in May, so I haven't gotten the chance to explore very much yet!"
Jenn Harvey
Where to find her: Temple Bar (address and info)
Specialty: "Off of the current cocktail list, I think the most well-received is my Garden of Eden. It's sort of a cross between a Hemingway daiquiri and a Last Word. It's well balanced, refreshing, and flavorful. Of the things I most enjoy making: a Negroni, but playing with different gin/vermouth combinations. There's just something so elegant about a properly stirred cocktail. There's also something to be said for the non-classics -- I've been known to add marmalade or jams to drinks or garnish with fancy little sugar cookies."
What she's doing when she's not working: "Sometimes I feel like a little old lady at heart -- I love doing crafty things, sewing, or baking."
Favorite thing about Boston: "I love that it's a big small town. Or a small big city. I've lived here for almost 20 years, and there's still so much to see, adventures to be had. But at the same time, there's a nice familiarity to it, and I'm constantly running into people I know unexpectedly."
Naomi Levy
Where to find her: Eastern Standard (address and info)
Specialty: "I am best known for some of my more culinary creations. The Brahmin has to be one of my favorites right now; it's made with gin, curry syrup, mango chutney, lime, and cilantro. I also love trying to incorporate fresh seasonal ingredients into my cocktails." Naomi is also famous for her Guayaba Arabica, which earned her the win at last year's Bacardi Legacy Cocktail Showcase.
What she's doing when she's not working: "I make a point of traveling as much as I can in my free time. I love to visit new places, see what's going on in other cities and countries. When I'm home in Boston, I'm probably trying a new restaurant or part of the city I'm not familiar with. That is, if I'm not just having some much-needed couch time."
Favorite thing about Boston: "It has a great neighborhood feel that really allows you to feel like you are a part of the community. I also love how after 10 years of living here, it just keeps surprising me. Just when I think I really know this city, I find something new and magical to love."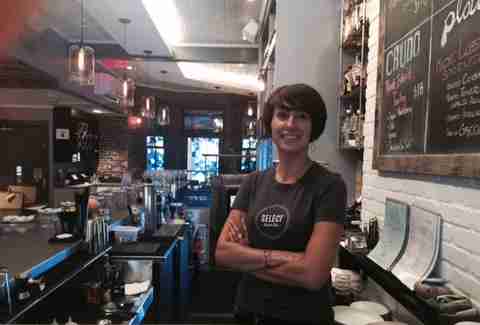 Gina Richard
Where to find her: SELECT Oyster Bar (address and info)
Specialty: "Lately, anything with tequila or mezcal. They are more versatile than one would think! I made a smash recently with honey, reposado, and grapefruit for someone who thought they hated tequila and it turned them around. It's always fun when you can turn a guest on to something new or different."
What she's doing when she's not working: "I bought a condo recently so I've been a bit of a homebody. I cook at home lot and spend a lot of time outdoors with my dog."
Favorite thing about Boston: "There is so much talent in this city... everyone is very supportive of each other and there isn't a feeling of competition between establishments."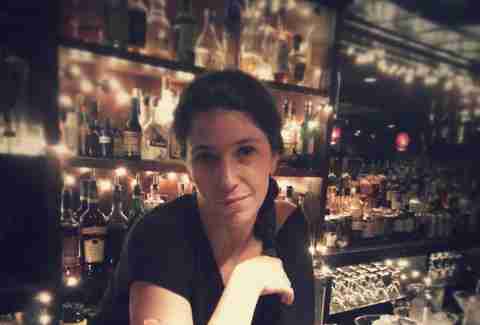 Anne Warnock
Where to find her: Green Street (address and info)
Specialty: "I've been experimenting a lot lately with amaros, particularly Averna and Cynar. One of the new drinks that I came up with recently is Rittenhouse, with various amaros and a lemon twist. It's called the Colonel Fink, after my grandfather." Anne also has a reputation as one of the speediest bartenders around. "It comes from working as a server at really high-turnover, patio-type places," she says. "Now, if I'm not moving I feel like I'm not being productive."
What she's doing when she's not working: "Serving has always been a way to support my music habit, but when I became a bartender I developed a real love for the job. Still, I'll always be a musician. We're about to go on tour, actually."
Favorite thing about Boston: "Green Street. It's my dream bar. But also, I go into places, and I know people. And it's easy to get around in the winter with the T."
Jamie Shaw
Where to find her: Ames Street Deli (address and info)
Specialty: "I have a number of particular drinks that I love to make, but I would have to say that my favorite way to individualize a drink for a guest is to create a "just-for-them Old Fashioned." An Old Fashioned is something that just about anyone will like, so long as it's tailored to them. Not everyone likes just a little bit of sweet whiskey. Your grandfather might like his drinks strong and maybe a touch bitter -- so I'd add a little Cynar and salt water or fernet. You might like it a little sweeter and lighter -- so maybe some orange blossom water and simple syrup instead of a sugar cube will suit you best (this is the first cocktail I ever made, by the way!). It's a really fun conversation to have with guests -- watching their faces light up when the drink is perfect for them is literally the best part of the job."
What she's doing when she's not working: "I love to go around town and eat and drink. I love to see what other bartenders and chefs are currently creating, and supporting our industry! Other than that, I have a badass little dog who loves to go on runs with me. Also, I'll never say no to an amazing bowl of mac and cheese."
Favorite thing about Boston: "The culture. You meet some of the smartest and coolest people that the world has to offer, and every single one has an amazing story that I can't wait to hear. Also, there are tons of little neighborhoods, and it's so neat to see what each one has to offer. I love how Boston feels like the biggest little city ever, and you run into people you know on the street. Last, but not least, that skyline at sunset (or sunrise). Man, it's underrated."
Tainah Soares
Where to find her: Trina's Starlite Lounge (address and info)
Specialty: "In the spring, I started making our "StarPops" -- carbonated and bottled cocktails. This gives me so much room to get creative, by either giving classics my own spin or creating a new, funky concoction. My newest favorite is the Strawberry Fields Forever (BMD Greylock gin, Cassoni, strawberry balsamic shrub, lemon, basil H20, and absinthe). Now that it's been on the menu for a while, it's really gratifying to have regulars and guests come in and ask 'What's your StarPop this week?!' It makes my day!"
What she's doing when she's not working: "I really love being outdoors, so most of my free time is spent taking walks with my pooch, Bella, on the Esplanade and around Back Bay. Other than that, I practice yoga often, hang out with friends on the other side of the bar, and eat my way around town."
Favorite thing about Boston: "I love the sense of community and hospitality this town has. Everyone in the industry is a friend and everywhere you go you feel sincerely welcomed. I've only been living here for two years, but the number of people and friends I've made is overwhelming and makes me feel like I've finally found a place to call home. It makes wanting to leave nearly impossible."
Sign up here for our daily Boston email and be the first to get all the food/drink/fun the Hub has to offer.
By day, Kim Prosise writes and edits content for clients around the world; by night, her circus freak alter ego performs high-flying feats of fantastic daredevilry. When she's not working, she's traveling, baking, or dust-busting glitter. Ask her for facts about sea creatures.