Boston's 5 best NFL game day bars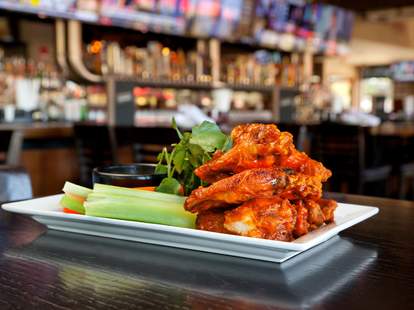 You may or may not be able to stomach more Patriots games this year (see #68), so you need to get yourself out to bars where TVs are playing other games, and delectable food and drinks are there to distract you. Here are five game day go-tos in Boston...
Waterfront
Game time at The Living Room is just like being at home, but with way better food. And someone to make it for you. Go big or go home with 35 cent jumbo wings on game days throughout the season. They will also have rotating specials, so stop by early and often with your crew for all-night endzone celebrations.
Natick
The good folks at SKYBOKX know exactly what the kids want with their games. Half-priced pizza, of course. And an NFL Sunday Ticket. Park yourself in front of a flatscreen and choose from 10 pies ranging from $4.50 to $5.50. Like the savory buffalo chicken, the saucy pulled pork, or classic pepperoni revved up with herbed mozzarella.
North End
Ward 8 is taking things to the next level on Sunday Funday, with special treats from noon-10pm. Get a bucket of chicken (either half or whole bird) with a variety of sauces, waffle fry nachos loaded with tasso ham & pulled pork, salty pretzel knots, and teriyaki-marinated pork tenderloin soft tacos. Celebrate your squad with some high-octane brews like Cellar Door Saison, or down a Colt 45 once your weekly stats get sacked.
Dan Watkins
Multiple locations
Head to your nearest Tavern in the Square on Mondays and Thursdays for brews, bites, and... hopefully... victory. Starting at 7pm in the bar area, you can score a domestic pitcher and your choice of Big Dig Fries oozing with four cheeses, three varieties of wings (Ode to Buffalo, Angry Ale, Mongolian Barbecue), or a big old plate of nachos for a mere $19.99. Scoreboard!
Back Bay
The Pour House cordially invites you to join them for Bubba's Basement Blitz, their weekly action-packed day-long football hoopla. Brunch is served from 8am-3pm (Super Homefries!), then there's the half-priced dipper menu from 4-10pm (glossary: dipper = slider). Nab some free stuff during halftime of the 4pm game, and promptly resume eating dippers. If you know what's good for you (you do... it's dippers).
Sign up here for our daily Boston email and be the first to get all the food/drink/fun the Hub has to offer.