You're going to kick your night off with a happy hour, and before you go all "but Boston doesn't HAVE happy hour" on us, we say anyplace you're drinking at a relatively early hour in the evening and finding yourself feeling happy constitutes a happy hour. So there!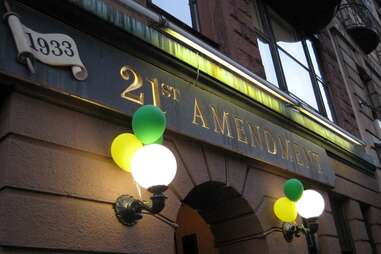 21st Amendment
Beacon Hill
You don't have to be a politico (but it might help) to lobby for a drink at 21st Amendment. In the shadow of the State House, this neighborhood charmer is fanned and faved by the Beacon Hill set for its classic pub fare (burgers and sammies), proper pints, and a lively elbow-shoulder-rubbing, business-card-swapping atmosphere. Fun Fact: It is rumored that JFK hooked up wrote speeches next to the fireplace in the back.
Silvertone Bar & Grill
Downtown Crossing
If you need a man's G&T, head down to Silvertone on "No One Ever Remembers the Name of" Bromfield Street. Well known for its cocktail menu (with hilarious titles: Joey Joe-Joe Jr. Shabadoo and What You Talkin' 'Bout Willis) and smile-inducing eats (baked mac 'n cheese, steak tips), Silvertone packs in swarms of cubicle escapees on weeknights and weekends.
Clery's
Back Bay/South End
For many regulars, irregulars, and suits alike, Clery's is the place to be when you're off the clock, and many neighborhoods wish they had it this good. Great food (award winning wings, and we don't mean the kind with Tony Shaloub), legit drinks, and personal pitchers will make you happy about the short stumble to the conveniently super-close Back Bay Station.
Eastern Standard
Kenmore
The longer-than-your-last-meeting bar top makes Eastern Standard the go-to spot in Kenmore Square. You'll linger long past happy hour (often neither "happy" nor an "hour") to investigate the extensive beer and wine lists, house-infused cocktails, and fortifying food options like roasted bone marrow and rotating charcuterie selections.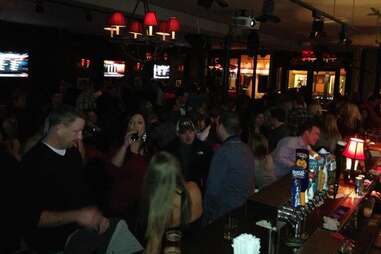 The Playwright
Southie
The Playwright is the insufferable guy your directionless sister is dating in-your-face good times with stiff drinks, tons of ample starters (nachos, wings, rattlers, sliders) and miles of flatscreens (measurements approximate). Whether your crew takes over some tables or sets up shop at the bar for a shorter distance between you and booze, the no-frills drinks will keep things lively.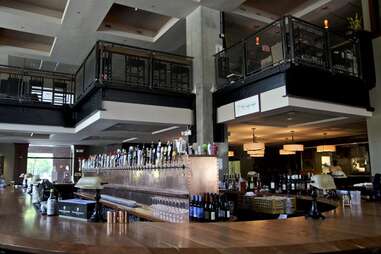 Meadhall
Kendall
You probably made a million (and one) tough decisions this week, but the toughest yet await you at Meadhall. With more than 100 draughts, the beer list challenges both mind and body from behind the 36-seat coppertop bar. If that's not relaxing enough, the comfortable sofas upstairs are beckoning -- metaphorically, because they're sofas.