These are the 5 best beertails in Boston
Because you shouldn't have to limit your Summertime imbibing to just beer, or just booze, we scoured the city to find our five favorite cocktails mixed or finished with refreshing warm-weather suds.
Blue Beer'd, Backbar
Despite the name, there's really no need to talk like a pirate when ordering Assistant Bar Manager Joe Cammarata's latest Summer concoction, a shaken mix of Amaro Nonino, lemon juice, and blueberry syrup, all of which is double strained into a champagne flute, topped with Palm Belgian Amber, and garnished with blueberries "on a pick". No arrrgh-uing about the garnish either. Sorry, WE COULDN'T HELP OURSELVES!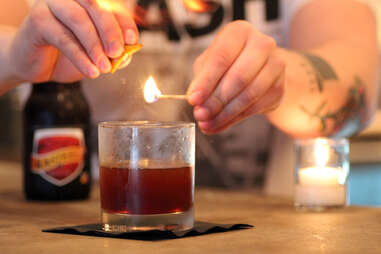 Wait for it. Wait... for...
In Fashion, JM Curley
… boom! Kevin Mabry's take on the Old Fashioned replaces muddled oranges/cherries with Kasteel Rouge, an 8% ABV, dark Belgian ale brewed with sour cherries, which he mixes with sugar, Amaro Averna (in place of the Angostura bitters), and bourbon. For the fireworks, Mabry ignites the orange peel, which imparts some of its bitter oils into the drink.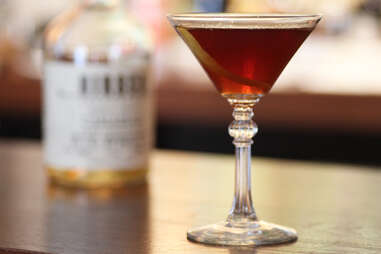 Porter My Bag, Clio
Looks like a simple cocktail, right? Yeaaaa… no. The most intricate of the lot, Todd Maul at Clio's going so far as to slow-roast a red beet for 24hrs before blending it with pink peppercorns, moonshine (yes, moonshine), and Mayflower Porter. From there, he may as well walk across the Mass Ave Bridge and enroll at MIT, because he's spinning it out in a centrifuge to capture the hop/coffee notes of the beer (essentially turning it into an Amaro) before mixing it with Canadian whiskey and vermouth and garnishing with a lemon. Amazingly, yes, he can mix this drink for you any time.
Son of Dad, Brick & Mortar
Kenny at Central Square's upstairs cocktailery B+M likes to keep it cool in the Summer with this refreshing rye, St. Germain, and Campari 'tail mixed with bitters, a little lemon, and Waltham's finest Portico Chroma Ale.
Suze-E-Q, Trina's Starlite Lounge
Doubly named for both their Chef, Suzi Maitland, and the bitter French liqueur that serves as its base, Suze Gentian, this tasty 'tail is mixed with Lazzaroni Amaretto, orange/lemon juice, and your favorite local Harpoon IPA.