5 places to drink mead in Boston
Boston What's 9,000-years-old and making a big-time comeback? No, not hunting and gathering. Mead... that's what! This ancient nectar derived from honey is the next craft revolution, and you don't want to be late to the party/miss your chance to drink like a Knight of the Round Table. Here are five prime places to get it in the Hub:
Sunset Grill & Tap
Allston
Get mead madness at Sunset with more than 30 different varieties from around the world… easily earning them multiple "Best Mead Selection" titles. Go international with Apis Jadwiga (Poland) and Dansk Mjød Viking Blod (Denmark), or stay domestic with Moonlight's Kamasutra (NH) and B. Nektar Zombie Killer (MI). Bonus: they have "mead-tails"! Try the Orange Blossom (orange blossom mead, unfiltered Hefeweizen). Continue Reading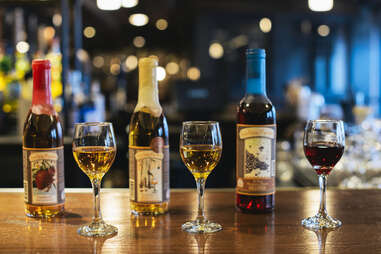 PARK
Harvard Square
This cozy hideaway has four different chill zones (The Dining Room, The Classroom, The Den, The Back Room) to go along with their four mead offerings. Sourcing from Sap House Meadery (Center Ossipee, NH), selections include Hopped Blueberry Maple, Ossipioja, Sugar Maple, and a rotating seasonal. Can't decide? Opt for a flight of three for $12.


Meadhall
Kendall Square
It'd be kind of disingenuous if they didn't have it, right? It's in the name! This malty mecca in Kendall Square is flush with craft drafts (100) and, to keep things honest, they also have some meads. The menu rotates constantly, but their current dozen options come from three different producers: Maine Mead Works, Moonlight Meadery, and Sap House Meadery.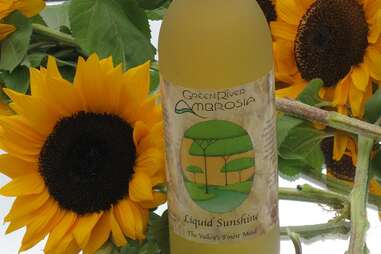 Vee Vee
Jamaica Plain
Husband-and-wife team Dan and Kristen Valachovic (Mr. and Mrs. "Vee", get it?) keep it real in JP with American fare, craft beers, and artisanal wines from local wellsprings. So of course they have some New England mead, too. Kick start your hunger with the aperitif Green River Liquid Sunshine (Greenfield, MA), a semi-dry mead with honey and floral notes.
Grendel's Den
Harvard Square
In Beowulf, Grendel destroyed the massive mead hall Heorot because it was too noisy and the patrons kept him up all night. Not cool, Grendel! At Grendel's Den, you will find a much quieter scene, frequent half-price food specials, and no giant beast-creatures with sensitive hearing. With a nod to the literary set, this subterranean Harvard Square mainstay also has Green River Liquid Sunshine, so you can drink like a 6th century tough guy.