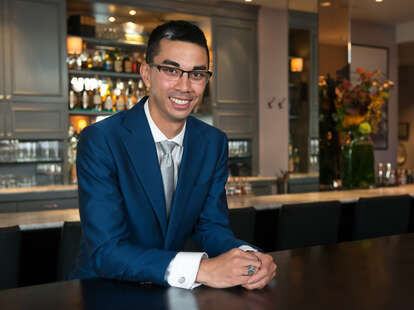 Jared Sadoian

| Melissa Ostrow
Jared Sadoian

| Melissa Ostrow
The year 2016 was a banner one for Boston drinkers. Yes, between the contentious election season and Deflategate Year Two, we've probably pickled ourselves into an early grave, but at least we drank well while doing it. Bartenders throughout the city elevated their game, playing with techniques, ingredients, glassware, and garnishes in an effort to seduce us into just one more round. Before the year comes to a close, we checked in with the five Boston bartenders we think made the greatest splash in 2016.
Jared Sadoian
A graduate of MIT who started as a tech analyst at Barclays Capital? Apparently that's what it takes to make it as a bar manager today. Sadoian has taken that genius and applied it to The Hawthorne bar program for a couple of years now, but it was only in 2016 that he graced us with his expertise in rum and agave, expanding those spirit menus considerably, and focusing on small-batch producers. We feel a little less envious of his regular trips to Mexico when he rewards us this handsomely.

We interviewed Jared Sadoian about his remarkable career -- and what's on the horizon.
Todd Maul
Maul is the mad scientist we didn't know we needed. Since debuting his Jetsons-like cocktails in late 2014, the former Clio maestro has introduced the drinking electorate to techniques like flash infusion, rotary evaporation, and of course, flavor-infused vapor. This year, it was all about paint garnishes, 40-degrees-below-freezing ice cubes, and charred fruit smokes -- and it's only going to get more interesting from there.

We interviewed Todd Maul about his spectacular year.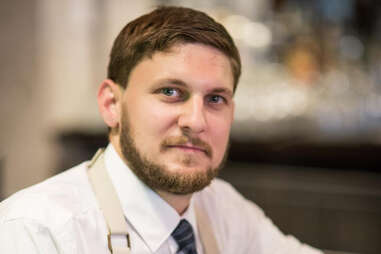 Seth Freidus
When Michael Scelfo's seafood outpost opened just before Labor Day, we were as excited about the bar program as we were about the crudo. Freidus, also bar manager at Alden & Harlow, made absinthe his signature spirit, and the resulting cocktails are a revelation, even to the Green Fairy-adverse. But every drink is a humdinger -- even the mocktails, for those teetotalers tired of Shirley Temples.

We interviewed Seth Freidus about his efforts to step up the Boston cocktail scene even further.
Nicole Lebedevitch
When Lebedevitch took over Yvonne's bar program this summer, her enthusiasm was immediately apparent. The Eastern Standard and Hawthorne alum grew the cocktail list and took it in fascinating new directions, both playing with and perfecting the classics. The lines outside the door may be intimidating, but Lebedevitch has made sure the drink list is nothing but inviting.

We interviewed Nicole Lebedevitch about her biggest moments in 2016.
Tenzin Conechok Samdo
We like a good garnish, but Samdo loves a good garnish. Flowers, boba pearls, a flavored ice cube shaped like the Millennium Falcon -- seriously, there's no topper he won't consider. Samdo might also be the friendliest bartender in town, so when he left Trade earlier this summer to take over the bar program at Tavern Road, we skipped down the street right after him. If you want to whet your thirst now, go to Samdo's IG account (@bostonmixdrink) -- he's also a master 'grammer.

We interviewed Tenzin Conechok Samdo about the year -- and what he'll be looking forward to in 2017.
Sign up here for our daily Boston email and be the first to get all the food/drink/fun the Hub has to offer.
Meaghan Agnew's home bartending game is weak, which is why her bar-hopping game is so strong. Track her drinking tra(va)ils on Twitter and Instagram at @meaghandeth.