Great dive bars are things of bitter beauty, like rough-and-tumble ports in this storm called life. Sometimes you just need to take refuge in a place that has no windows, multiple cigarette machines, and an odd mixture of townies and non-townies. Take a break from the pampered world of bars with functioning taps and urinal dividers to check out these 15 hardworking neighborhood dives.
Recommended Video
'Friends' Is Celebrating Its 25th Anniversary With This Immersive Pop-Up Exhibit
Allston
Silhouette Lounge (address and info)
Even millennial hipsters deserve a dive bar to call their own, and the young Sil regulars unironically appreciate the gem they've got on their hands. You gotta love having free popcorn, a full-fledged "dart-drome," a pool table, and cheap pitchers. When not playing Big Buck Hunter, the clientele chills in the mostly enclosed outdoor smoking parlor emblazoned with clever-ish graffiti.  
Beacon Hill
Beacon Hill Pub (address and info)
Amidst the boutiques on Charles St, the seedy underbelly of BHP is there to keep things legit. Just as the posted review reads, "A bar scene straight out of Star Wars," it hosts a crew of affable rogues starting daily at 11am. A lone vending machine with Bugles and Cheez-Its serves as the kitchen, and the bartender will happily supply you with a thousand menus for nearby delivery places. But be sure your phone is charged, because there isn't a phone here. At all. Not even a number.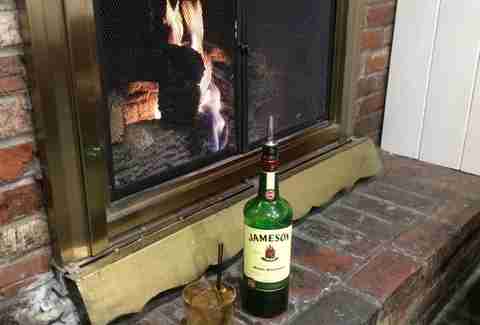 Back Bay
Crossroads Irish Pub (address and info)
The once-shuttered Crossroads has returned from the brink thanks to new owners who thankfully didn't change a single thing. A favorite of earthy locals, nerdy MIT frat guys, and Man U maniacs, this plucky Irish dive has two grizzled, dimly lit floors of taps and distractions including darts, board games, and skee-basketball (as awesome as it sounds). The whole operation is low-key and easy on the wallet. Be sure to stop by on Hump Day for a free cheese pizza with every pitcher.
Brighton
Mary Ann's (address and info)
Mary Ann's, where every night is Amateur Night, endures as the paradigm for all college dive bars for all time. BC students and alumni flock here for $1.50 Busch Lights, the signature aroma, and sloppy make-out sessions. The bar's best attributes include the "industrial chic" boarded-up windows and the excellent chance that someone will barf on your shoes.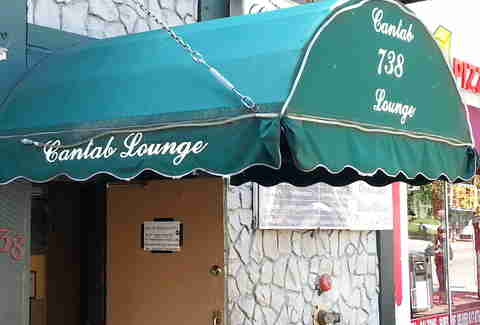 Central Square
Cantab Lounge (address and info)
The venerable Cantab represents the duality of man: hard-working by day, hard-partying by night. You can join the Dawn Patrol of gruntled/disgruntled folks when the doors creak open at 8am, or rock out to funky bands on busy Friday nights. Mixed drinks, like whiskey and cola or whiskey & cola, are potent fuels for the rant du jour. 
 
Charlestown
Old Sully's (address and info)
Super-extra-old-school, this fine establishment has been pouring booze since Prohibition when it was an Irish speakeasy. It still looks about the same and still doesn't have a sign, so you know it's good. Jolly staffers, the friendliest anywhere, are quick with quips, $3 pints, and entertaining neighborhood stories. Grab a booth (complete with Formica tabletop) and open your ears; you just might learn something -- for example, that Old Sully's made its big-screen debut in Ben Affleck's The Town.
Chinatown/Leather District
The Corner Pub (address and info)
Yes, it has $3 brown-bag shots dispensed from a screw-top bottle of surprise. When owners Pam and Matt Chin took over in early 2008, they spruced up the place and added a surprisingly impressive menu with gems like Bacon Cheeseburger Eggrolls and gigantor Turkey Clubs. But The Corner Pub didn't lose its cozy come-one-come-all vibe or its fondness for good-natured debauchery. 
 
Davis Square
Sligo Pub (address and info)
While Davis Square has slowly gentrified, Sligo has remained true to its 75-plus-year-old roots as a community watering hole. It's an old, dark, musty, narrow shoebox, and every wooden surface has been "artistically" embellished with carved names and randomness, including a love for bacon. Bargain-basement drafts (Guinness = $5), a jukebox, and surly service make Sligo the dive bar of choice for townies and Tufts students who know better.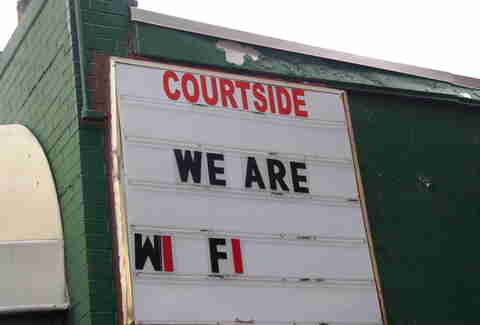 East Boston
Eddie C's (address and info)
From the outside, Eddie C's resembles Al Capone's vault: a grey, impenetrable stone block. Inside you'll find a slightly softer edge courtesy of the genial bartenders (Donna rules!), budget pitchers (under $9), and free snacks (mini pretzels, Cheez Doodles). The old guard hunkers down in Maverick Sq all day on Saturdays playing cards, eating tripe (a specialty), and keeping track of the races. Best dive bar feature: a cardboard sign in the window that reads "Eddie's Italian Kitchen."
 
East Cambridge
Courtside (address and info)
Like moths to a flame, East Cantabrigians flutter to Courtside for its raw simplicity (i.e., sticky plastic tablecloths), toaster-oven pizzas, and the NFL Sunday Ticket.  However, it's the monstrously popular karaoke, Thursday through Saturday, that really packs 'em in. The rowdy-crooner crowd is an amalgam of awkward twenty-somethings, costumed weirdos, and croaky voiced over-the-hill types. Order a bucket of Bud heavies, kick back in a booth made from duct tape, and enjoy the show.
Financial District
Biddy Early's (address and info)
It's increasingly difficult to find a good dive downtown these days, but Biddy Early's has your back. This zero-frills FiDi landmark is textbook hole-in-the-wall: cramped/dirty bathrooms, beer-soaked floor, a working cigarette machine, and labor union stickers on the walls (and also a two-man saw). Suits and scamps alike escape their troubles with $1.50 PBRs, Keno, and that nudie photo hunt game.
 
North Station
Sullivan's Tap (address and info)
Sully's is more than an ordinary dive; it's a Boston institution going all the way back to 1933. Firmly cemented stools line the excessively long bar that features laminated tickets and the old "quarter glued to the bar" trick (cutting-edge comedy in 1933). Neon beer signs, bumper stickers, fan art, and hometown sports memorabilia dominate the walls while the 21-101-year-old regulars dominate endless 'Gansett tall boys. Best of all, the joint really hates out-of-state licenses -- so basically anyone not from the Hub.
South End
Wally's Cafe (address and info)
This family-run nightclub icon is a veritable time machine transporting you back to the days when smoke-filled juke joints reigned supreme. You won't mind the aroma of stale cigarette butts and Aqua Velva once the incredible jazz jams fill the cramped, dingy room. There's never a cover, but Wally's frowns upon teetotalers for occupying valuable real estate and charges them $10 for sodas. Leave your temperance at home, please.
 
Southie
L Street Tavern (address and info)
L Street Tavern could be the cleanest dive around (it remodeled at some point), but it still maintains its dive credentials. It's also known as "that Good Will Hunting bar," and Southie's finest gather in the dark neighborhood spot to wet their whistles and play Lotto and Keno. There's no food, no nonsense, and no questions asked. Depending on its mood, it may or may not be overly welcome to outsiders, because Southie.
Theatre District
The Tam (address and info)
A relic from the look-the-other-way Combat Zone days, The Tam doesn't guarantee any pleasantness, but it will pour you a very strong and cheap whiskey drink with a half-smile. It's $3.50 for a Jack & Coke, so buckle up for safety. Good luck if you get "stage fright," because the bathroom stalls don't have doors. Professionals, Emerson students, and old-timers congregate here for one reason: low expectations.
Sign up here for our daily Boston email and be the first to get all the food/drink/fun the Hub has to offer.