Boston is an unapologetic beer-drinking town. And not just because brews are crushed night after night while watching the Patriots, Red Sox, Celtics, and Bruins dominate the opposition. It's also in our history. Since the Pilgrims docked their boats here in the early 17th century, beer has been a vital part of Boston-area culture and lore. 
As the story goes, the Pilgrims anchored in Plymouth so the ship's crew would have enough beer on the way back to England. (Even children drank beer -- albeit weak ones -- when the settlers first arrived in America, since drink options were limited in the early days of the New World.) Beer was important to the Puritans, too. They did much of their business out of taverns flowing with beer and believed that, if good beer were available, people wouldn't turn to liquor.
 
Fast-forward a few hundred years and craft breweries have been popping up in Boston so fast that many wonder if a bursting bubble is upon us. Regardless, craft breweries both big and small continue to open and thrive in the Boston area.
 
We've highlighted some of the finest -- peddling everything from undeniably simple saisons to impeccably hazy New England IPAs. This list is certainly not exhaustive. (Charlton's top-notch Tree House lies just beyond the confines of the Boston area. Others, like IPA kings Lord Hobo, Belgian-style specialists Idle Hands, and Framingham's Exhibit A Brewing, are just as worthy.) Narrowing down the best Boston breweries isn't an easy task, but we sure had fun trying.
 
Recommended Video
Thrillist's Best (and the Rest): Best Easy Ramen Hacks and Winter Beers
Boston
Set in a former piano factory in Roxbury, Backlash Beer Company's taproom is arguably one of the best in Boston. And yes, the beer is pretty great, too. The relaxing, well-lit, brick-lined spot features shuffleboard, old-school video games, and, often, birthday parties for both 30 year olds and two year olds (and their parents). The small, curated beer selection often features a couple of IPAs, a Belgian ale, a cream ale, and a stout. While Backlash made its name on hoppy IPAs and stouts, the sessionable Belgian blonde Groundswell is also a keeper. Take a swig after one of the taproom's Saturday morning yoga sessions.
 
The beer you shouldn't skip: Finding the right balance in a New England IPA -- not too hoppy, too hazy, or too yeasty -- is a tricky endeavor. Bad Decision Juice, with its combination of Citra, Mosaic, and Idaho 7 hops, brings out the juicy hops without being overpowering.
Cambridge
Rustic farmhouse vibes permeate Cambridge Brewing Company, a longtime brewpub set in the middle of the Kendall Square tech hub. A mix of old and new, it provides historical ambiance with just an air of innovation. The OG craft brewers, who began their operation in 1989, made the very first Belgian-style beer brewed in North America: the 10% ABV Tripel Threat, a strong blonde ale. For a lighter offering, the American Pale Ale is just as good as any. Soak it up one of the burgers, salads, or legendary Buffalo chicken tenders on the menu. An annual Sour Fest and an extensive pumpkin beer party highlight the brewery's packed events calendar.
 
The beer you shouldn't skip: Cerise Cassée, an explosive American wild sour with a cherry kick, is the kind of divisive beer that will inspired many a snobby debate. Part of Cambridge Brewing Company's barrel-aged beer program (which was one of the nation's first), its annual release includes beer from the original 2003 brew, as well as some from every year since.
Boston
Harpoon Brewery got its start decades before taprooms started popping up like wildflowers across Massachusetts. In 1986 -- just two years after fellow Boston brewing giants Sam Adams came on the scene -- Dan Kenary, Rich Doyle, and George Ligeti were inspired by European breweries to found Harpoon. Now best known for the even-keeled Harpoon IPA, the brewery continues to innovate at its headquarters in the Seaport (and its second brewery location in Windsor, Vermont). Recent mainstays include a sweet mango pale ale lovingly called Camp Wannamango and the solid citrusy New England pale ale One Hazy Summer. Tours at HQ wind around the catwalk above the brewing operation, with a stop at the original tasting room before finishing in the cavernous beer hall. HarpoonFest every spring and Harpoon Octoberfest are large-scale festivals worth a visit, too.
 
The beer you shouldn't skip: Best imbibed on a hot summer's day, Rec League is Harpoon's low-ABV, comparatively low-calorie hazy pale ale. Marketed as a healthy choice -- its ingredient list includes sea salt, buckwheat, and chia seeds -- it's easy to imagine throwing back a few of these after the game. Stay hydrated and you'll (hopefully!) be hangover-free the next day.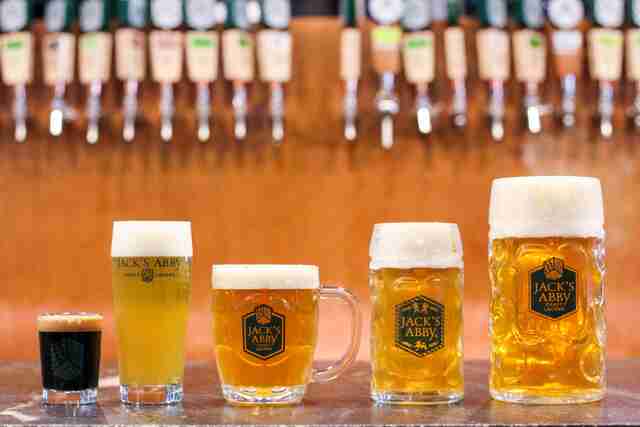 Framingham
Founded in 2011, Jack's Abby takes lagers very seriously. Master brewer Jack Hendler and his brewing team use traditional Bavarian hops and malt, as well as old-school lager brewing methods of boiling (called decoction) and fermentation (spunding). An airy, wood-laden beer hall -- located in Framingham, a half-hour drive from Boston -- provides a low-key environment for both loyal locals and beer tourists. Pair offerings like the uber drinkable House Lager (also a favorite at Fenway Park) and the slightly dry, mildly floral Post Shift pilsner with wood-fired pizzas, sauerbraten, and pilsner-braised beef hot dogs.
 
The beer you shouldn't skip: Hoponius Union is the hoppy beer for those who just don't want all the bitterness of an IPA. Combining lager yeast fermentation with West Coast hops, this IPL pushes forward citrus hops while staying on the maltier side.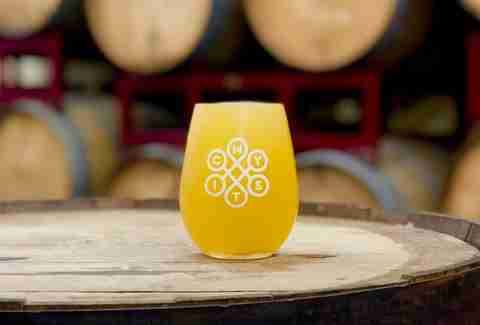 Chelsea
Wandering into Mystic Brewery -- off the beaten path in an industrial part of Chelsea, north of Boston -- is like opening the door to an old friend's basement hangout. But this old friend happens to be quite the pro at making beer. Just a wooden bar, a few tables and a small TV adorn a small room that serves tart pale ales, a rotating series of lactose IPAs laden with fruit, plus the juicy and hop-laden Voltage IPA.
 
The beer you shouldn't skip: The fragrant, farmhouse-style Table Beer is simple enough that it shouldn't be memorable. But its simplicity is what makes it so good. With a light, smooth character and just a touch of lemon, it blows any run-of-the-mill summer beer out of the water.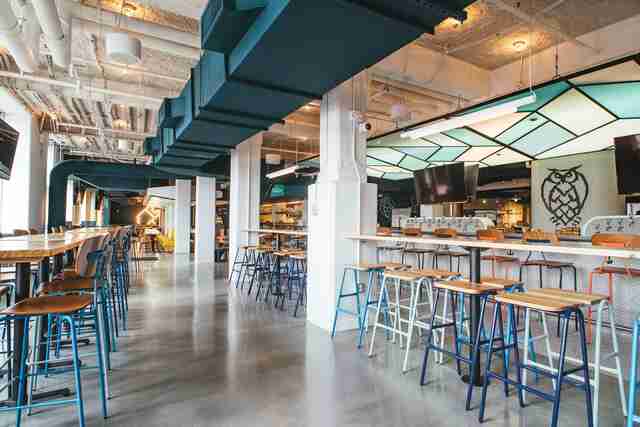 Boston
These Everett-based brewers like to experiment with hops. Some of the beers at Night Shift even require custom-built pieces retrofitted onto typical brewing equipment. One of those beers is the popular Whirlpool -- a dry-hopped, low-ABV, New England-style pale ale -- that has become one of the brewery's best sellers. Night Shift offers rotating experimental beers, a coffee roastery, and a simple but refined food menu in its chic, 400-capacity taproom located just steps away from TD Garden on Lovejoy Wharf. The brewery also runs two beer gardens along the Charles during the summer: one on the Esplanade, and another in Brighton's Herter Park.
 
The beer you shouldn't skip: The hoppy Santilli -- named after the brewery's original Santilli Highway location in Everett -- is a balanced, pillowy hybrid of an American IPA and a hazy pale ale. With nuanced notes of grapefruit and lemon, this crisp, 6% ABV beer won bronze in the 2016 World Beer Cup American IPA category.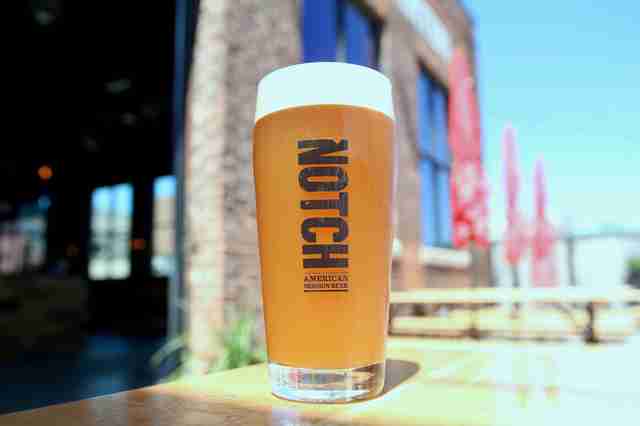 Salem
Making great session beers -- those low-ABV, highly drinkable suds -- is the name of the game for Salem-based Notch Brewing. The beers at Notch range from a slightly hazy Bavarian pale lager called Zwickel Beer to Left of the Dial, an orange-tinged, British-style IPA. Open since 2016, the brewery is a laid-back haunt with a Skee-Ball machine and an outdoor beer garden that looks over the South River basin. Pair beers with bratwurst sausage, a Bavarian sandwich with Black Forest ham and Gruyère cheese, or the Notch Scotch egg (a hard-boiled egg encased in sausage).
 
The beer you shouldn't skip: The Czech-style pale lager Notch Session Pils is an easy-drinking, lightly herbal brew with Saaz hops. Based off of a similar 4-percent pilsner called Desítka, this is a very niche Eastern European brew hard to find anywhere in the states.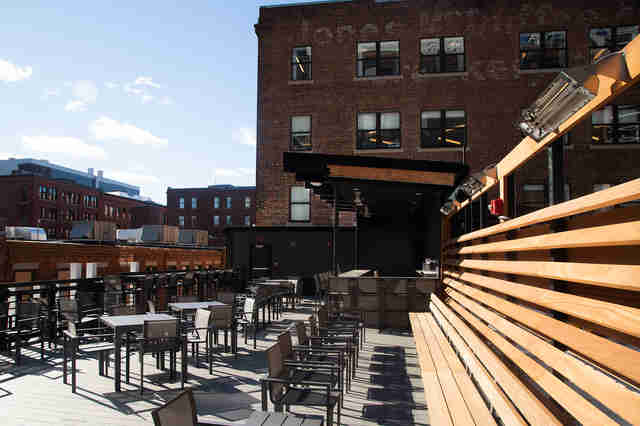 Boston
Among the new wave of Boston's craft breweries, Trillium Brewing has quickly risen to the top. In 2013, JC and Esther Tetreault began with the vision of recreating a New England farmhouse brewery. Their spacious Fort Point locale feels more like a trendy tech start-up than a rustic brewer hangout. That said, a selection of always-rotating brews on tap -- divided into categories such as "Roasty," "Wild & Sour, " "Hoppy," and "Everything Else" -- feature big, vibrant flavors. Or just start with the flagship brew, Congress St. IPA, a subtly citrus selection. Get fancy in the upstairs dining room where you can order charcuterie, seafood entrees, burgers, or a BBQ pork sandwich. Long lines are standard to enter the taproom, but it's not just hype. (In the summertime, Trillium also sets up a beer garden on the Rose Kennedy Greenway across from Rowes Wharf.)
 
The beer you shouldn't skip: A rotating selection of incredibly rich, decadent dessert stouts make up some of this brewery's biggest and finest releases. Complex and sweet (but not too sweet), they're infused with coffee, cocoa, vanilla, tart fruits, and even coconut-pecan pie.
Sign up here for our daily Boston email and be the first to get all the food/drink/fun the Hub has to offer.