If you find yourself needing a drink in the future (prediction: you will), may we suggest dipping your toes (not literally) in the wondrous world of draft cocktails? Because you don't have TIME to wait for all that mixing and muddling, here are five fine libations you can acquire on demand.
Harvard Square
Alden & Harlow has made a big splash on the local scene, and you should get a big splash of their current "spirituous" draft: Lady In Red. Bar manager (and obvious Chris de Burgh fan) Seth Freidus ditches the usual recipe for this drink and makes it his own (literally) with strawberry tequila, dual vermouths, and Campari. Also available on tap is the AH House Bitter "Alpine Style", an amaro-like infusion with fresh herbs. Things never looked so lovely.
Brookline
The Fairsted Kitchen saves you from the tyranny of beverage boredom with their eclectic and ever-changing beverage program. They are currently pouring the Rosita, made with tequila, vermouth, Campari, and bitters. Also in their repertoire is an aperitif on tap (the New Slang: strawberry-rhubarb, vermouth), and a house-bottled cocktail (FK Pimm's Cup: Pimm's No. 1, cucumber/citrus syrup, ginger beer).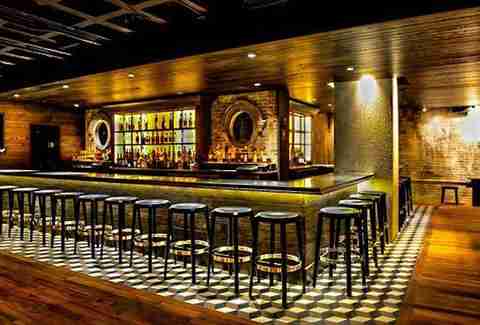 Union Square
New kid on the block Brass Union (formerly Precinct) is also getting into the act with mixed-up mojo from beverage director Paulo Pereira. Settle into the loungey back bar, grab the Rock 'Em Sock 'Em Robots, and juice up with the Jumpman Julep. This beauty has Espolón Reposado, fresh orange juice, pineapple & pomegranate juice, agave, and house-made coconut foam, served appropriately in a Tiki glass.
Somerville
Already well known for their succulent seared meats, La Brasa slings some serious sips as well. Before you savor the "Meat & Potatoes" (grilled Archer Farm steak with smoked pommes Robuchon), dive into draft cocktails like the Seductive Barry (pineapple-infused Averna, rosso vermouth, lemon, pinch of salt) and the Kalimotxo (dry Spanish red wine, Cognac, mulled spice, house-made coke syrup).
Davis Square
Saloon, the beloved Davis Square speakeasy, just made it speak-easier for you to grab a crafty libation. Their made-for-two house punch, presented in a special corked flask, packs a major wallop with white and dark rum, orange, lime, apricot, white wine, and bitters. Your date might also be bitter when you refuse to share.
Sign up here for our daily Boston email and be the first to get all the food/drink/fun the Hub has to offer.