The Best Boston Coffee Shops to Work Remotely
Work up and smell the coffee.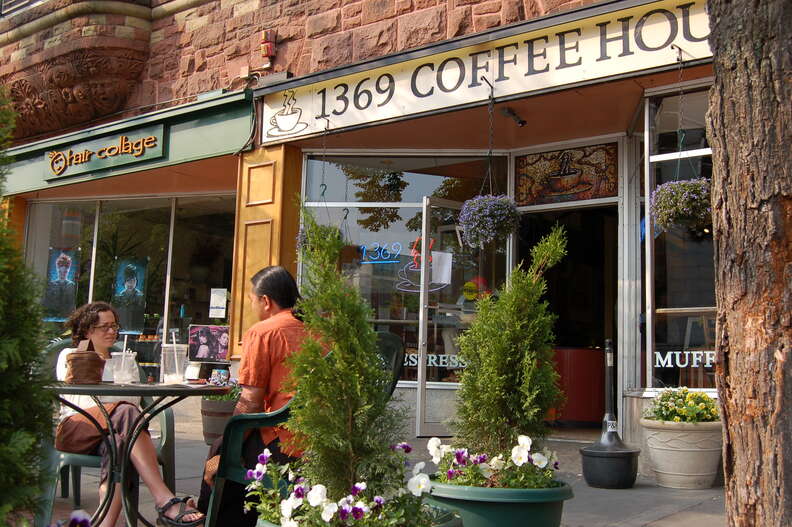 Here's the thing about freelancing/studenting/entrepreneuring: Every day is a struggle. Financially and professionally, sure, but we're actually talking about location. The hard truth is that working from home in your sweats, day after day, is not the dream it's cracked up to be. The cat walks across the keyboard and deletes your work. The siren call of Netflix beckons. It's Wednesday and you realize you haven't showered all week. (Just us?)

Time to get out of the house and function in the real world -- which is to say, time to settle into a coffee shop for the day. But how to choose? The qualifiers are legion: comfy seating, accessible outlets, and strong Wi-Fi. And duh, the coffee and snacks have to rise well above Starbucks status. We marched around the city, laptop in hand, settling into as many coffee shops around town as possible to suss out the ones most worth your remote working time.
Inman Square
Squint and you might actually feel like you're in Good Will Hunting -- that's how little this community spot has changed since opening in the '90s. Small wonder that several actual books have been written in this calm, cozy spot -- internet surfing feels almost insulting. Grab your coffee of choice before settling in. You can keep it simple with one of the rotating varieties, stare upon some lovely latte art via an espresso drink, or venture into their seasonal specialties (Mexican hot chocolate, malted cold brew). When you need a work break, stretch your legs and read the flyers.
Fields Corner
How all-purpose is this tiny spot? You could arrive here at 7am, get coffee, eat breakfast (breakfast burrito), enjoy lunch (pressed prosciutto sandwich), look up at 3pm… and clock out early by ordering an end-of-day beer. If your work requires privacy, snag one of the smaller tables lining the windows. But otherwise you're settling into the big communal table in the center of the room -- and why not take some time to meet your neighbors in between work breaks? If you're feeling shy, the assortment of magazines and books are an introvert's dream distraction.
Multiple locations
Here's the first thing you need to know: There's no Wi-Fi. But that may be exactly what you're looking for on the days you need to hunker down and pound out a few creative pages (you can always take a Twitter break on your phone). This is Stumptown central, with the beans purchased directly from the company's roasting facility in Brooklyn. One thing to note is that the window seats are best for worker bees, so prepare to elbow your way in early. Also, this is a dream place for vegans and celiacs, with plenty of dairy- and gluten-free pastry options.
South End
Is there where all the power freelancers go? Even though the vibe is super chill, there's an underlying buzz of intensity at Render that makes you feel like you're among the entrepreneurial elite. Or maybe it's just the buzz everyone has from the potent pour-overs and well-made lattes with homemade syrup. You'll want to nab a seat in the back in the glassed-in patio area, or even outside, if the weather cooperates. There are a decent number of outlets, and the Wi-Fi is free for up to two hours (though occasionally spotty).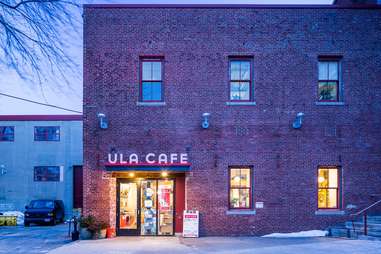 Jamaica Plain
Do you work best with your furry companion by your side? Ula's patio is 100 percent dog-friendly, which means on a warm weekday morning you can settle in with your leashed four-legger for a stress-free work day. But even if the weather mandates you take it indoors, Ula is a remote worker's dream, with lots of small tables, free Wi-Fi, a menu of made-from-scratch pastries and sandwiches, cheerful staff, and funky decor that beats a cubicle farm every day. And how can you beat a home "office" that's located next door to Sam Adams Brewery?
East Cambridge
The secret to a productive work day? Railroad tracks and a retractable garage door, apparently. Tucked into parent restaurant Loyal Nine, this cafe has reclaimed wood and an industrial-chic vibe, with long tables facing out towards the many-windowed garage door. The door retracts whenever the weather allows, giving you a clear view of those tracks as well as a blast of fresh air. But even in the winter months, you get plenty of sunshine. Ethically sourced coffees and teas, well-priced breakfast and lunch sandwiches, and a mellow vibe make for a chill WFH day.
Central Square/Harvard Square
One person described it as the "coffee house equivalent of a dive bar," which is exactly right. It's just a laid-back place that's never too crowded or pretentious, and always welcoming. The coffee and Wi-Fi are both strong, the soundtrack appropriately relaxed, and the staff very friendly. When you need a break from the grind, peruse the small book library or even the board games -- nothing like a puzzle to get your concentration back on track!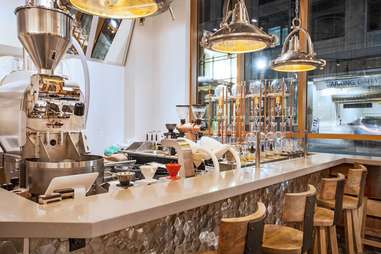 Downtown Crossing/Chinatown
They had us at "& wine bar." What you first need to know is this is one of the coolest appointed coffeehouse spaces in the city, with high ceilings, exposed beams, and a clear view of all the impressive coffee roasting equipment. Tons of small tables and even (gasp!) couch spots make this an ideal place to curl up for the day with your laptop. But, trust us, you'll be far from the only one. In addition to its impressive menu of espresso drinks, sandwiches, and pastries, there's also a beer and wine menu. When the clock strikes five, close your laptop -- which is actually the rule on the couches -- and transition to the off-hours portion of the evening.
Sign up here for our daily Boston email and be the first to get all the food/drink/fun the Hub has to offer.