Are you still working completely remotely? Segueing into a hybrid situation? Fully back in the office and seeking a weekend refuge? No matter your situation, you need a reprieve. As the last 20 months have brutally shown, working from home is not the dream it's cracked up to be. The cat walks across the keyboard and deletes your work. The siren call of Netflix beckons. Your own coffee sucks.
Time to get out of the house and function in the real world—which is to say, time to settle into a coffee shop for the day. But choosing a location is not as easy as it may seem. The qualifiers are legion: comfy seating, accessible outlets, and strong Wi-Fi. And duh, the coffee and snacks have to rise well above Starbucks status. We marched around the city, laptop in hand, settling into as many coffee shops around town as possible to suss out the ones most worth your remote working time and the ones you should skip, so here's our list of the best coffee shops in Boston.
Agassiz-Baldwin
Owner Kamil Sylvain brought Paris to Cambridge with the openings of The Little Crepe Cafe. His beautifully appointed spot is a neighborhood haven tucked between Harvard and Porter Squares, serving an extensive menu of espresso drinks along with both sweet and savory crepes, Belgian waffles, salads, sandwiches, and smoothies. It's the kind of place you'll want to return to over and over again with your laptop and a long, meeting-free afternoon stretched before you.
Downtown Crossing
Yes, it's a local mini-chain, but the largest downtown flagship locale inside the Godfrey Hotel is the one we seek out when we desire plush chairs and silence. It's a large, sleek space featuring gorgeous wall art and weekly rotating coffee drinks spotlighting single-origin roasts. Chocolates, pastries, toasts, and sandwiches make it easy to snack throughout the day—and when you need a break, you can wander over to the "The Exploratorium" for a public class on the art of espresso drink-making.
Back Bay
First off, did you know they delivered books during the height of the pandemic? Just one more reason to pledge your allegiance to Trident Booksellers & Cafe. Settle into the cafe area, order a Viennese espresso and some chicken & waffles (the full breakfast menu is epic), and settle in for a full workday. The cafe serves three meals a day, meaning you can have nachos for lunch and end the day with a glass of sparkling white wine.
South End
Is there where all the power freelancers go? Even though the vibe is super chill, there's an underlying buzz of intensity at Render that makes you feel like you're among the entrepreneurial elite. Or maybe it's just the buzz everyone has from the potent pour-overs and well-made lattes with homemade syrup. You'll want to nab a seat in the back in the glassed-in patio area, or even outside, if the weather cooperates. There are a decent number of outlets, and the Wi-Fi is free for up to two hours.
Jamaica Plain
Do you work best with your furry companion by your side? Ula's patio is 100% dog-friendly, which means on a warm weekday morning you can settle in with your leashed four-legger for a stress-free workday. But even if the weather mandates you take it indoors, Ula is a remote worker's dream, with lots of small tables, free Wi-Fi, a menu of made-from-scratch pastries and sandwiches, cheery staff, and funky decor that beats a cubicle farm any day. And how can you beat a home "office" that's located next door to Sam Adams Brewery?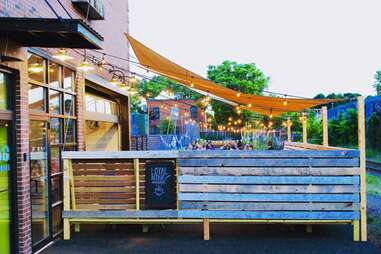 East Cambridge
The secret to a productive workday? Railroad tracks and a retractable garage door. Tucked into parent restaurant Loyal Nine, this cafe has reclaimed wood and an industrial-chic vibe, with long tables facing out towards the many-windowed garage door. The door retracts whenever the weather allows, giving you a clear view of those tracks as well as a blast of fresh air. But even in the winter months, the space will ensure you see plenty of sunshine. Ethically sourced coffees and teas, well-priced breakfast and lunch sandwiches, and a mellow vibe make for a chill WFH day.
Inman Square
Squint and you might actually feel like you're in Good Will Hunting—that's how little this community spot has changed since opening in the '90s. Small wonder that several actual books have been written in this calm, cozy spot—internet surfing feels almost insulting. Grab your coffee of choice before settling in. You can keep it simple with one of the rotating varieties, admire some lovely latte art via an espresso drink, or venture into the shop's seasonal specialties like Mexican hot chocolate and malted cold brew.
Downtown Crossing/Chinatown
They had us at "& wine bar." This is one of the coolest appointed coffeehouse spaces in the city, with high ceilings, exposed beams, and a clear view of all the impressive coffee roasting equipment. Tons of small tables and even (gasp!) couch spots make this an ideal place to curl up for the day with your laptop. But, trust us, you'll be far from the only one. In addition to its impressive menu of espresso drinks, sandwiches, and pastries, there's also a beer and wine menu. When the clock strikes five, close your laptop—which is actually the rule on the couches—and transition to the off-hours portion of the evening.