So that you don't show up at this weekend's big UCONN-Michigan tailgate (seriously, the Wolverines are playing at UCONN?!?) with a handful of leftover Summer suds, we once again rounded up six Boston-area beer cognoscenti and asked them to spill on their favorite Fall brews. Here are 10 beers to drink when the Autumn temps dip.
Recommended Video
'Last Week Tonight' Writer Josh Gondelman Takes Shots, Talks About Working For John Oliver
Rob Burns, Co-Founder of Night Shift Brewing
Jack's Abby's Copper Legend (Märzen/Oktoberfest, 5.9% ABV)
Rob says: "As the name suggests, this orange-hued beer celebrates the Oktoberfest style. The rich, bready maltiness lays a hearty base for the cooler nights, but the hops bring on flavors of flowery spice that almost hint at the warmer weather citrus. This easy-drinking yet flavor-packed beer is a welcomed alternative to the heavily spiced beers of Fall."

Left Hand Brewing Left Hand Oktoberfest (Märzen/Oktoberfest, 6.6% ABV)
Rob says: "A deep red-colored beer with hints of sweet caramel malts in the aroma. Flavors of darker fruits meet an almost banana-bread-covered-in-maple-syrup-like finish. The subtle spiciness from the hops keeps the whole beer in balance and makes you thirsty for more. On top of all its deliciousness, the label art is fantastic! Do they sell posters of these labels?"
Suzanne Schalow & Kate Baker, Owners of the Craft Beer Cellar
Peak Organic Fall Summit (American Amber/Red Ale, 5.7% ABV)
Suzanne says: "Showcasing the Summit hop with notes of pine & citrus, which dance in my head and remind me of long Summer nights, this brew amps up its malt bill enough to keep the chill of Autumn in check!"

Mayflower Autumn Wheat (American Dark Wheat Ale, 5.8% ABV)
Kate says: "It may be a Dunkelweiss, but it's minus the German banana & clove character! Darker and chewier malts with a good addition of wheat compliment the clean yet slightly fruity aroma."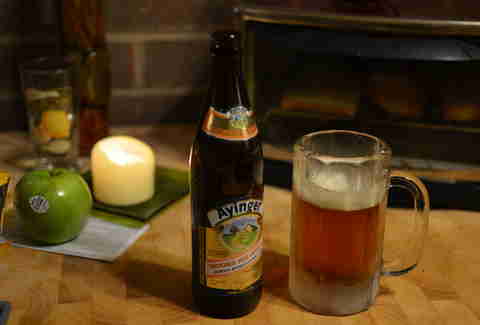 Marc Kadish, Owner of Sunset Grill & Tap
Ayinger Oktoberfest (Märzen/Oktoberfest, 5.8% ABV)
Marc says: "A classic German Oktober, the way the style should be. While a lot of German brewers are making a 'fest' beer that's much lighter in color and alcohol -- more akin to what they drink in their beer gardens -- this is what a German Oktoberfest should be."

Woodstock's Autumn Ale (Fruit/Vegetable Beer, 4.63% ABV)
Marc says: "There are a slew of new, old, good, and bad pumpkin beers. Pumpkin by itself doesn't pack a flavor punch -- it's subtle and needs spicing. The folks at Woodstock Inn make their Autumn Ale, instead, with a spiced apple flavor. Accentuated by a maple cinnamon sugar rim on the glass -- the definition of Fall for me."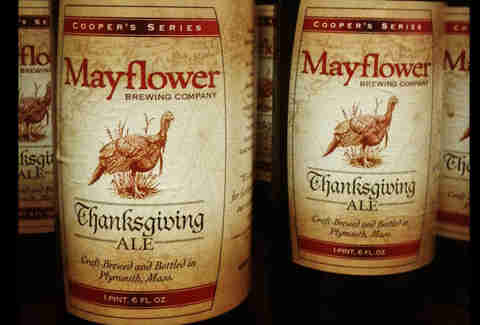 Jeff Wharton, Co-Founder of Drink Craft Beer
Mayflower Thanksgiving Ale (English Strong Ale, 8% ABV)
Jeff says: "Once late the Fall hits, this brew is a no-brainer. It's malty, but not overly sweet. It's aged on American white oak, which gives it a neat depth. Caramel flavors match well with vanilla and a little nuttiness. It's a great sipper."

Notch Valley Malt BSA (Saison/Farmhouse Ale, 4.4% ABV)
Jeff says: "Short for Brewer Supported Agriculture, this one uses local Massachusetts grains to make a crisp, Belgian-style farmhouse ale. It really showcases local malt, which has a cool character in our state for sure. Also, the beer changes a little every year as growing conditions fluctuate. Really shows you that beer is an agricultural product."
Jason Alström, Founder of Beer Advocate
Long Trail Brewing's Harvest Ale (English Brown Ale, 4.4% ABV)
Jason says: "A classic every year and a very drinkable English Brown Ale that is brewed to style. A great pick for the Fall, even if we get whacked with an Indian Summer."

Gritty McDuff's Halloween Ale (ESB, 6% ABV)
Jason says: "Fall seasonals don't always have to be about pumpkins and spices. More often, I want a Fall seasonal I can just knock back. This ESB is perfectly balanced with a malt character that screams 'Autumn' to me."