How is it that Massachusetts was the first state in the nation to legalize gay marriage yet our capital still cannot lay claim to a robust gay bar scene? Never mind that one of the legends, Paradise Club, closed last September after 28 years in glorious existence. (Current tally of designated gay bars in Cambridge? Zero.) Still, the LGBTQ stalwarts endure. From Bay Village drag shows to Fenway dance parties to a South End gay sports bar, Boston's queer-friendly spaces are glorious.
South End
The very definition of an LGBTQ institution
It's the Swiss army knife of gay bars: piano bar, cabaret space, brunch spot, and dance club. The grand dame of the LGBTQ scene opened in 1983 and, man, if those dark walls could talk. The $75 VIP club membership ($50 each year for renewal) grants longtime patrons free admission on club nights as well as dining discounts and an exclusive invite to the quarterly "VIP Only" cocktail receptions or wine tastings. While the Sunday brunch buffet is still the best hangover cure in the city (only $17.50!), the $24.95, three-course weeknight dinner special is a hidden city bargain.
Bay Village
Raunchy drag amid stately brownstones
You'll swear you're in the wrong place until the moment you slip inside. The tiny, well-heeled enclave of Bay Village seems an unlikely home for the city's best drag shows, but here we are. Seven nights a week, the showgirls of Jacque's treat you to all manner of performative raunch, from drag karaoke to drag stand-up comedy. It's a magnet for bachelorette parties and birthday babes, sure, but also medical students, strippers, suburbanites -- anyone aware of the cabaret's allure.
South End
This grandaddy of the city's leather scene
Both the bar and the patrons are showing their age, but what's old is still charming in a creaky, divey way. The campy decor is so on the nose, it almost feels like a sitcom set, but it's the bracing drinks, gruff service, and grizzled regulars who provide the true charm. We're pretty sure a solid percentage of Boston's gay men of a certain age have an Eagle story they can tell, though many are best forgotten.  
South End
Because every sports town needs a gay sports bar
Cathedral Station is the answer to "Where do all the flag footballers drink?" The only gay sports bar in town also happens to boast myriad appeals, from the free parking in back to the pool table inside to the enormous enclosed patio. The pub fare grants you all the classics, from wings to chicken pot pie, the massive brunch dishes are quick hangover cures, and cocktail prices have stayed reasonable through the years (all specialty drinks are $12).
Fenway
This dance party has legs -- but maybe not for much longer
In some ways, it's amazing that Machine has endured as long as it has. The hardcore dance club and leather bar got a bit of a polish a few years back, to both applause and grumbles. Now it's threatened with extinction thanks to a proposed college dorm tentatively scheduled to be built in its place. So even if it's been years, get back there now for one last throwback night of predictable, throbbing DJ'ed tunes, passable drinks, and a whole lot of nostalgia.
Savin Hill
A gay dance party with a side of American comfort food
Brian Piccini and Chris Coombs, now the titans behind Boston Chops and Deuxave, launched their careers when they took over a weathered Irish pub next to a Dunkins and created an unlikely hyphenate: gastropub-gay nightclub. Dinner time morphs into dancing time every night of the week, but Show Tunes Tuesdays, Karaoke Fridays, and Magnum Saturdays are the biggest lures -- that and the potent cocktails, including the never-out-of-style espresso martini.
Downtown Crossing
Tagline? "Where the bears go"
Give yourself extra time to get there, because The Alley's clandestine location requires significant sleuthing. But once you've discovered the hidden den, you've found your fellow bears. This the place for weeknight trivia, late night beers (it closes at 2am every night), and barely clothed dance parties. The once-grubby bathrooms got an upgrade a few years back (can't say the same about the bar's website), but the cash-only bar transactions remain.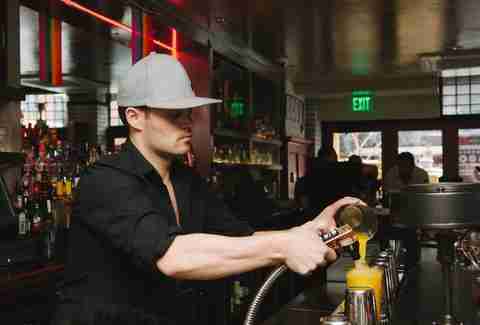 South End
For the nights you're not looking to turn it up to 11
A newer entry to the gay bar scene is an oasis for those who steer clear of the dance floor. Which isn't to say this is some staid place: Glam Brunch Bingo and Drag Race viewing parties make sure of that. But the comfort fare is well executed, the drinks creative and cheekily named (Party in Mykonos, Trophy Husband), and the overall vibe welcoming rather than exclusive. Bonus? After a bout of day drinking, you can head a few doors down to the Animal Rescue League of Boston and tipsy-adopt a pup or cat.
Sign up here for our daily Boston email and be the first to get all the food/drink/fun the Hub has to offer.