Boston's Thriving LGBTQ+ Nightlife Is Bursting with Super Fun Spots
From drag karaoke and sports bars to dance parties, gay bars in Boston have it all.
Drag Me to Brunch at Carrie Nation Cocktail Club

| Photo by Josh Camarco/Helix Pinecomb Photos
Drag Me to Brunch at Carrie Nation Cocktail Club

| Photo by Josh Camarco/Helix Pinecomb Photos
Welcome to
We're Out Here
, your year-round hub for LGBTQ+ travel and experiences! Here, you'll find everything you need to plan your next great gaycation, including queer-centric travel stories, nightlife guides, profiles, pride event roundups, and ways to give back to local queer communities.
When it comes to queer nightlife in New England, Provincetown might be the first to come to mind when thinking of big events and celebrations—but sprinkled throughout Boston, you'll also find a thriving scene of LGBTQ+ friendly parties, sports bars, theme nights, karaoke, brunches, cabaret, and more.
Plus, in an effort to completely relaunch and offer more unified gatherings, the Boston Pride parade and festival is back for the first time since 2019 under the newly formed Boston Pride For The People organization. All this to say, if you're looking for an inclusive environment to have a good time, Boston has some options. Take a look at our roundup for the best LGBTQ+ bars and parties the city can find.
Theater District
Legacy's Latinx Wednesdays and Bussdown Fridays, the city's number one QPOC night, celebrates the intersection of queerness and POC. In fact, this year, the nightclub is hosting BIPOQ Pride, which stands for Black, Indigenous, People of Qolor. According to Legacy, "the Q stands for Queerness, and Qolor emphasizes the unique identity as a People." They also host Serve! Thursdays, with past special guests including drag stars Jaymes Mansfield, Laila McQueen, Mistress Isabelle Brooks and Heidi N Closet.
Jamaica Plain
Since opening in 1987, Midway Cafe has welcomed some of the best local acts around from punk bands to soul serenades to stand-up comedy performances, not to mention their famous Queeraoke every Thursday. As one of Boston's longest-running LGBTQ+ nights, Queeraoke breaks into a range of '80s to early-2000s throwbacks along with alternative, underground, and popular hits from modern day—making this spot ideal for nights when you and your posey are ready to take the stage. If that's not enough of a selling point, the cafe also partners with local LGBTQ+ organizations for outreach, fundraising, and awareness events to increase equity and uplift the community.
Dorchester
Located in the heart of Dorchester, you'll find blend, a restaurant turned nightclub with weekly dance parties, disco-themed brunches, and local drag queens (like Harlow Havoc) tearing up the dance floor and helping to get you on your feet all night long. Before you get started, peruse through their menu, offering light bites from a Watermelon Feta Salad to something with a bit more substance like Messy Tots to fuel your night out.
South End
Since 1983, Club Café has been the grand dame of Boston's LGBTQ+ scene. Located in a restored factory building in Back Bay, Club Café has evolved to offer a long list of activities outside of dance parties with a full calendar of events from trivia and karaoke nights to weekend brunches and live piano performances. What's more, their $75 VIP club membership ($50 each year for renewal) grants longtime patrons free admission on club nights as well as dining discounts and an exclusive invite to the quarterly VIP only cocktail receptions or wine tastings.
Beacon Hill
Although not a full-fledged LGBTQ+ bar, Carrie Nation happens to be one of the hottest spots for brunch, with a recurring Sunday drag brunch, dubbed Drag Me to Brunch, worth pitching for the group's next outing (tickets are only $20 per person). And if you're wondering where Carrie Nation got its name from, for even more reason to swing by, the club's name ironically stems from historical figure Carrie Nation, a radical member of the temperance movement who had opposed alcohol pre-prohibition, and went as far as destroying bars in the process. So what better way to pay homage to Nation's failure than by launching one of the most entertaining and premier cocktail clubs in Boston?
Bay Village
Earning the title of Boston's oldest running gay bar, you'll swear you're in the wrong place until the moment you slip inside. The tiny, well-heeled enclave of Bay Village seems like an unlikely home for the city's best drag shows, but here we are. Seven nights a week, the showgirls of Jacque's treat you to all manner of performative raunch, from drag karaoke to drag stand-up comedy. It's a magnet for bachelorette parties and birthdays, sure, but also anyone aware of the cabaret's allure or curious of what a night at Jacque's could entail. Not to mention it's the old stomping grounds of beloved drag superstar, Katya Zamolodchikova.
South End
Cathedral Station is the answer to the question: "Where do all the flag footballers drink?" The only gay sports bar in town also happens to boast myriad appeals, from the free parking out back to the pool table inside to the enormous enclosed patio. The pub fare grants you all the classics but the brunch menu is really where it's at—we're talking options like their half-pound beef burger, classic french toast, and "Hangover Elixirs" like the New England, which mixes together orange and cranberry juice with healthy pours of triple sec and champagne.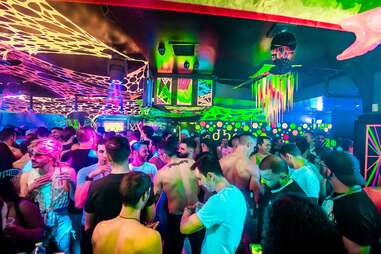 Savin Hill
Formerly home to a neighborhood Irish pub, dbar has transformed into a full-service restaurant offering seasonal New England fare and an extensive wine list. The dishes are certainly worth the hype, with comfort food favorites including their meaty veal and pancetta Penne Bolognese—but don't fill up too quickly because the spot morphs into a nightclub and lounge nightly and is especially popular on Tuesdays, Fridays, and Saturdays. For the latest updates on their theme parties, check their IG.
Downtown Crossing
Give yourself extra time to get there, because The Alley's clandestine location requires significant sleuthing; however, once you've discovered the hidden den, you've found your destination for the night. This is the place for weeknight trivia, late night beers (it closes at 2 am every night), karaoke, and barely clothed dance parties. Just a heads up, the bar is cash-only.
South End
Known for its award-winning cocktail menu and welcoming vibe, Trophy Room is a beyond-fun and friendly environment for those looking to sit back and enjoy a quality drink followed by dinner. But we can't not talk about their brunch. A go-to for those in the South End, Trophy Room's brunch serves up the standard eggs, toast, and bacon, but you can also dive into their Huevos Rancheros, Carnitas Scramble, and signature Chandler Street Burger. Not that we really have to remind you but don't forget to peruse the morning libations like Recovery Mary, hybrid between traditional mimosa and tequila sunrise.