For all the nostalgia about the era, prohibition definitely had its drawbacks, from the undeniable ickiness of bathtub gin to, you know, booze being illegal. At the same time, it's inarguably fun to feel like you're getting away with something, which explains why Boston still has these juice joints tucked away like they have something to hide.
Recommended Video
Fireball Whiskey Apple Pies: A Dessert Fit for a Frat Party
Lucky's Lounge
Fort Point
During the early days of the Fort Point renaissance, Lucky's opted for out-of-the-way-no-sign-having coolness when they opened their dimly lit corner doors. Many moons later, the Rat Pack lives on in this red, plush '50s-esque escape from the norm (not the Norm). Even cooler: forget bottle service, there's FREE shuttle service (if you're in South Boston)!
Backbar
Union Square
You'll need to navigate your way through a dark alley, a dented metal fire door, and a service corridor (past palettes, boxes, and possibly the Ark of the Covenant) to find Backbar, Journeyman's cheeky little brother in Union Square. The industrial chic vibe and mad scientist mixology are worth the hunt.
Saloon
Davis Square
Another member of the no-sign club, Saloon's a brown liquor oasis sheltered underground from the college student hustle and flow of Davis Square that's serving up pre-Prohibition cocktail classics (read: less show, more booze) and comfort food (as in less kale, more pork).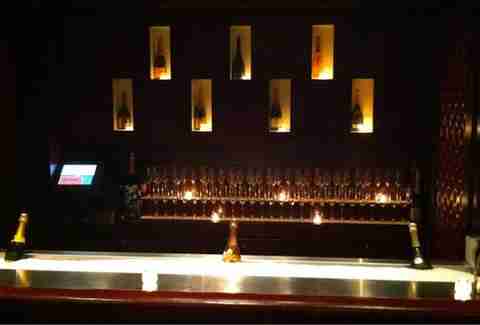 Champagne Lounge at RumBa (Hotel InterContinental)
Waterfront
If you require even more swank than Hillary, try the private Champagne Lounge, a covert gem hidden behind rich mahogany doors with golden disrobed lady door handles (classy!), discreetly isolated from the rest of RumBa. Sexy lighting, bottles of bubbly, a separate bar, and mini-chandeliers will ensure you feel superior to the riff raff on the outside.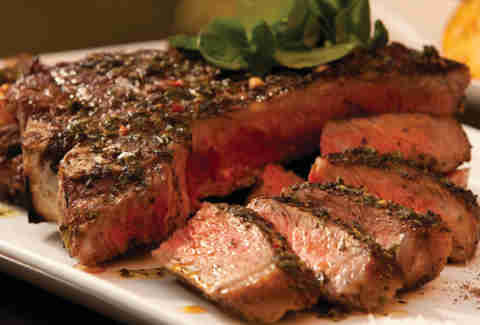 Bogie's Place (at JM Curley)
Downtown Crossing
We've seen the old "room within a room" trick a thousand times (ok, maybe more like a dozen), but Bogie's Place inside of JM Curley takes it to the next level by offering serious steaks and other refined palate-pleasers. Push past the lively JM Curley bar scene, follow the sign for "Adults Only" (presuming you are one), and you'll discover Narnia this safe haven for martinis and meats.