Boston Whether you're a hardworking service pro looking to blow off some steam, or a (hopefully also hardworking) civilian looking to rub elbows with your favorite barkeeps and servers and buy them a drink (or eight), industry nights are where it's at. Check out these five prime industry nights in the Hub, and make sure you tip well, obviously.
Franklin Southie
Southie
FS has long been the go-to spot every night of the week for bartenders and servers (and many others) for three reasons: great drinks, greater daily treats, and (MOST importantly) a full menu until 1:30am. After completing your work shift or your drink shift, stop in for shot-and-a-beer combos (like Spring 44 Honey Vodka and Genny Cream Ale) and belly-warming grub (like corn and crab beignets, asparagus agnolotti with blackened hearts of palm, and duck ragu). Chef de Cuisine Joshua Bottini is always mixing it up with late additions (like special burgers at midnight), so stop by frequently to stay in the know. And full.

Continue Reading
Trina's Starlite Lounge
Somerville
Ok, ok… this isn't exactly at night, and all are welcome at Trina's Starlite Lounge Service Industry Brunch, Mondays from 12-4pm. You'll definitely see a lot of bar/restaurant folks (not accustomed to having breakfast or waking early) chowing down on ever-changing selections (huevos rancheros, griddled dogs, chicken and waffles) and slurping special libations. AND forgetting about whiny/needy customers for a while. Bonus: old-school cartoons provide zany laughs and regression (so does a shot or two of Fernet).
Wink & Nod
South End
Wink & Nod goes Polynesian/kitsch this Summer at their newly launched Tiki Industry Party (with rotating themes) on Monday nights from 5pm-2am. Break out those Bermuda shorts and nosh on island-inspired eats while guzzling cocktails (in Tom Selleck Tiki mugs!) from famed guest mixologists (starting at 11pm). This week it's the Narragansett Beer Luau with Peter Boyd pouring 'Gansett-infused versions of classic beverages. Hype up the fun on social media while you're there for a chance to win a Hawaiian shirt and a tiki mug!


Empire
Waterfront
Empire knows exactly what their comrades-in-arms need: heaping helpings of food, booze, and commiseration. They just upped the ante at their popular industry night with $25 pupu platters, gallons of featured fruit drinks, and a special unlimited sushi menu (including the Rock Roll – tempura rock shrimp, hot masago mayo). From 8pm until close on Mondays, various kick-ass DJs (JesseJess, DJ Costa) will spin while you share a Big Kahuna (a monster beverage served in a watermelon) with your companions. Bonus: no cover, so you have more dough to spend inside.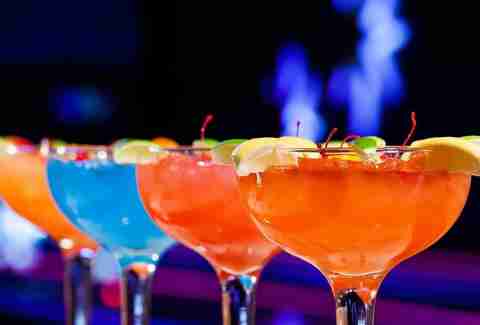 Kings
Back Bay
OVER THE LINE! Kings hosts insiders-only dealios on Monday nights, and a pay stub or business card (from a restaurant, bar, or hotel) lands you some serious perks for all of your work. Starting at 9pm, enjoy FREE bowling, billiards, shuffleboard, and skeeball. Yeah, all of that. If you're a day-tripper, you can still hang out with your industry pals and enjoy late-night eats (pizzas, burgers, Buffalo wontons, etc.) and substantial cocktails like Kings Big Balls and, of course, The Dude -- Kahlua, chocolate vodka, Godiva Chocolate Liqueur, and milk. Leave your Pomeranian at home.