Just like brunch season, the time is right for outdoor drinking spots to soar in popularity around Boston. No matter where you are in the city, you should never be too far from bench seating and a pitcher of beer, so we've covered 16 different Boston neighborhoods to find the best oasis for sunny day imbibing in each.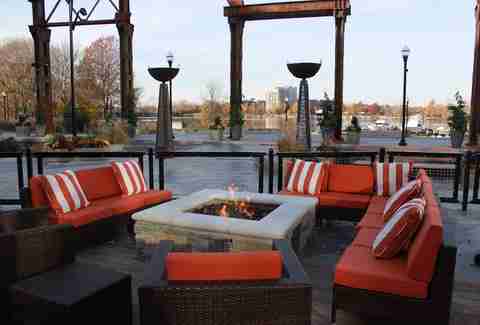 Assembly Square
River Bar (address and info)
The Assembly Row stronghold recaptured a once­ desolate stretch of the Mystic, and River Bar's massive 2,600 sq ft. patio has 123 comfy seats and multiple fire pits for multi­seasonal enjoyment. Build up your thirst with chorizo scotch quail eggs and shrimp chips, then settle into session beers (Notch Pils, Mystic Saison). Its creative cocktails include an Absinthe Frappe to melt/freeze your brain and the diabolical Ink & Fire, a tequila tipple boosted by lime, agave, Ancho Reyes, and Aperol. 
Allston
Deep Ellum (address and info)
You + Deep Ellum's deck + bountiful drink options = best day/night of the summer. From beer nerd­-worthy brews (Schlenkerla Helles Lagerbier), to very proper cocktails (The Ward Eight), Deep Ellum slings many potables well-suited for its little Shangri-­La in the way, way back. It has eight different types of Manhattans (e.g. 1930s, 1950s), in case you're wearing your fancy drinking pants. Snacks will be necessary, and you should definitely tear into the Swissbakers Fresh Pretzels with warm Harpoon stout cheese.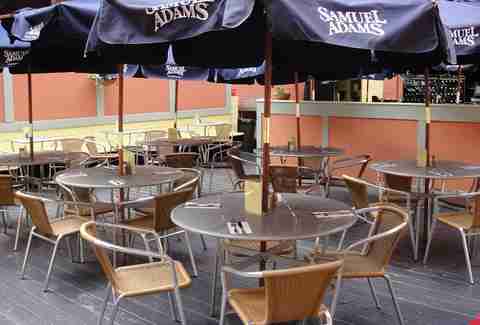 Back Bay
Poe's Kitchen at The Rattlesnake (address and info)
Head to Poe's roof deck for many festive hours of eating and drinking. The house margarita with Rattlesnake Margarita Mix helps pass the time until you decide on another 'rita, such as The Bostonian powered by Dobel Tequila and a Prosecco float. Or refresh yourself with the Blood Orange Julep with Redemption Rye and blood orange mint simple. When you're hungry, lobster & avocado tostadas, and chipotle wings (smoked jalapeno rub) will keep you going until sundown. And beyond.
Brighton
The Green Briar (address and info)
Last summer The Green Briar debuted its new beer garden, and it quickly became a neighborhood favorite with its overhead cantina lights, and enough hanging plants to make grandma jealous. From munchie hall­ of­ fame apps (fried pickles), to serious sammies (Pressed Cuban), you won't need additional reasons to park yourself there for a while. But here are a few more, just in case: 22 drafts (e.g. Clown Shoes, Cisco), 32 brown liquors (Ardbeg, Nadurra), and 14 specialty cocktails, like the summery slurp­fest Lynchberg Lemonade (Jack Daniel's, triple sec, sour mix, Sprite, lemons, and cherries).
Central Square
The Field Pub (address and info)
The Field crew carved into that awkward back alley space behind their bar to create one of the mightiest semi-hidden patios in Cambridge. The brew selection tilts classic/simple, and your best bet is a perfectly poured nitro such as Guinness, Murphy's, or Belhaven. If you're into lighter fare, Tucher and Radeberger Royal Pilsner are the way to go. Bonus: all grub at The Field is under $10, so dig in early and often.
FiDi
Battery Park Bar & Lounge (address and info) 
Battery Park also claimed some "between the buildings" space for its sizable patio that comes complete with a mini outdoor bar, so you don't have to miss a nanosecond of sunshine. Start with the signature Philly cheese steak egg rolls for the table and order a Jack's Abby Hoponius Union for yourself. In the bold drink category, Gluttonous combines house-­infused glazed donut vodka and blueberry Red Bull into one WAY over-­the-­top cocktail. Pro ­tip: stop by on Thursdays during the summer (6-­9pm) when the Island Creek team shucks a mountain of oysters.
Harvard Square
The Sinclair Kitchen (address and info)
The Sinclair rocks its uber chill deck from spring until fall with super sippers and a sweet view of the Cambridge sunset. Cocktails are organized into two categories. "Right Now" features fresh ideas like the eponymous Sinclair Bounty (Drambuie,Benedictine, AllSpice Dram). "BackThen" showcases the classics (French 75, Hemingway Daiquiri). The beer slate has something for everybody, ranging from all­day standards ('Gansett TallBoys) to craftier options (Six Point Crisp). Stay tuned to The Sinclair's website and social media for news about parties, tailgaters, and special events.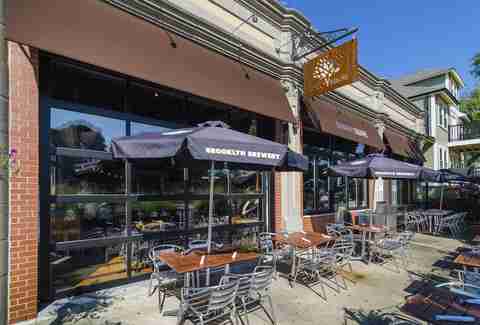 Jamaica Plain
Canary Square (address and info)
JP's rustic chic hangout Canary Square not only has a sidewalk veranda, but it also opened up its giant garage doors and let the outside in. Craft beers (e.g. North Coast Scrimshaw Pils) dominate the 26 taps, or you can get a crazy concoction like Franklin Park with Bully Boy Whiskey, Aperol, and Montenegro. Can't decide? Let the bartenders choose when you order 99 Problems But My Drink Ain't One. And you'll definitely need the salty delicious house-­made potato chips & onion dip.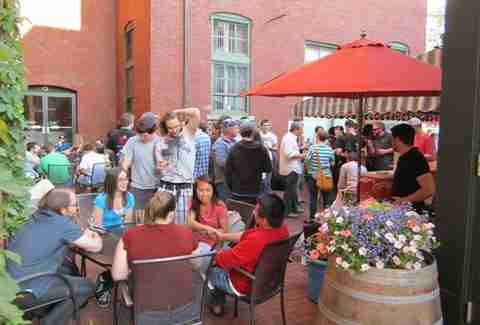 Kendall Square
Cambridge Brewing Company (address and info)
At CBC it's all about the beer, and its epic outdoor enclave provides the ideal setting to enjoy said beer. Regardless if you find a spot in the shade, you can always keep cool (literally, figuratively) whilst knocking back its coveted microbrews. There are 12 drafts including flagships (Cambridge Amber, Charles River Porter), and rotating inventions such as LEMMY made from roasted wheat (gasp!) and hit with caramel, bitter chocolate, espresso, and oak flavor notes.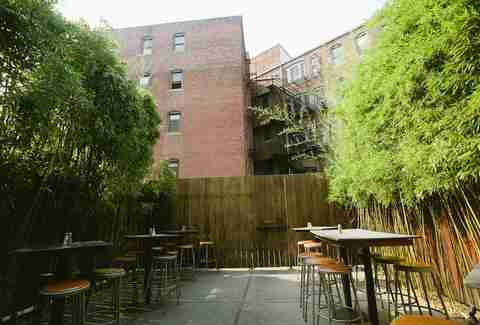 Kenmore Square
Audubon Boston (address and info)
On the Kenmore fringe lies Audubon's bamboo­-bedazzled adult sanctuary, where equally bedazzled food and drinks await urban adventurers. The "Start With" menu lures you in thanks to Foley pretzels with smoked Gouda and pork potstickers, and the cocktails list keeps you there firmly seated. The Monkey Buck mixes Glenfiddich 12yr., Old Monk Rum, and house-­made apple ginger into a potent zinger, and the Ta-­Kill­-Ya just might with Olmeca Altos blanco tequila, Meletti 1870 aperitif, and lime.
North End
Aragosta Bar + Bistro (address and info)
If you aren't hip to the hidden gem known as Battery Wharf, then you're missing out on Aragosta's posh seaside terrace. Grab an Adirondack chair near a fire­top table, ogle the gleaming harbor, and sink into your afternoon. The Aragosta Shellfish Tower is everything you want it to be, and has everything you want: shrimp, oysters, littlenecks, chilled half-­lobster cocktail, and so on. Balance all that raw bar goodness with a bit of heat courtesy of the Cilantro Sting scorched by serrano chili-infused tequila.
Seaport District
Atlantic Beer Garden (address and info)
Atlantic Beer Garden has seating both upstairs and downstairs. At street level, the Boston skyline frames selfies of you and your craft beer of choice (44 total), while the roof deck offers a panorama of everything (city, ocean). Roadside sliders and fried jalapenos & queso are mandatory, as is the fried snickers dessert... because you're very good to you. Special bonus: it has Smirnoff Ice in case someone requires, umm, sorting out.
South End
Merrill & Co. (address and info)
Merrill makes the most out of that triangular brick plaza on quiet Appleton St, and you should make the most out of your time spent there. Relish the choice people­ watching as you recharge with a Pimm's Cup Slushie, a frozen adult beverage fueled by Pimm's No. 1, ginger ­mint, and citrus. The Baby Bird even tastes like summer thanks to amber rum, pineapple shrub, Aperol, and lime.
Union Square
Brass Union (address and info)
Brass Union's enclosed forecourt also has a prime people­-watching position in the heart of Union Square, but you won't notice because there's cornhole, oversized Jenga, and Connect Four. Before you put on your game face, put a Jack's Abby Leisure Time Lager in your game face. Also on your training table: Tenacious Tea, a backyard-­inspired concoction with Old Overholt Rye, Mem Tea infused dry vermouth, honey, and orange bitters.
Waltham
Copper House Tavern (address and info)
Waltham has been ramping up its food and beverage game recently, and Copper House Tavern's beer garden-style porch definitely adds to Watch City's growing street cred. Picnic tables provide ample seating for your crew to comfortably take down copious snacks and drinks, like 40 craft beers (Cisco Sankaty Light), and many hard­-to-find small batch spirits (Smuggler's Notch Bourbon). But you're there to have a signature Copperhouse Kicking Mule with Tito's and crisp ginger beer served in a totally boss copper mug.
Waterfront
The Landing at Long Wharf (address and info)
The best part about The Landing is that it's all outside, all the time, no exceptions. The anchor of Long Wharf is THE place to soak up the rays and also soak up buckets o' bottles and fish bowl cocktails (for up to 10 people) on any nice day. Or every. Its frozen selections are diabolical, and your fun in ­the ­sun would be incomplete without the Creamsicle: a big kids' version of the classic treat with Pinnacle whipped vodka, pina colada mix, and splashes of OJ and grenadine.
Sign up here for our daily Boston email and be the first to get all the food/drink/fun the Hub has to offer.