It's no secret that Boston's liquor laws are a doozy. However, there are plenty of secret (and legal) spots in and around that city rife with that rebellious, intimate feel only a bonafide speakeasy can offer. And although you might not be able to enjoy happy hour quite yet in Massachusetts, you can embark on an underground bar crawl throughout some of the city's coolest neighborhoods. From covert entrances to cheeky glassware and the craftiest cocktails in town, here are the absolute best speakeasy-style bars throughout Boston and beyond.
Davis Square
Open Thursday through Saturday, Saloon's sneaky staircase leads guests down to a wraparound bar ideal for those feeling chatty—or for a more intimate night out, a cluster of cozy booth seating. Browse the menu for top shelf spirits and cocktails backed by Saloon's award-winning beverage team. They also serve up world-class whiskey that's best enjoyed straight up (if you're brave enough, that is).
How to book: Reserve via Resy.
North End
Once a real-deal speakeasy in the 1920s, Stanza Dei Sigari has maintained its illicit appeal for over a century. Now known as Boston's ultimate cigar bar, Stanza Dei Sigari offers up an assortment of smokes along with signature cocktails, spirits, beer, and wine. And if you happen to have some cigars you've been saving for a special occasion, now's the time to break them out—for a $15 cutting fee, you can bust out your own cherished supply.
How to book: Stop by for first come, first served seating.
Beacon Hill
Part restaurant, part boozy hideaway, the cleverly titled Carrie Nation Cocktail Club is located in Boston's beloved Beacon Hill neighborhood. Step inside and you'll immediately spot the main bar—but for the real Prohibition-era experience, travel up to the second floor to the building's famed speakeasy, equipped with plush seats and pool tables. Among other enticements, expect a long list of libations featuring cocktails made with freshly squeezed juices and housemade bitters.
How to book: Reserve via OpenTable.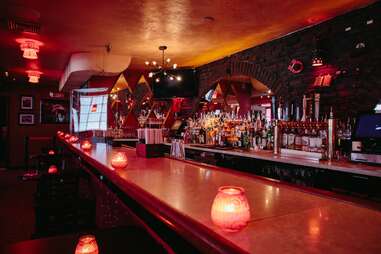 Fort Point
Once upon a time, Fort Point was but a nascent neighborhood with only a smattering of overpriced condo developments. But Lucky's saw the future, and the future was a no-signage, word-of-mouth approach to promoting this new Sinatra-esque lounge. The area has since changed, of course, but the space surely hasn't: It's still all red leather banquettes, crowd-pleasing cocktails, and Rat Pack-era typeface spelling out some of the best live music acts in the city.
How to book: Reserve via OpenTable.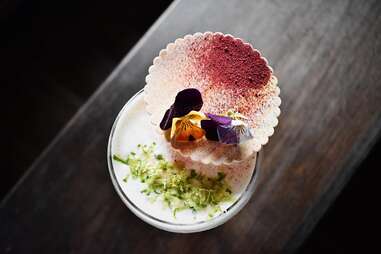 Woburn
If you give two figs about cocktails, you already know about Baldwin Bar, Ran Duan's award-winning, must-visit concept stashed inside his family's suburban Sichuan restaurant. But you might not know about Baldwin & Sons Trading Company, the bar within the bar within said Sichuan restaurant. Open Thursday through Sunday, it's a more sedate library-like escape where things get downright kitschy: tiki glassware, dry ice effects, and specialty ingredients like acidified cantaloupe and strawberry mascarpone espuma.
How to book: Reserve via Tock.
South Boston
What was once an iron foundry is now a lauded small-batch distillery with a little-advertised, crowdfunded bar lurking in the front room. Open Thursday through Sunday, the space—accessed via a garage door—slings cocktails straight from the source, and you're likely to discover a spirit you've never even heard of, let alone tasted. Take your pick from creations like Amandine, a modern take on a classic nut liqueur, or Craneberry, an ode to the Massachusetts cranberry but make it boozy. Fire Puncher Vodka and Medford Rum are also on hand to quench every thirst.
How to book: Stop by for first come, first served seating.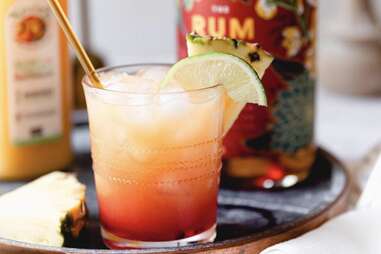 Roxbury
Located within the distillery, Bully Boy's tasting room is a New Orleans-inspired wonderland spanning a gothic, 26-seat space festooned with Prohibition-era bottles. Grab a velvet booth or park it at the bar and gaze through the huge window overlooking the gleaming 750-gallon copper pot still. Another bonus? The house cocktails are quite affordable, ranging from $7 to $12.
How to book: Reserve via OpenTable.
Union Square
Being at Backbar feels like hanging out in the garage-style den of one of your coolest acquaintances. Locate the entrance down a dark alley, then cruise through a hallway into a modest, friendly space with high-top seating, a relaxed vibe, and a talented team peddling a seasonal bill of "classics," "moderns," and "mocktails." Drinks come together with fat-washed spirits, homemade brines and shrubs, and house-infused everything, yet the pretension levels are surprisingly manageable. Heads up—in order to enter, you'll need to provide proof of vaccination.
How to book: Stop by for first come, first served seating.
Central Square
Brick & Mortar has its fair share of accolades, featured on "best bar" lists everywhere from Esquire to Food & Wine to Zagat. Dimly lit and imbued with an ambiance like none other, the upstairs burrow celebrates locally made spirits, seasonal ingredients, and a laid-back ethos. There's also a small food menu stocked with unconventional yet oh-so-delicious bites like Grandma Gary's Gooey Gooey Garlic Bread to soak up all those potent elixirs.
How to book: Stop by for first come, first served seating.
North End
As if the North End doesn't have enough hidden gems, tucked beneath Modern Pastry, arguably one of Boston's best bakeries, you'll find Modern Underground. The hidden watering hole pairs classic pub grub with an assortment of wine, cocktails, and plenty of beer for an all-around delightful experience.
How to book: Stop by for first come, first served seating.