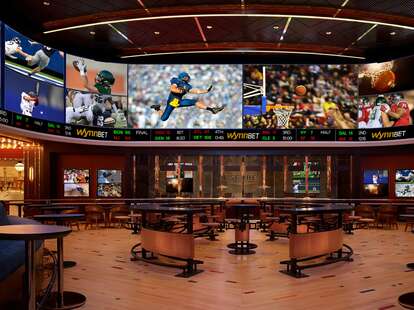 Few pastimes are more definitive to the city of Boston than sports and drinking—and more often than not, the two go hand-in-hand. If you are looking to join the masses of Massachusetts sports fans and share in their cheers, jeers, and tears, it shouldn't be any surprise that you'll find many of Boston's best sports bars in close proximity to our city's most iconic stadiums: Fenway Park and the TD Garden.
For a more intimate, insider's approach, head to the nearby suburbs and noteworthy neighborhood haunts where you'll sit side-by-side with friendly locals. Or if you want to celebrate a big win in a big way, there are spots right in the action where you can do that, too. So whether you're looking for a spot to hunker down on Super Bowl Sunday, want to catch the Winter Games, or just enjoy a standard game day, here are the best sports bars in Boston.
A newcomer to the Boston sports bar lineup, this place has all the characteristics of a young bar with a promising future ahead. Located in the new Hub on Causeway, Banners Kitchen & Tap accompanies a food hall, music venue, and movie theater, all part of a new buildout attached to North Station. Situated in the former location of the Garden (before it moved a few blocks over), this 25,000 square-foot restaurant and watering hole is so close to the action, you can't help but think the walls are rattling from the energy emanating from the arena next door. With brunch, lunch, and dinner on offer, Banners has a lengthy menu ranging from salads, sandwiches, and burgers to more artisanal takes on New England cuisine. The real thrill here, however, lies in the in-house technology to advance your viewing experience. Banner's "Dream Screen," boasts a nearly 40-foot LED television that claims to be the largest on-screen sports viewing experience in the city and the biggest in-restaurant screen on the East Coast. With 13 additional screens and five more with live game scores and stats, you won't miss a moment. And, if you want to get in on the action, Banners recently became the first bar in Boston to offer virtual golfing through TopGolf Swing Suites.
Just south of Southie in neighboring Dorchester, you'll find the Banshee… that is, if you're looking for it. An Irish sports bar in a primarily residential neighborhood, The Banshee is known as the prime destination for all European sporting events and it's a spot that's hidden in plain sight. They focus on the Barclays Premier League, international rugby, and Gaelic football, and they are also the official pub of RISSC Boston, Celtic FC, and several other supporters' groups. Because of its focus on European sports, The Banshee opens up early and offers up an extensive breakfast menu to soak up the sights and the suds.
While the one-of-a-kind views and behind-the-scenes experiences at this in-stadium bar are best enjoyed on game day, Bleacher Bar is open 363 days a year. Formerly the visiting team's batting cage, the space now offers fans framed Sox memorabilia and reasonably priced food and drink in a dingy, cavernous room that beats the heat of the bleacher seats directly above. Enter the bar next to the ticket window of Gate C and you'll find yourself looking onto the centerfield lawn with only a gate (and other customers) obstructing the view. The three rows of seats closest to the window go quick, usually filling up hours before game time, but if you can make it inside you can still watch the game on the TVs behind the bar—and the early bird fans are usually friendly enough to let you catch a brief glimpse from their well-earned vantage point.
The closest you can get to Fenway without being in it, Cask 'n Flagon is a Boston sports institution. The roar of the crowd is ever-present and the hustle and bustle of fans shuffling down Lansdowne Street can sometimes be just as interesting as the game. You'll feel the pulse of the stadium from your barstool as you watch from one of the 60 TVs while noshing on comfort pub grub featuring everything from pasta and pizzas to down-home BBQ. And keep your eyes out—if someone blasts one over the Green Monster, it may just land outside.
Located in Boston's bustling South End, you'll find the city's first out-and-proud gay sports bar. Cathedral Station is decked out with dartboards, a pool table, and an exquisite patio perfect for al fresco sports viewing. Besides non-stop televised sports, the bar also hosts theme nights for karaoke, free pool, trivia, and discount wing specials. The vibe is casual and everyone is welcome. Oh, and Cathedral Station has one other notable amenity to help it stand out from practically every other sports bar in town: free parking!
Head over to Brookline, right across from the historic movie theater, and you'll find the Coolidge Corner Clubhouse. Red patent leather booths, glass dividers, gold railings, and sports photos give off that classic homey, old-time-y pub feel, while elevated, updated comfort food and carefully placed TVs keep this neighborhood favorite bustling day in and day out.
Built into the centerfield wall, Game On is located at Fenway Park, but without the view that the neighboring Bleacher Bar boasts. While the street-level dining room and bar offers 16 coal-fired artisanal pizza options and an arsenal of TVs to take care of every part of your peripheral vision, the basement is outfitted with six spacious ping pong "suites," a cornhole court, and access to the official batting cage of the Boston Red Sox.
The Phoenix Landing is not only a traditional Irish bar, but it's also one of the city's go-to destinations when it comes to live televised European football and rugby matches. If there's a game, it's on. If it happens to be an early and important match, they're open early and most likely busy. Throughout the day you can expect their clientele to be clad in football jerseys cursing at their nine televisions.
For the more discerning sports appreciator, there is nowhere more gracious than Parlor Sports. Located at the Cambridge and Somerville town line, you won't be close to any of the local stadiums, but that's all the better when it comes to parking and post-game traffic. Parlor is smaller than your typical Boston sports bar, but if there's a game on, it's on here—and if it's not, you can request it and they'll try to put it on the TV closest to you. Parlor opens early on weekends and otherwise at 6 pm, but if there's a big morning match brewing, you can be assured they'll open up even earlier. Serving upscale comfort food, craft beers, and even classic cocktails, the staff is sports-smart and friendly. A drop-down boxing mic falls from the ceiling if a bartender wants to make an announcement, and an antique boxing bell often gets rung if something epic goes down. Even on the off nights, Parlor finds ways to intrigue its customers with other games of chance, like their legendary, spirited, and irreverent viewings of The Bachelor.
A Boston institution, and one of the last remaining bars that dates back to the old Garden, Sullivan's proximity to the home of the Celtics and Bruins makes it one of the rowdiest places to pregame, postgame, or watch without a ticket. Pool tables and video game and sports memorabilia only add to the spectacle.
Named to honor Revere native and Red Sox legend, Tony Conigliaro, Tony C's is a spacious restaurant and sports bar that almost feels like the size of a small stadium itself. While the one closest of four locations to Fenway Park has closed, other locations in the Seaport, Assembly Square, Burlington, and Peabody still thrill fans of all ages on game day.
How to book: Via website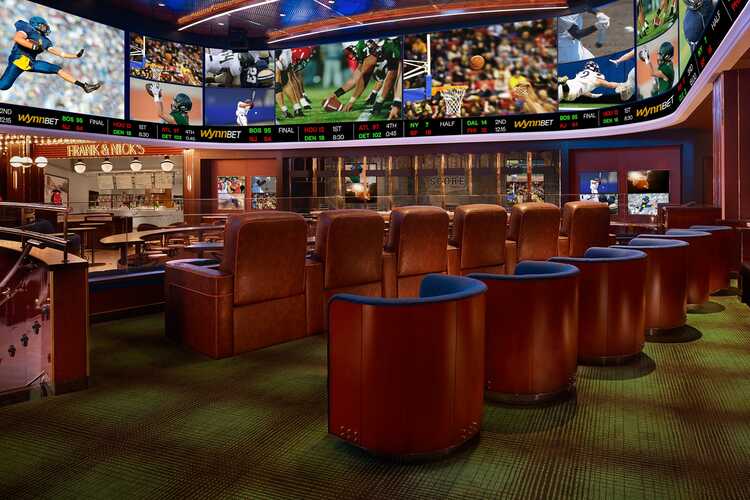 WynnBET Sports Bar at Encore Boston Harbor

| Encore Boston Harbor
Stepping into WynnBET Sports Bar is like walking onto the set of a television sports show with tables echoing the look of sportscasters' sprawling desks. Located in the Encore casino, WynnBET Sports Bar is just a few short steps from rows and rows of slot machines. With a gigantic video wall and more than 70 televisions, this bar is a great place to leave one kind of game and watch another.
Nolan Gawron
spent the first half of his life playing every sport like it was the path to his future. Today he is a music, travel, and scene writer for Boston and beyond. He appreciates a close game and almost always roots for the underdog. He still has nightmares about his failed sports career. Follow him on Instagram @blurred_visionary.