The Best Boston Sports Bars to Watch and Drink on Game Day
Few pastimes are more ingrained into Boston's social fabric than sports and drinking -- and quite often the two go hand-in-hand. If you're looking to join the masses of Massachusetts and share in the cheers, jeers, and tears of the locals, there are plenty of options for big TVs and amazing pub grub. You shouldn't be surprised to learn many of the best sports bars in Boston lie near the city's two historic sporting venues: The bars that line Boylston and Lansdowne may as well be known as Red Sox Row, and if you're a Bruins or Celtics fan, the ones across from the Garden are always your best bet. And you can root for the Pats just about anywhere. With that, here are our favorite sports bars in Boston.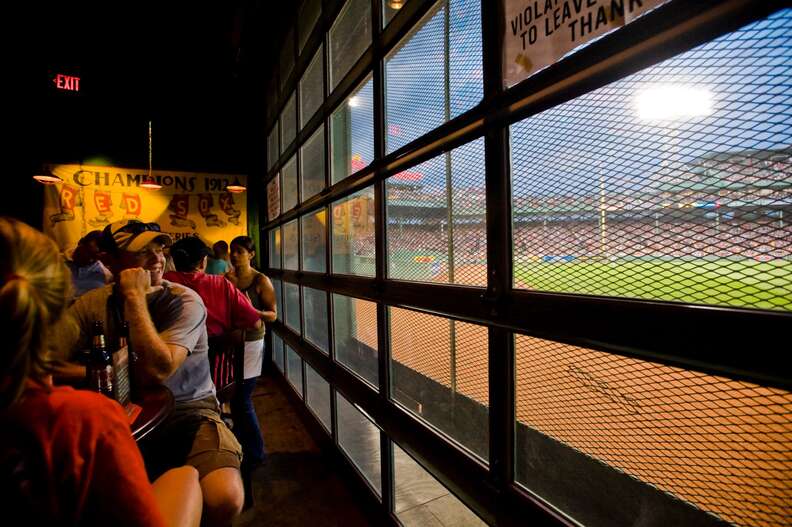 Fenway
This is the ONLY place to catch a Sox game in the stadium without a ticket. Yes, while the one-of-a-kind view and behind-the-scenes experience is best enjoyed on game day, Bleacher Bar is open 363 days a year. Formerly the visiting team's batting cage, the space now offers fans framed Sox memorabilia and reasonably priced food and drink in a dingy, cavernous room that beats the heat of the bleacher seats. Enter the bar next to the ticket window of Gate C and you'll find yourself looking onto the centerfield lawn with only a gate (and other customers) obstructing the view. The three rows of seats closest to the window go quick, usually filling up hours before game time. But, if you can make it inside, you can still watch the game on the TVs behind the bar -- and the early bird fans are usually friendly enough to let you catch a brief glimpse from their well-earned vantage point. When it comes to stadium-side snacks, Bleacher Bar offers brisket, pork belly, corned beef, and Cuban and club sandwiches -- not to mention a variety of soups and salads.
Fenway
Boston's longest-running baseball bar on the ever-changing 1200 block of Boylston, The Baseball Tavern has been serving it up since 1963. A four-floor mecca to take in America's pastime, the bar has long been the place for fans without a ticket. The semi-secret basement offers classic video games, bubble hockey, and an occasional rock show, while the two floors above are lined with TVs and non-stop game day excitement. The Tavern's main attraction, however, is its open-air rooftop bar. While you can't see into Fenway Park, you can see the right-field wall and you're sure to hear every ohh and ahh emanating from the stadium.
Multiple locations
Named to honor Revere native and Red Sox legend Tony Conigliaro, Tony C's is a spacious restaurant and sports bar that almost feels like the size of a small stadium itself. The youngest person to lead the league in home runs, Conigliaro played an integral role in the Sox's famous "Impossible Dream" season of 1967 before being plagued with unfortunate injuries. Over time, his legacy became a career of perseverance and bravery. Now his name shines in neon at four different locations.
West End/North Station
This newcomer has all the likelihood of a rookie with a long and promising career. Banners accompanies a food hall, music venue, and movie theater, all part of a massive buildout attached to North Station. Situated in the former location of the Boston Garden (before it moved a few blocks over), this 25,000 square-foot restaurant and bar is so close to the action, the walls are practically rattling from the arena next door. Banner's offers lunch, dinner, and brunch on the weekend with a lengthy menu that ranges from salads, sandwiches, and burgers to more artisanal takes on New England fare. The real thrill here, however, lies the "Dream Screen," a 39.5-foot diagonal LED television that claims to be the largest sports viewing experience in the city. With 13 additional screens and five more with live game scores and stats, the bar doesn't let you miss a moment. And, if you want to get in on the action, Banner's recently became the first bar in Boston to offer the virtual golfing experience TopGolf Swing Suite.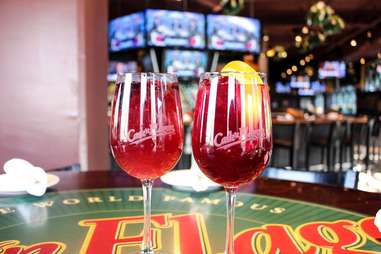 Fenway
The closest you can get to Fenway without being in it, Cask 'n Flagon is a Boston sports institution. The roar of the crowd is ever-present and the hustle and bustle of fans shuffling down Lansdowne Street can sometimes be just as interesting as the game. You can feel the pulse of the stadium from your barstool. Watch the game from one of their 60 TVs while noshing on pub grub, like pizza, pasta, and BBQ. And keep your eyes out -- if someone blasts one over the Green Monster, it may just land outside.
South End
Introducing Boston's first out-and-proud gay sports bar. Located in the South End, Cathedral Station is decked out with dartboards, a pool table, and an exquisite patio perfect for al fresco sport viewing. Besides non-stop televised sports, the bar also hosts theme nights for karaoke, free pool, trivia, and discount wing specials. The vibe is casual and everyone is welcome. Oh, CS has one other notable amenity to help it stand out from practically every other sports bar in town: free parking!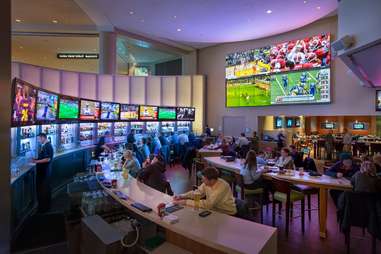 Back Bay
Tucked away on the second floor of the Copley Marriott, Champions bar wraps around in a semicircle, and its 36 strategically placed 46-inch TVs give fans a perfect panoramic view of every game being televised. The ceilings reach toward the sky providing a roomy atmosphere while a friendly mix of hotel guests and locals converge for their nearly 40 drafts drafts (including some local microbrews), a wall of liquor, and spirited conversation between fans of all kinds. Soup, sliders, nachos, burgers, and six different flavors of wings round out a menu that will satisfy anyone's game day diet.
North Station
There are plenty of bars to pick from on the streets surrounding the home of the Celtics and Bruins, but The Fours is our favorite. With two floors decked out in brick, wood, and leather, the walls are heavily adorned with sports memorabilia. From framed jerseys and famous photos to autographed baseballs, The Fours celebrates Boston sports' past and present like no place in town. The lengthy food menu offers just about everything you can imagine and its burgers and sandwiches are named after famous area athletes. This place fills up quickly and early if there's a home game, so plan ahead. Come see why Sports Illustrated once called this place "America's #1 Sports Bar." That may be a stretch, but it's still pretty great.
Fenway
Built into the centerfield wall, Game On is located on-premises, but without that view inside that the neighboring Bleacher Bar boasts. While its street-level dining room and bar offer 16 coal-fired artisanal pizza options and an arsenal of TVs to take care of every part of your peripheral vision, the basement is outfitted with six spacious Ping-Pong "suites," a cornhole court, and access to the official batting cage of the Boston Red Sox.
Inman Square
For the more discerning sports buff, there is nowhere more gracious than Parlor Sports. Located at the Cambridge and Somerville town line, Parlor is smaller than your typical Boston sports bar, but if there's a game on, it's on here. Parlor opens early on weekends and otherwise at 6pm -- but if there's a big morning match brewing, you can be assured the bar will open up even earlier. Serving upscale comfort food, craft beers, and even classic cocktails, the staff is sports-smart and friendly. A drop-down boxing mic falls from the ceiling if a bartender wants to make an announcement, and an antique boxing bell often gets rung if something epic goes down. Even on off nights, Parlor finds ways to intrigue its customers with other games of chance, like its spirited and irreverent viewings of The Bachelor.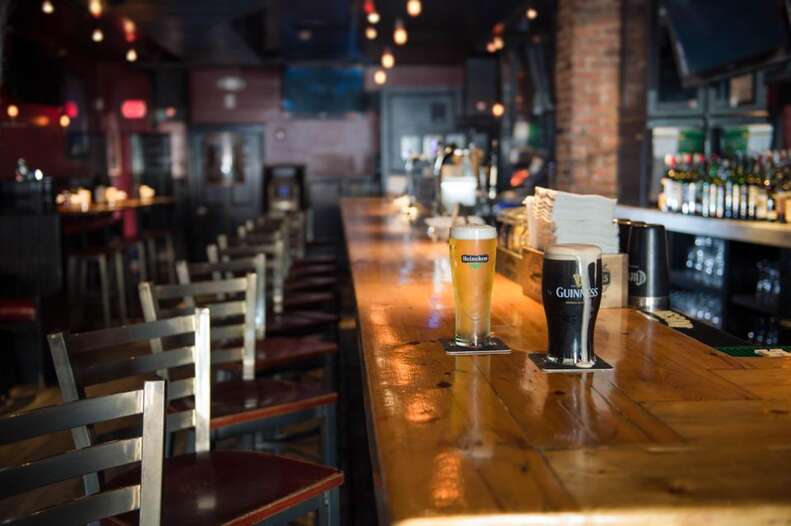 Dorchester
Just south of Southie, you'll find the Banshee -- that is, if you're looking for it. An Irish sports bar in a primarily residential neighborhood, the Banshee is known as the prime destination for all European sporting events. The bar focuses on the Barclays Premier League, international rugby, and Gaelic football, and it's also the official pub of RISSC Boston, Celtic FC, and several other supporters' groups. Because of its focus on European sports, the Banshee opens up early and offers up an extensive breakfast menu to soak up the sights and the suds.
Sign up here for our daily Boston email and be the first to get all the food/drink/fun the Hub has to offer.