Courtesy of Cambridge Brewing Company
With the weather getting warmer, the last thing you want is a fridge full of heavy winter beer. Whether you're looking to breathe some life into your buddies' boring BBQ coolers or just crush a few cans on the 4th, you can't go wrong with one of these summer seasonals. And the best part: they're all so local you won't break a sweat finding them.
Blood orange hefeweizen, 5.5%
Somerville, MA
Slumbrew's unconventional hef is available in cans for the very first time this June. Wheaty, spicy, and with a healthy head of foam, the bittersweetness of the blood orange cuts the grain flavor just enough to make this year-round favorite a perfect choice for pounding back when the weather heats up. (And the dark orange color is completely Instagram-worthy.)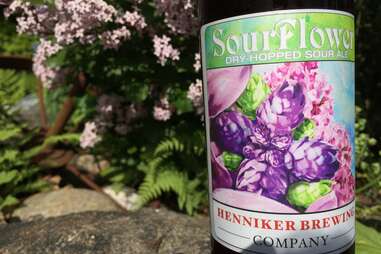 Sour ale, 5.7%
Henniker, NH
This spanking new summer seasonal just debuted at the BeerAdvocate Microbrew Invitational in Boston. It's a dry-hopped sour ale made from a blend of Chinook, Simcoe, and Mosaic hops for a particularly tropical collection of flavors that's tart, bright, and refreshing. And since only two batches were brewed, it won't be around for long. Find it at beer stores and restaurants across New Hampshire, Massachusetts, and Maine beginning in mid-June. Sour Flower will also be available for samples, growler fills, and limited kegs out of the brewery's New Hampshire taproom while supplies last.
Saison/farmhouse ale, 5%
Newcastle, ME
Oxbow specializes in blonde ales and other farmhouse brews, but Crossfade is our top pick for beating the heat. The small-batch favorite starts off strong, then develops into a crisp, bright, hop-forward blend with the brewery's characteristic dry finish. It's a particularly well-balanced beer that won't weigh you down. The golden color and enthusiastic carbonation are exactly what we think of when we picture summer beer, although it comes in a little steep at $13/500mL.
Pale ale, 5.4%
North Hampton, NH
To celebrate the brewery's fifth birthday coming up on July 3rd, Throwback decided to create a beer that represents what they're all about -- making fresh beers from local ingredients. The brand-new pale ale is a light tangerine-colored brew made with 100% local malts (pale malt and wheat from Valley Malt, Vienna malt from Blue Ox Malthouse, and 2-row from The Maine Malt House), and Maine hops -- specifically Nugget, Centennial, and Cascade -- from Aroostook Hops. It's bright, tropical, and extremely easy to drink on a hot day.
American ale, 5%
Newton, MA
The Newton-based Hopsters offers DIY brewing parties for people who aren't content just drinking beer. While you're there, pick up one of the brewery's own formulations, like this light-bodied Prohibition-style (brewed with corn) American ale. It's clean, bright, and after a few hours working in the yard, a lot more refreshing than your average six-pack.
Shandy, 4.5%
Boston, MA
Big Squeeze is a brunch beer through and through. It's basically grapefruit juice, if grapefruit juice were a little wheatier, more robust, and secretly alcoholic. Some hardcore hop aficionados will scoff at the recommendation, but we firmly believe that drinking should be fun, and drinking a Big Squeeze on a breezy balcony -- preferably with a pile of pancakes in hand -- sounds pretty damn fun.
American saison, 4.5%
Cambridge, MA
This light golden beer is brewed with Citra hops, orange, and lemon peel with a multi-grain base. Its cheerful citrus notes balance out the malt, making it a great summer brew that, just recently, has finally been released in cans. It's one of our top crushables after a long day.
Gose, 5%
Chelsea, MA
Scatteree is a tart German floral with a particularly light body. Mystic Brewery's take on the gose uses only ingredients found within a 100yd radius on Cape Cod in a small stretch of coast known as Scatteree. Expect to taste foraged wild juniper berries, sea salt harvested specially from Scatteree waters, and a bunch of other hipster-approved local flavors.
Belgian farmhouse ale, 6%
Chelsea, MA
The brewery's effervescent peach-colored saison is coming July 16th of this year, which means you have a ton of time to get excited about it. It combines a light citrus body with pepper notes for a super-refreshing, very-not-boring beer built for hot weather.
American pale ale, 4.5%
Everett, MA
Whirlpool is Night Shift's flagship, a big ripe beer full of juicy Mosaic hops that bring out some delightfully peachy aromatics. It's got a lot more flavor than your standard APA and can be found at bars, restaurants, and retail stores throughout Boston and the Greater Boston area. You can get it at Babbo Pizzeria in Seaport, Select Oyster Bar in Back Bay, and Lincoln Tavern & Restaurant in South Boston.
Kölsch, 5.5%
Ipswich, MA
This interpretation of a traditional German style is just as goofy and refreshing as the name of the brewery. It's full of -- you guessed it -- mango, along with Australian hops and a light malty center. Mangö was tested in small amounts last year as 22oz bombers, but is now available year-round in 12oz six-packs. You can also find it at Flatbread in Davis Square and Champions at Marriott Cambridge.
Fruity ale, 5%
Boston, MA
Unlike most fruity beers, this watermelon ale is both light and sweet without being saccharine. The doughy, malty base counterbalances what would otherwise be a froofy concoction. It's the thin, hot-day fruit beer your picnic has been longing for.
Sign up here for our daily Boston email and be the first to get all the food/drink/fun the Hub has to offer.
Kim Prosise is a Boston-based travel & lifestyle writer who had to crush a lot of beers to write this story. Follow her on Twitter and Instagram at @kimprosise.