After you've made it through another eventful Christmas (can excited children just not yell ALL day, please?), it's time to buy yourself something you've always wanted: an adult beverage. Keep your yuletide spirit (or spirits) flowing after family time ends at these 27 Hub bars and restaurants open Christmas Day.
Allston/Brighton
Even though the real Allston Christmas happened in September, the Silhouette still wishes you happy holidays with free popcorn and endless PBR.

Allston/Brighton
You might run into your neighbors, but you don't have to talk to them. You're all on the same page.

Arlington
A bacon bourbon Manhattan will make your Christmas both holly AND jolly.

Assembly Row
As oysters make terrible stocking stuffers, you should just head into Legal on the Mystic for a dozen to top off your day.

Back Bay
Congratulations, you just became the Sultan of Christmas.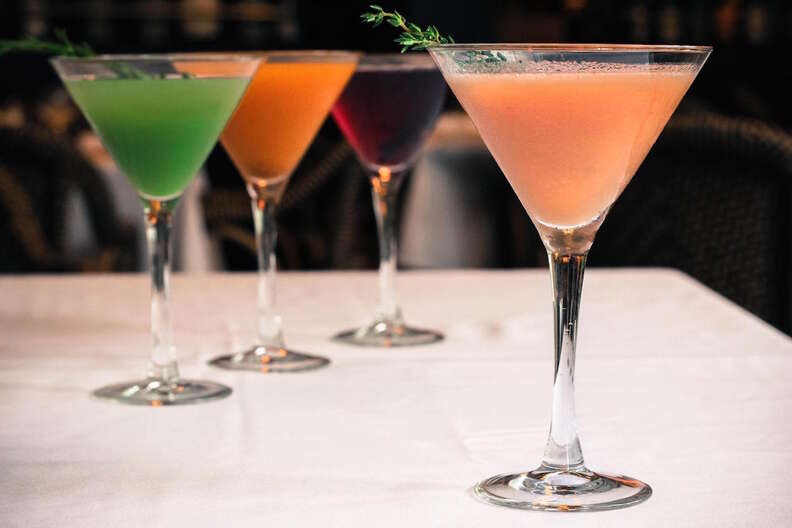 Back Bay
If you're gonna class up your holiday, do it at Brasserie JO with a glass of French wine or one of its signature cocktails. We suggest the Ides of March with Maker's Mark, Aperol, blood orange syrup, and orange juice.

Back Bay
It has 22oz frosted drafts. Best. Christmas. Ever. Courtesy of The Pour House.

Back Bay
Whiskey's 32oz personal pitchers of light suds and 11 different margaritas are on the menu specifically to help you forget all about the dinner table mishaps.

Beacon Hill
Go early and score the spot by the fireplace. Your warm toes will thank you.

Brookline
Let it snow as much as it wants (if it does at all this year); The Abbey has brown liquor… and lots of it. Bonus: Schlitz in bottles!

Brookline
Once again, The Fireplace crew has pulled out all the stops with their New England winter-themed decorations and a special, mouthwatering menu just for the day. This is the one time a year that it's completely acceptable to have a raw bar tower delivered to the table.

Burlington
Looking for well-crafted whiskey, rye, and bourbon? Chopps is your place with the Maker's Mark Manhattan, the Employees Only (rye, vermouth, and Grand Marnier), and the Knob Creek old fashioned.

Cambridge
Like its sister restaurant in Brookline (also named The Abbey), Cambridge has enough beer and booze to make even the Grinch crack a smile.

Cambridge
Of course The Cantab is open. Of course.

Cambridge
Charlie's always feels a bit like the Island of Misfit Toys, so… welcome home!
Cambridge
Nothing says "happy holidays" like a correctly poured Guinness.

Cambridge
In the spirit of giving, buy your crew a round of Green Bastard shots, made with Stolichnaya, Midori, pineapple juice, orange juice, and a heavy-handed pour of regret. Repeat as necessary.

Faneuil Hall
Regardless if you're actually Irish or just pretending to be, The Black Rose opens its doors on Christmas for Emerald Isle good times and plenty of Jameson.

Kenmore/Fenway
Eastern Standard has its own drink philosophy, and yours should be to catch a sleigh ride to this Kenmore stronghold. You might not know all of the ingredients in the cocktail you're drinking (what's a "hop tincture," anyway?), but it tastes so good that it doesn't matter.

Kenmore/Fenway
Really treat yourself this Christmas with a finely tuned cocktail made just for you, served in a space that looks like the living room you can't yet afford.

Newton
The chills will disappear fast once you settle into one of 24 single malts, or 28 other blends, whiskeys, and bourbons.

Seaport District
Outlook has been going full throttle since it opened, and the holidays aren't going to stop this new kid on the block. You're gonna want the Common Habits, mixed with Boston's own Wire Works gin.

Seaport District
All you need to know is that these barrel-aged cocktails transcend any regular ol' Manhattan.

Seaport District
Legal Harborside wants to warm your insides this holiday season with heater-uppers such as its Mexican coffee (Patron XO Café), Honey Apple Warmer (Bärenjäger honey liqueur, Laird's AppleJack), and the tried-and-true hot toddy with exclusive LSF barrel-selected Eagle Rare 10 Year bourbon.

Somerville
Forget that insurance company… like a good neighbor, Olde Magoun's Saloon is there. It'll be open in the evening with its full menu in case mom burned the ham.
South End
Festive drinks (looking at you, Crabapple, with your mix of cider and cranberry vodka) with pulled pork sammies is how they roll on Christmas at Tremont 647. So should you.

Southie
Endlessly debate the Pats playoff chances with or without McCourty while knocking back Bud Heavies.
Sign up here for our daily Boston email and be the first to get all the food/drink/fun the Hub has to offer.
By night, Erik Christensen is freelance writer who hits the town on Christmas. By day, he's an architect. And by the weekend, he's a man in need of many naps.