Where to Get the Best Non-Alcoholic Cocktails in Boston
From booze-free beer to intricate mocktails, there's something for everyone.
It's no secret that Boston loves to party, but in between all the Guinness-soaked Irish pubs and ritzy cocktail lounges, there's plenty of room for the ABV-free folks to party too. Although Dry January is a particularly popular time to dabble in the world of temperance, the alcohol-free movement has been making waves across the US year-round, with benefits ranging from improved mental health to better sleep to clearer skin. Whether you're sober-curious, a full-on teetotaler, or just looking to enjoy a night on the town without dealing with a pounding hangover the next day, these Boston bars are slinging out some of the city's finest mocktails on the regular.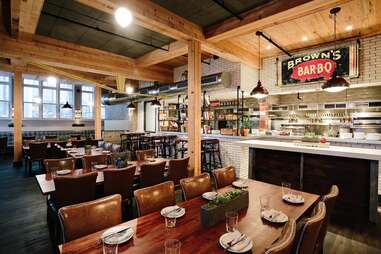 Harvard Square
Just a few steps away from Harvard Yard, Alden & Harlow has mastered the art of both hearty New American fare and mocktail-making, providing diners with a few refreshing options to sip on as they enjoy their meal. During warmer months, the Spa Day offers a soothing blend of cucumber, basil, and tonic to sip alongside an order of seared bluefin crudo, while the spiced apple shrub-heavy Cornucopia is best accompanied by a plate of smoked chicken raviolo. Not content to just offer mocktails, Alden & Harlow also has an option for booze-free beer fans, with the crisp Coba Maya from Big Drop Brewing Co gracing the menu as well.
South End
Tiki cocktails can swing pretty high on the ABV meter, but if you like your Mai Tais dry, Shore Leave has got your name on it. Their signature cocktail—the aptly-named Shore Leave—can be ordered in mocktail form, ditching the potent blend of Madeira, Angostura, and Caribbean rum that's typically present in the drink. It's the perfect substitute for any tiki fans that have decided to leave the spirits space, and better yet, it pairs perfectly with a hearty dose of gochujang wings.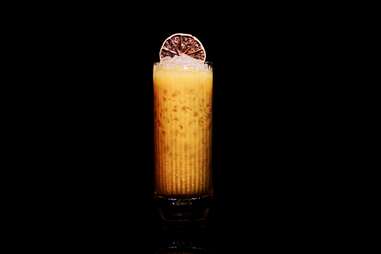 Back Bay
The cocktail oracles over at Hecate have been working their third eyes overtime lately, kicking off the year with a slew of booze-free elixirs. Affectionately dubbed "Dry Spells," these complex creations are spirit-forward only in the mythological sense, each one inspired by folklore from across the globe. If you've got a sweet tooth, the Yeti Lassi is a silky-smooth option laden with golden milk and almond butter, while the Jasy Jatere unites hops soda and yerba mate for a double-punch of caffeine and effervescence.
Multiple locations
After two successful forays into Dorchester and the South End, Yellow Door Taqueria opened their third location at the tail end of 2022, bringing some seriously flavorful Mexican flair to Mission Hill. While the restaurant is best known for its diverse array of margaritas, Yellow Door is no stranger to ABV-free beverages as well, offering a couple of spirit-free options to crush with your chicken tinga flautas and birria tacos. The spiced guava is a particularly refreshing mocktail, but if you want a tried-and-true Mexican classic, grab a Jarritos, a fruit-flavored soda brand that made its debut back in 1950.
Back Bay
Sober seafood lovers rejoice: Back Bay's Banks Fish House is dishing out east coast oysters, fried clams, and a couple of stellar mocktails to kick off the new year. For a particularly complex set of flavors, the grapefruit almond tonic brings a hearty blend of grapefruit cinnamon cordial and orgeat to the table, topping it all off with a dose of Fever Tree to give it the perfect touch of effervescence. If you're looking for some sweetness to pair with a savory Chowda flatbread, the cherry-forward lime rickey is the perfect choice.
Back Bay
Equipped with a roaring fireplace, Mediterranean pottery, and a wealth of decadent dishes ranging from pommes frites to bouillabaisse, Bistro du Midi is one of Boston's top spots for refined French fare—and to up the elegance factor, this cozy venue has been a strong proponent for no-ABV cocktails for years. The spicy citrus mule packs a serious habanero and ginger punch, while the Espressotini provides the perfect caffeine buzz without any pesky morning-after effects to deal with.
Woburn
Lord Hobo has been cranking out beloved brews for New Englanders since 2015, and just last month, this storied operation dipped their toes into the world of non-alcoholic beer with the release of Life. Though not nearly as boozy as other IPAs (it clocks in at just 0.5% ABV) the beer comes complete with bold citrus notes and fragrant tropical fruit on the nose, possessing the perfect flavor profile for any craft beer aficionados that have gone cold turkey in recent years.
Fort Point
Over in Fort Point, Drink is equipped with a small armada of masterful mixologists, and their expertise extends well into the realm of ABV-free cocktails. This cozy basement bar is totally menu-free, inviting patrons to approach the counter with anything from a carefully-calculated cocktail concept to nothing more than a basic flavor profile and a vibe. From low-ABV spritzes to spirit-free takes on classic cocktails, Drink can craft the perfect potion for even the pickiest of customers.
Jared Ranahan is a freelance writer focusing on travel, wildlife, and food & beverage.