5 new fall cocktails in Boston that you need to try
Summer's over... how are you going to cope? The answer is simple: keep drinking. It always worked for Wade Boggs! While repeated consumption of canned domestics certainly has its charms, you're in the market for something a little more refined this season. Here are five fit-for-fall craft cocktails you should drink as soon as possible.
The Seaward
The Kirkland Tap & Trotter (address and info)
Somerville 
There are so many reasons to visit the KT&T: Burger & Beer Sundays, Hot Dog Mondays, $2 Grilled Oyster Wednesdays, and free bar snacks nightly from 5:30-6:30pm. Here's another reason: The Seaward, a potent combo of rum, maraschino, Amaro Montenegro, and lemon oil. More good news: the bar's now open until midnight, Sun-Thu and until 1am on weekends.
The Grand Ginger
The Merchant (address and info)
Downtown Crossing
The Merchant has a new fall menu of brasserie bites and boozy beverages. Rev up your thirst with some chicharrones, aka oh-so-salty house-made pork rinds with Tabasco aioli. Then go for the Grand Ginger, made from South Boston's GrandTen Distilling Wire Works gin, jazzed with The King's Ginger liqueur, cucumber, basil, and lemon. We probably had you at "pork rinds".
The Pegu Club
Spoke Wine Bar (address and info)
Davis Square
Spoke is one of the best wine bars in America, but did you know they also pour some pretty mean drinks? Consider yourself informed (you're welcome). They change things up seasonally on all fronts, and you need to stop in for the simple-yet-refined Pegu Club. Gin, lime, Combier, and Angostura bitters unite for one satisfying sipper. Or head to the orchard for the Taylor Precedent, a fall-flavored classic with apple brandy and cinnamon.
Bronwyn 
The Czechmate
Bronwyn (address and info)
Union Square
Deutschland outpost Bronwyn just launched their Cocktails Der Saison menu, and you need to launch yourself over there posthaste, mein Freund. Bar manager Billy Weston, inspired by Central and Eastern European flavors, created eight new offerings to ease you into the forthcoming chillier weather. Once you're stuffed with Wagyu Beef Sauerbraten, make a move for the Czechmate, featuring R. Jelinek Czech Fernet, Becherovka (Czech herbal bitters), Dolin dry vermouth, and Peychaud's (take that, Kasparov).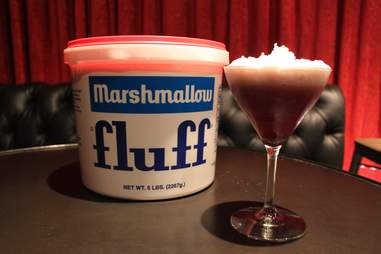 Brass Union 
The Seriously Fluffed
Brass Union (address and info)
Union Square 
In honor of this weekend's beloved Fluff Festival, Brass Union joins the Somerville celebration with the Seriously Fluffed (seriously, stop giggling). Deep Eddy vodka and St. George raspberry liqueur support a Fluff-coconut foam -- a little island of marshmallow crème sweetness. Bonus: they're also making a Fluff-infused Moon Pie and Fluff & Fig Donut Holes for the special occasion (seriously... stop giggling).
Sign up here for our daily Boston email and be the first to get all the food/drink/fun the Hub has to offer.