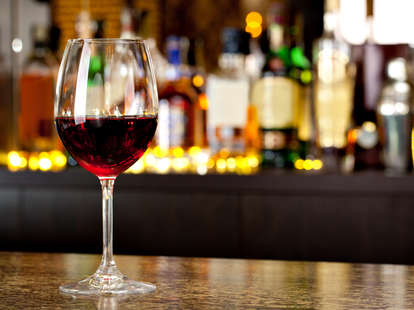 It just wasn't fair: every other city had these sick-looking BYO restaurants that Bostonians just didn't. Because it wasn't allowed here. Because of overly complex and stupidly expensive liquor licensing. But Boston's city council recently voted to lift the city's long-standing BYO ban. Before you go skipping off to the liquor store, here's what you need to know:

Nothing has actually changed yet
In mid-December, the city council unanimously decided that diners should be allowed to bring their own alcoholic beverages to restaurants. But don't pop the champagne indoors just yet: Mayor Walsh still needs to sign off on the decision, and the Boston licensing board needs to come up with entirely new regulations about just how BYO establishments are going to work.
The laws are expected to boost Boston's economy
It can be hard for new restaurants to succeed, especially when they need to choose whether to make a hefty investment in a liquor license or forgo alcohol entirely. Both have their costs, but not being permitted to have alcohol on-site is particularly significant because it can force restaurants to reduce potentially lucrative dinner and brunch hours, limit their clientele, and ultimately stunt their growth.
According to city councilor and bill sponsor Michelle Wu, the whole point of lifting the BYO ban is to create a middle ground that increases options for small business owners and their customers:
"The target for BYOB is a restaurant looking to open in a smaller space where it'd be hard to spare refrigerator space for alcohol, restaurants with a niche menu, or new restaurants hoping to get in the pipeline for a liquor license," she said in a recent interview for BostInno.
"BYOB won't be the right fit for every restaurant, but we want to lift the ban and let entrepreneurs make that decision for themselves. Other cities with BYOB have seen a more vibrant restaurant scene overall, with residents going out to eat more often because there are more affordable options." That's what we're talking about.

You can't BYOB just anywhere
Obviously, if a restaurant already has a liquor license, you won't be able to BYOB. The practice will also be restricted to restaurants with 30 seats or fewer, dine-in service, and liquor liability insurance.
Anything downtown is a no-go, since the proposal is primarily designed to spur economic growth in outlying neighborhoods, and help out smaller mom-and-pop places that can't afford the hefty cost of a liquor license. According to Wu, the goal is to avoid creating competition between restaurants that have invested a lot in maintaining their licenses and local eateries that are just getting started.
BYO will not be free
BYO makes it harder to monitor how much customers are consuming and how quickly, so it's important that restaurants with BYO have a trained wait staff who can offset those potential metaphorical fires. Not only will there be limits placed on the amount of alcohol that can be brought in, restaurants will be permitted to charge a corkage fee -- largely to compensate servers for dealing with alcohol when their tables aren't running up any bar tabs.
When we spoke to local servers about this, they were pretty unenthusiastic. A Porter Square waitress summed up the general sentiment particularly well: "I wouldn't want to work at a BYO because it makes policing intoxicated customers and preventing over-serving difficult," she said, "but it does shift [some] responsibility away from the server and the restaurant."

It's just step one of a bigger liquor reform scheme
Right now, the state limits the number of liquor licenses Boston can give out. Any additional licenses need to be approved by the State Legislature, a long and cumbersome process that the city council is ready to be rid of. City Councilor Ayanna Pressley has gone on record saying that Boston wants complete control of liquor licensing within its bounds, and lifting the BYO ban is just the first step on the way to increasing the total number of liquor licenses available.
Now we just need to get them working on happy hour.
Sign up here for our daily Boston email and be the first to get all the food/drink/fun the Hub has to offer.
Kim Prosise is a Boston-based travel and lifestyle writer who will soon be bringing champagne to kinda everywhere.