Channel your inner-Kennedy and head to Cape Cod for a week/weekend/month (don't you have a job to go to?!) of sunburn, cookouts, and many an adult beverage. While you're "waiting patiently" to traverse the Bourne, you need to map out where you'll be anchored to a bar stool during your time there (thusly calming your lurking road rage). And we can help. Here are the 12 best spots for your Summertime amusements:
Oak & Ember Whiskey Bar & Grill (address and info)
Mashpee
It's all in the name. Yep. Whiskey and lots of it. With more than 140 options, Oak & Ember is there for anyone looking for a brown liquor paradise nestled within your seaside paradise. Drink from the deep cache of bourbons, Scotches, and ryes, or reach for cocktail creations like the the Kentucky Mai Tai (Corner Creek, DC Mandarino, Orgeat, lemon, lime, rosewater, Bittermens Elemakule Tiki Bitters). Can't decide? Broaden your horizons with a three-whiskey flight, conveniently arranged for you in eight different combos.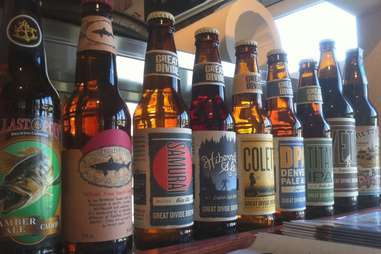 The Box Office Bistro (address and info)
South Chatham
Annnd… ACTION! Paul and Jade Schuyler, ex-pats from the City of Angels, fused their passion for film (they're industry vets), food, and drink to create a craft brew, pizza, and movie mecca in South Chatham. Their cozy, relaxed haunt has interesting cocktails along with proper whiskeys and sipping tequilas, but they are primarily known for the extensive beer menu (usually sporting around 60 selections). Bonus: they rent DVDs! Grab a flick for your beach house from the 2500-title collection (we recommend Jaws).
emBargo (address and info)
Hyannis
This bustling fun-times depot nestled in Hyannis is more than just a catchy name. It's your next stop after a hard day at the beach to take in martinis, tapas, music, and more martinis (20 total). Their signature creations often start with house-made infusions (think spiced rum infused with Mandarin oranges), which can be served chilled and straight up (you're straight up getting one). Roll off of your towel for the daily happy hour (4:30-6pm) for half-price oysters and tapas. Oh, and happiness.
Pain D'Avignon (address and info)
Hyannis
Since 1992, Pain D'Avignon has transformed from a beloved bakery into a charming café into a formidable French bistro. In addition to their crave-worthy bread and tasty treats, they've assembled a serious beverage lineup. The French-heavy wine list is impressive, while the craft brew selection includes impressive French and Belgian options to supplement the American beers. Or nab yourself a stronger libation like the Cold Pressed (Bulleit Rye, Fernet Branca, Domaine de Canton, espresso liqueur, ginger syrup, chocolate bitters, mint). Do yourself a favor and stay for dinner to get traditional French plats du jour like coq au vin and cassoulet de Toulouse. Because you're refined like that.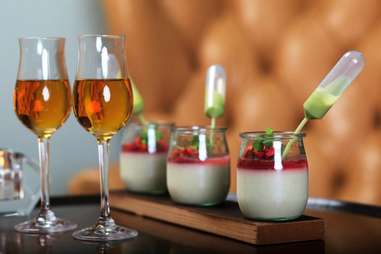 Chatham Bars Inn (address and info)
Chatham
From June through the end of the year, Chatham Bars Inn celebrates their Centennial (so they must be doing something right!) with events and seasonal specials alongside their already impressive roster of drinking and dining (and lodging, if you need a place to stay). Choose from four different venues with spectacular views (Stars, The Sacred Cod, The Beach House, The Veranda) and sip some of CBI's distinctive potables. Watch out for the fan-favorite Shark Bite (light rum, crème of coconut, pineapple juice, Monin Blue, grenadine splash, candy shark garnish) and the Cape Cod Margarita (Sauza tequila, Cointreau, lime, agave nectar, and, of course, cranberry juice!). Because it's such a big birthday, they're also doing a commemorative martini made in a special centennial shaker.
The Chart Room (address and info)
Cataumet
This rustic seaside nook, located within the Kingman Yacht Center, has everything you want in a bar by the sea: good folks, good bites, and good beers. Carved into an old cargo barge (used as a machine shop during the Korean War), The Chart Room has been the go-to spot for locals and visitors alike since 1966. Settle into an Adirondack chair outside and order up any classic beer or strong cocktail. What really sets this watering hole apart is the friendlier-than-friendly vibe. No matter what you're quaffing, you'll end the evening with some new comrades and possibly a tee time for the next day.
Quahog Republic (address and info)
Onset/Falmouth
The motto here is "Live, Give, Relax", which is great advice anywhere, but especially on the Cape. Dive into their extensive raw bar, then sink a drink or eight (you're gonna be there all day). The Johnny Quahog's Favorites are all made with fresh-squeezed juices and served in a 16oz glass. That's a pint, if you're keeping score. Standouts are: Dr. Flynn's Mai Tai (a secret recipe smuggled from Waikiki), and if yesterday was a bit rough you may want to reach for the Bloody Mary made with elephant garlic-infused vodka and garnished with bacon. Also: every Tuesday night is "Kick the Keg" night and you should stop by to help them out. Because you're a giver.
The Beachcomber (address and info)
Wellfleet
A Cape institution for more than 50 years, The Beachcomber (aka "the Comah") overlooks the dunes on Cahoon Hollow Beach, providing a panoramic vista of the Atlantic that makes it one of the best beach bars in the country. So there's that (and it's one of a few "grandfathered" properties allowed to remain within the protected Cape Cod National Seashore -- thanks, JFK!). Beach bums gather here throughout the sunny season to imbibe the house specialty Goombay Smash, described only as "rums, juices, and a Myers float" (3 MILLION sold and counting). Throw in $4-$5 quality brews like Victory Prima Pils and you're in good (or maybe bad?) shape. Don't worry, plenty of fried sea creatures are on hand to keep you going.
Harbor Lounge (address and info)
Provincetown
If you're partying in P-town, Harbor Lounge is where you need to be doing said partying. Pro tip: go at sunset. Enjoy beach and harbor views from their pier while knocking back Moscow Mules, Harbor Breezes, Dark 'N' Stormies, and the like, along with plenty of crafty brews (Clown Shoes Clementine, Tröegs Sunshine Pils). Important: they don't serve food, so make sure you get your sustenance plans in order.
Mahoney's Atlantic (address and info)
Orleans
The casually upscale Mahoney's Atlantic in Downtown Orleans boasts award-winning fare and cocktails set in a restored 19th century dry goods/penny candy store. Restore yourself (see what we did there?) with a Meet Your Maker Manhattan (Maker's, calvados Pays d'Auge, Peychaud's orange bitters). Then top yourself off with an Atlantic Steaming Bowl -- that's Portuguese bouillabaisse studded with littlenecks, mussels, scallops, shrimp, haddock, and squid swimming in tomato saffron broth along with some thin-as-can-be pasta. You're welcome.
Mooncussers Tavern (address and info)
Harwich Port
Mellow out to live jazz and livelier libations at Mooncussers (lazy local pirates), a newer shining star on the Cape. Tucked into an old house, the offerings are as eclectic as the space. They concentrate mainly on wine and tapas (both done well), but also have a house ale on draft made by Cisco Nantucket and a bevy of imaginative martinis. Try the Summertime fave Swedish Creamsicle (Svedka Clementine and vanilla), The Englishman (Beefeater Gin, elderflower liqueur), or The Vermonter (Vermont Gold distilled from 100% maple sap, pure maple syrup).
Ocean House Restaurant (address and info)
Dennis Port
Dennis Port and Nantucket Sound have it good at Ocean House where you can luxuriate inside in the bar/dining room or kick back outside on the deck/patio. However you want to play it. The scene is always rocking and rolling with live music, good grub, and generous pours. Get yourself a good spot, a stiff cocktail, some local oysters, and maybe a cocktail of the shrimp variety from their raw bar, and settle in for the evening.
This list -- and all the rest -- look even sexier in our iPhone app. Get it now!