Because nobody should be expected to sit through the entirety of Grown Ups 2 without a single alcoholic drink, here's a rundown of nine area movie theaters that serve booze.
Coolidge Corner Theatre
290 Harvard St; Coolidge Corner; 617.734.2501
One of the Hub's most iconic theaters, this not-for-profit indie cinema (you can actually become a member) was built as a church in 1906 but "redesigned as an Art Deco movie palace in 1933". Today, you can count on late-night classic movie marathons and four craft drafts, including Blue Hills, Victory, and Pretty Things.
Elm Draft House Cinema
35 Elm St; Millbury; 508.865.2850
A classic 1930s theater that was converted to a cinema pub in '83 but still rocks some of the original 700 seats (you can request a seat cushion if your hind so desires), EDHC rolls one second-run flick weekly (for a mere $5 at all times), which you can watch while taking down jars of wine and pitchers of suds.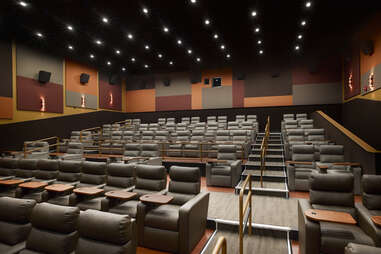 Brattle Theater
40 Brattle St; Harvard Square; 617.876.6837
Opening officially in 1890 "for literary, musical, and dramatic entertainments", Harvard Square's historic theater started projecting moving pictures in 1953 and today "shows the best in classic, cutting-edge, foreign, and art-house films", all of which can be enjoyed with a pint of local suds -- including Slumbrew's Rising Sun Ale, Ipswich's Oatmeal Stout, and a rotating selection from Cambridge Brewing Company.
Somerville Theatre
55 Davis Sq; Somerville; 617.625.5700
Old tried-and-true, Davis Square's Somerville Theater opened with vaudeville in 1914, went "movies only" during the Depression, and became one of the first theaters in the area to sell wine and beer in '07. Plan to get excited about the Harpoon Munich Dark, as you can't find it that many places.
Capitol Theater
204 Massachusetts Ave; Arlington; 781.648.4340
Offering a reason other than watching high school football to venture into Arlington, this venerable old spot maintains six screens (three of which are REAL-D 3D), can seat 1600 people (!!), and -- over the objections of folks in town -- finally started pouring beer and wine last Summer.
Chunky's Haverhill
371 Lowell Ave; Haverhill; 978.374.2255
Despite a name that elicits painful memories from sixth grade (you were big-boned, we get it), Haverhill's Chunky's slings a crazy-extensive lineup of apps, entrees, and even breakfast foods (!!) like coconut shrimp, steak tips, and fish & chips, all washed down with buckets of beer and "restricted drinks". Wink. Wink.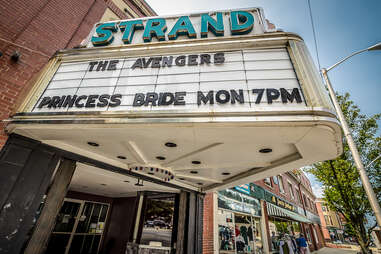 The Strand Movie House & Grille
58 High St; Clinton; 978.365.5551
Located just outside 495 in Clinton, this historic 300-seater was renovated in the mid-'90s and features table service, .5lb burgers, and beer from Wachusett Country and Wormtown. And, as tix only run $5.50 a show, they claim dinner and a movie averages a paltry $25 a couple.
AMC Framingham Premium Cinema and Grille
22 Flutie Pass; Framingham; 508.875.6151
Finally ditch the high schoolers yelling "hilarious" commentary at the screen by hitting AMC's 21-and-up PC&G, which rocks comfy, assigned, leather recliners, in-theater dining, and a full-service bar & restaurant on premise.