Does Boston have a truly first-class cocktail scene? It might not be our national reputation -- even if we're home to the country's first distillery -- but we're much more than our beer-and-bar-pretzel rep. So ignore the outsiders' criticisms and instead, drink deep from the well of these superlative spots.
Downtown Crossing
The much-adored Downtown barroom is home to a thoughtful variety of creative cocktails and a small-but-stellar selection of brews, if that's your thing. But you really should put a serious dent in the cocktail list; there's even one of the best burgers in town on the menu to soak up all your liquid debauchery. Plus, free bubble hockey machine in the back! Bourbon lovers, be on the lookout for one of the best whiskey smashes in town.
Central Square
Old-timers remember this place as the Enormous Room, a perfectly acceptable nighttime hangout that became far more alluring in its current incarnation. The upstairs speakeasy (no signage; just follow the waxed-mustache crowds) celebrates locally made spirits, seasonal ingredients, and a relaxed approach to imbibing: you're here to savor, not quaff. Don't be surprised if you miss your dinner reservation because you have to order just one more.
South End
Aptly named for its proximity to Hanging Hill, Gallows executes some clever cocktails. Take in the creatively lit reclaimed wood walls that line the dining room while sipping the very fitting Skin and Bones #2 -- Thai basil-infused tequila, watermelon, mezcal, and lime. The cocktail list is heavy on infused liquors and a massive and surprising variety of bitters -- this is Boston, after all.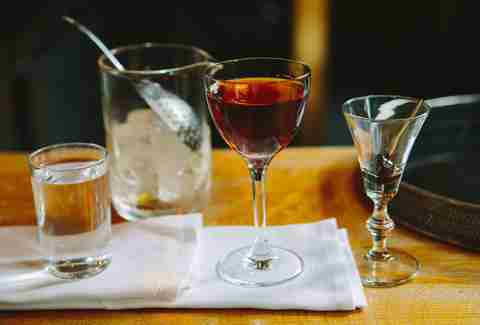 Fort Point
If you're someone who struggles with too many choices, Drink is your dream. The subterranean, open-space bar -- named 2013 "World's Best Cocktail Bar" at the Tales of the Cocktail Spirited Awards, among other accolades -- has no cocktail menu. Instead, your mixologist inquires as to your preferred spirits and flavors, enabling them to concoct a delightfully bespoke drink for you. Given the labor involved -- even the ice-chipping process is protracted -- you'll savor every last sip while you mull over your next order.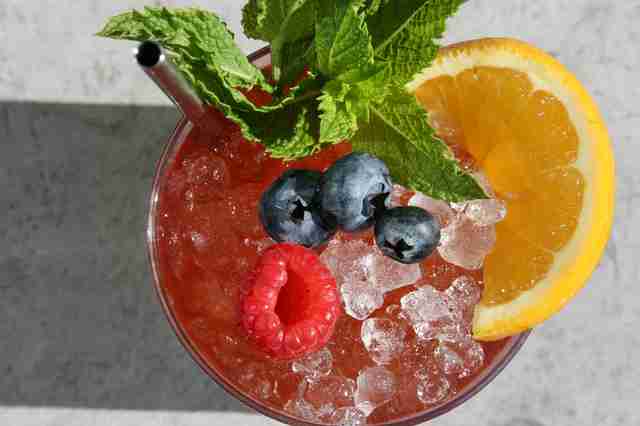 Kenmore Square
Jackson Cannon's second act. With Eastern Standard's program well-established, Cannon moved down the street to a clubby, homey, living-room space devoted almost entirely to master's-level imbibing. The massive leather-bound menu (23 pages!) breaks cocktails down by spirit so that vermouth or gin aficionados can narrow down their selection rather than sitting there frozen by too much choice. For those who need their evening plans assured, The Hawthorne accepts reservations earlier in the evening.
Kenmore Square
Jackson Cannon should get a gold medal for transforming the city's cocktail scene (and share the podium with Brother Cleve, a freelancing bartending legend). When ES opened in 2005, Cannon introduced local folks to the full canon of cocktail making: quality spirits, freshly made mixers, proper glassware. Reams of Sox fans have been ordering Jack Roses and Sazeracs ever since, and subsequent bar managers have played with more inventive ingredients to deepen the massive bar's drinking experience.
Union Square
Want to prove our cocktail bona fides to visitors? Lead them down a back alley and an unmarked hallway to libation nirvana, then watch them grudgingly embrace Boston as a legit drinking city. Backbar solidified Union Square's hipster rep, but don't let that dissuade you: the drinks menu is all about quality, not hype, and the plaid-clad bartenders legitimately know their business. Return by yourself during the weekday "Genius Hour" (4-5:30pm), when the cubicle just becomes too much to bear and you prefer to wrap up your day with a stiff one in hand.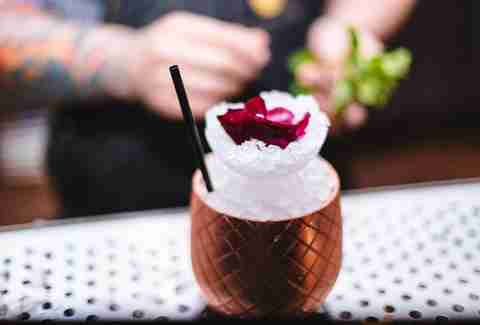 Woburn
So... one of the city's best cocktail bars scenes exists in a nondescript suburb 30 minutes outside the city. Thank Ran Duan for your astronomical Uber bill, but we promise you, a visit here is so worth it. Duan took over the bar program at his parents' suburban Chinese restaurant in 2009 and made Baldwin a must-visit for anyone in search of old-school cocktail revivals, such as pisco punches with pineapple vinegar and the award-winning Father's Advice (rum, amaro, vermouth, sherry, creme de banana). Things get even more creative in the Baldwin & Sons Trading Company, a second lounge where it's all kitschy glassware and dry-ice effects. For those who have exceeded their travel budgets, rest easy: Duan will shortly be bringing his mixology magic to Sichuan Garden, his parent's second restaurant in Brookline Village.
Central Square
Did you know that Green Street owns the area's oldest liquor license, dating back to the Great Depression? This might explain why the space has earned true "institution" status. Don't let the Budweiser sign fool you: the tucked-away Central Square spot is where aficionados go when they tire of cocktail newbies crowding the bar of the moment. Drinks are well-considered and well-priced (under 10 bucks, by and large); stay for dinner to justify a few more.
Downtown Crossing
Joshua Childs (formerly of Trina's Starlite Lounge) is another local cocktail legend. Though he recently hung up his jigger, he spent years transforming the innocuous Silvertone into a cocktail destination. It's easy to take a load off in the subterranean space, whether with a well-balanced cocktail like the Shaddock (gin, St. Elder, Aperol, lemon juice) or one of their "Happy Meals" (a Miller High Life and a shot of any of several higher-end spirits, from Chartreuse to Fernet).
Kendall Square
Bartender Todd Maul (Clio) is a cocktail mercenary, a longtime pioneer who has found his home behind the futuristic Cafe ArtScience bar. It's like 2001 meets The Jetsons: lots of smoke, but certainly no mirrors. Maul and his team play with oversized, flavored ice cubes; vapor garnishes; and candied flowers, and sling drinks you'd expect to find in a science lab (hey, MIT is nearby). It might sound like quirk over quality, but the opposite is true: these are drinks you'll be returning to, with friends in tow.
Fort Point
Diners might not realize just how terrific this bar is, given that this spot is arguably more committed to the porchetta than the pisco. But many of the city's finest slingers have done time behind the TR bar, and many of the city's most serious drinkers have become regulars. Tenzin Samdo currently heads up the bar program and runs the gamut. You can keep it simple with a perfect Negroni, or go nuts with a multi-person concoction like the potent Wun Wun the Showstopper (it actually glows). When you're enjoying last call with restaurant-industry regulars, you know you've found a truly solid spot.
South Boston
The newest kid on the block just might coin a new phrase: distillery-to-glass. Drinks are slung mere feet away from the place where many of their ingredients are created, including vodka and flavored liqueurs (almond, cranberry). Bar manager Steve Schnelwar, late of Tavern Road, is heading up the brand-new venture, open Thursday to Sunday. Look for shrubs and tinctures to deepen the menu come late fall and winter.
Sign up here for our daily Boston email and be the first to get all the food/drink/fun the Hub has to offer.