Here are the best clubs in Boston
On a night spent bouncing all over Boston (maybe not literally, unless you travel by pogo), somewhere between the happiest of happy hours and the greasiest of late-night eats, you need to hit up a club. So we sought out Boston's best.
Royale
Theatre District
Royale proves that it has more than meets the eye as it transforms from early-evening music hall (Rocktimus Prime) to late night dance club (Hip-Hoptimus Prime). Hit the two-level ballroom and fill your sonic receptors with scorching guitar solos and/or slamming international DJ sets courtesy of a full slate of big name acts.
Middlesex Lounge
Central Square
Arrive early to avoid the soul-crushing line (and cover), and also to enjoy the mellow cocktail hour vibe at the sleek Middlesex Lounge, one of the 'bridge's few go-to dance floors. DJs spin underground disco, house, techno, and electronica just about every night of the week, making it a solid bet even if you prefer you-on-top sex.
Arc Nightclub & Lounge
Kenmore Square
Arc sets a casual club tone (say no to snobs) with its nerdy, dive bar chic (say yes to welding masks) in the old An Tua Nua spot near Fenway. Start in The Front Room with an adult beverage, a game of pool, and some eats before adjourning to The Back Room (didn't see that one coming) with DJs grooving every night of the week, from Ceremony Mondays to Lavish Sundays.
Mojito's Latin Lounge & Nightclub
Downtown Crossing
Start your evening off with Salsa dance lessons (fueled by some sangria and tapas, which may also involve salsa) from 915-1015p, then burn up that dance floor until 2a with your newfound moves. Between two levels (lounge and club), Mojito's DJs spread the love around from hip hop to reggaeton to Latin rhythms in their posh downtown hideaway.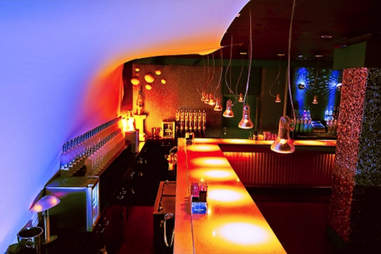 underbar
underbar
Theatre District
Tucked below Caprice in the Theatre District, underbar (ah, we see what they did there) has numerous weekly happenings, including Saturday's House Music Bliss. Settle in for some bottle service and brace your eardrums for the Angel Moraes-designed sound system.
The Estate
The Alley
Up to 700 party peeps can jam into the Main Room of The Estate (formerly The Big Easy, aka The Big Cheesy), for EDM, Hip Hop, Remixes, or whatever else their world-class DJs mix up for the masses. The multi-level space sports some serious class (stone fireplace, leather banquettes, fancy chandeliers), whether you are sipping bubbly in a private nook or dodging confetti and lasers at DJ Costa's weekly House Party.