Seven Cambridge spots you might not know about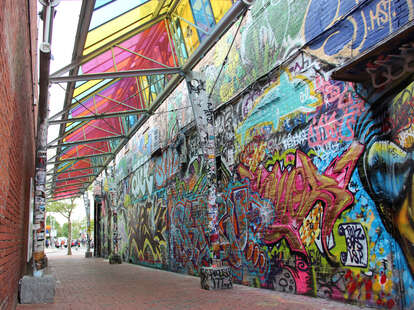 With an edgy (though outdated) rep that still keeps some Bostonians at bay, Central Square's one of the Hub's more diverse and eclectic 'hoods, boasting an alterna-crunch vibe and penchant for curry, coffee shops, and the homeless. And while you've probably watched soccer at the Phoenix, rocked out at the Middle East, or done some light reading at the Marxist Center for Education grabbed a cocktail at Green Street, there are a slew of other hidden gems scattered about the neighborhood. Here are seven of them.
Eat Catfish Sammies And Collard Greens Like You Live In Tuscaloosa:The Coast Café233 River St Tucked well off the beaten path five minutes down River Street, this tiny three-seat take-out joint slings some of the Hub's absolute best soul food, covering all the bases with the likes of fried chicken & smoked-turkey collard greens, catfish sandwiches, and BBQ beef rib plates, not to mention pork chops & cornbread, sweet potato pie, and banana pudding. Prepare yourself for the deliciousness
Laser Etch Your Entire Collection of Porcelain Ballerina Figurines:They will laser almost anything. Check it out.
Why Sit Inside When You Can Smoke A Hookah On The Patio:Andala Coffee House286 Franklin St With over 12 coffee/tea shops in a half-mile radius, Central Square's got your java fix covered. But this laid-back Middle Eastern coffee house designed to evoke the feel of Jerusalem's Old City also offers a trestle-covered patio on which to smoke an afternoon hookah, a brightly lit sunroom, and a ridiculously tasty grilled chicken Khalili sandwich on toasted Arabic bread with jalapeños. Hookahs and coffee, straight ahead
Dance With A Large Group Of Women, Don't Get Escorted Out:Havana Club288 Green St Open only on the weekends in Green Street's Greek American Political Club, this hard-to-find, late-night Latin salsa spot boasts a full bar, club lighting, and 300-plus getting their dance on -- not to mention complimentary lessons and a welcoming "no-partner-required" attitude. To the left, to the right, over here
Buy A Tux That JFK Might've Worn:Keezer's Classic Clothing140 River St Located off River Street in an old stand-alone building sorely in need of a paint job, these longtime Cambridge clothiers have been peddling vintage suits and tuxes since 1894 (originally located in Harvard Square, they're technically the second-oldest vintage clothing store in America), and they'll gladly sell you a set of tails in pristine condition for as little as $45. If you need said tails (and/or that handsome three-piece navy wool suit) tailored, head back into Central, find the door marked "Center for Marxist Education", and go up the stairs. At the top, one of the Hub's top tailors: Le Couturier House of Alterations. You're welcome. Presidential steez, for cheap!
Wooden Thrones + Sea Nymphs + Steak Tip Sandwiches:River Gods125 River St Oddly built into an old single-family house, this funky, set-off-on-its-own neighborhood bar catches your attention with its dimly lit, mish-mashed Medieval interior highlighted by gargoyles, high-back wooden thrones, and giant sea nymph outstretched over the bar. But it seals the deal with nightly DJs (spinning in a booth that overlooks the space), a solid lineup of beer, scotch, and cocktails, and a silly good filet-mignon-tip sandwich topped with caramelized onions & Boursin cheese and served with fries and their roasted garlic aioli. No, you didn't just stumble onto the set of Alice in Wonderland...
Grab A Seat At The Counter, Flo Will Be Right With You:Mass Ave Diner906 Massachusetts Ave In a town with a dearth of good greasy spoons, this cozy, 10-table, counter-service joint w/ a front facade that depicts a graffiti cityscape boasts a strong lineup of breakfast/lunch go-tos, like their Karolina's chocolate chip & cranberry pancakes, chicken-salad club, and popular three-egg-, sausage-, and home fries-featuring Hungry Man's Breakfast. Now that you're starving, check out the rest of the menu...